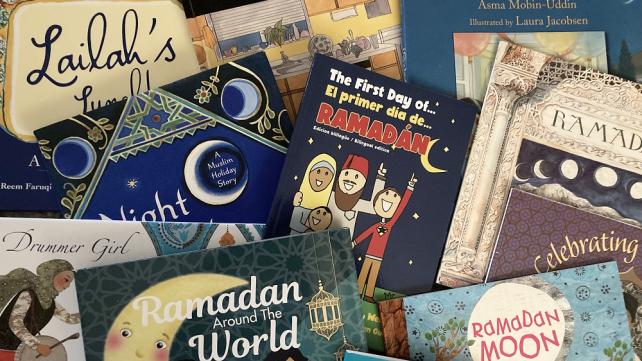 March is National Reading Month, and this year it just so happens that Ramadan is also set to begin during this time. National Reading Month was established in 2011 by the U.S. Department of Education to encourage everyone, young and old, to read daily. Ramadan fasting begins with the sighting of the new crescent moon, signifying the beginning of the month in the lunar calendar. The monthlong fast is not just about purifying body and soul through worship, but also about reading. It is the month in which the Quran was first revealed, so we spend a lot of time reading and reflecting on its timeless messages of peace and hope. It is also a great month to encourage children to read about the tenets of Islam. Thankfully, children's Islamic literature has come a long way in its quality and content over the past decade, providing many options when it comes to teaching youngsters about Ramadan.
Having a collection of books at home and regularly visiting the public library are some of the best ways to nurture good reading habits. There are public libraries which showcase a collection of books about Ramadan once the month is approaching. Muslims residing in these areas may often be very supportive in terms of offering suggestions, donating books, and even volunteering to set up Ramadan displays. All of these are great ideas for those families who would like to get involved in raising awareness about Islamic celebrations. Other libraries, however, may have a very limited collection of Islamic literature, or some only written by non-Muslims which can be a hit or miss when it comes to proper representation.
Parents and educators should then try their best to seek out books with positive messages written from a Muslim's perspective, what literary circles call "own voices" literature. While diversity in Islamic books is important, it is equally beneficial that the author shares some of the same experiences and identity as the characters they are portraying and their audience. This practice adds authenticity and value to the work, and helps children feel represented. Thus, when searching for Ramadan storybooks and non-fiction, care should be taken to choose those that come from a genuine Muslim voice. It is also important to bring these books to the attention of public libraries or even purchase a few copies to donate to them and to public schools.
The following is a list of some of the best-sellers*, hidden gems, and must-have books about Ramadan for children, written by Muslim authors. (Note: The list provided is in alphabetical order and is not arranged by rank):
30 Days of Learning and Good Deeds
Author: Bachar Karroum
Good for: Ages 4 - 12 years
Summary: This book is a guided Ramadan planner for children, inviting them to take action daily with good deeds, learn more about Islam and Prophet Muhammad, peace and blessings be upon him, and read some of the smallest chapters from the Quran in English. It promises to help parents engage in conversation and teach the fundamentals of Islam to their children.
Each page is divided into five sections: Good Deed of the Day, About Islam, About Ramadan, About Our Prophet, and Quran Reading. It also contains a checklist for all five followed by a page with the English translation of the Quranic chapter assigned for each day.
A Ramadan Fiesta (Book 2 of the Trilingual Sofia Series)
Author: Mariam Saad
Good for: Ages 4-8
Summary: The Trilingual Sofia Series offers a multicultural, multilanguage approach to Islamic traditions. In Book 2, Sofia's Mexican relatives, who are not Muslim, get to experience a day in Ramadan. Together, they enjoy a day filled with a cultural blend of decorations, foods, games, and languages. Readers are introduced to thirty vocabulary words in English, Arabic, and Spanish, building on vocabulary from Book 1, Eid Breakfast at Abuela's.
Drummer Girl
Author: Hiba Masood
Good for: Ages 4-8
Summary: Books that marry Ramadan and cultural traditions teach a wealth of lessons to Muslim children about diversity and acceptance. The multi-award winning Drummer Girl is one such book, which presents the story of a little Turkish girl named Najma and her aspiration to become her neighborhood's musaharati, or Ramadan drummer. Every year, Najma watches as the musaharati wake families up for the iftar, or pre-dawn meal, to start the fasting day. Typically, the drummer is a man, but that does not stop Najma from dreaming. One night, the village drummer falls ill and needs someone to take his place. With the support of her father, Najma is able to finally accomplish her goal. The book is also beautifully illustrated.
Eid Empanadas: A Latino Ramadan and Eid-ul-Fitr
Author: Wendy Díaz
Good for: Ages 9-12
Summary: Middle-grade books about Ramadan are hard to come by, so I have included my very own chapter book in this list. Meet Omar Hernández, a not-so-average Muslim student in Ms. Khan's 5th-grade class at An-Noor Islamic Academy. Omar still feels like the new kid at school. Even after a year and a half of trying to fit in, he has not found his place among his classmates. His life takes an unexpected turn when his teacher gives the class an assignment about how their families celebrate the month of Ramadan. Omar's family traditions look different when compared to his classmates, so he worries about feeling like an outcast. However, there is one thing that all Muslims can agree on: good food - in this case tasty empanadas! This book contains Spanish vocabulary words and a recipe for empanadas, and it is also available fully in Spanish.
Ilyas & Duck: Ramadan Joy!
Author: Omar S. Khawaja
Good for: Ages 4-8
Summary: In this story, the month of Ramadan has arrived, but when Duck learns he cannot eat or drink until sunset, he is worried. What ensues is a rhyming adventure which teaches all about the joys of Ramadan. It comes as no surprise that Ilyas and his friend, Duck, have become familiar favorites amongst Muslim families. The large, premium hardcover picture books with colorful illustrations are perfect for read-alouds and bedtime stories.
It's Ramadan, Curious George
Author: Hena Khan (Original Curious George creator: H.A. Rey)
Good for: Ages 2-6 years
Summary: It's the first day of Ramadan, and the famous Curious George is celebrating with his friend Kareem and his family. George helps Kareem with his first fast and joins in the evening celebration of tasting treats and enjoying a special meal. Then, George helps make gift baskets to donate to the needy, and watches for the crescent moon with the man in the yellow hat. Finally, George joins in the Eid festivities to mark the end of his very first Ramadan.
For Curious George fans, those familiar with the character, Muslim and non-Muslim children alike, this is a great picture book to showcase Ramadan traditions in a fun way.
Lailah's Lunchbox: A Ramadan
Author: Reem Faruqi
Good for: Ages 6-8
Summary: Lailah is in a new school in a new country, thousands of miles from her old home, and missing her old friends. When Ramadan begins, she is excited that she is finally old enough to participate in the fasting but worried that her classmates won't understand why she doesn't join them in the lunchroom. Lailah solves her problem with help from the school librarian and her teacher and in doing so learns that she can make new friends who respect her beliefs.
Not only is this book centered around Ramadan, but it also discusses relevant lessons for children like moving, starting a new school, making friends, and learning to fit in. It is no wonder, the author has received numerous accolades for this debut children's book, including the 2019 Daybreak Children's Picture Book Award, recognizing women's contributions to literature.
Moon's Ramadan
Author: Natasha Khan Kazi
Good for: Ages 4-8
Summary: With radiant and welcoming art, this debut picture book and modern holiday classic captures the magic and meaning of one of the world's most joyful and important celebrations. This Ramadan book is told from the perspective of Moon, who watches different traditions taking place around the world. The story highlights the spirit of giving as Moon travels to places like Egypt, India, Argentina, United Arab Emirates, Somalia, New Zealand, and Turkey.
Moon's Ramadan blends geography, astrology (moon phases), and Muslim traditions while providing cultural representation throughout. It was released in February 2023.
Planet Omar: Accidental Trouble Magnet
Author: Zanib Mian
Good for: Ages 9-12
Summary: This award-winning, middle-grade chapter book, reminiscent of the Diary of a Wimpy Kid books by Jeff Kinney, is written with preteens in mind. The main character, Omar, is funny and relatable, and the black and white line drawing illustrations and easy-to-read fonts are appealing to middle schoolers.
Omar and his family have just moved, and he is entering a new school. He is worried about all the possible disasters lurking and, although he makes a new friend, Omar finds himself confronted with a bully. Omar's imagination and his family eventually help him cope with all these big changes. Islamic lessons, including the observation of Ramadan, are woven into the story without making it preachy, and make this book a great choice for Muslim and non-Muslim readers alike.
Ramadan Around the World
Author: Ndaa Hassan
Good for: Ages 4-8
Summary: Join the Ramadan Moon as it travels the world to visit children and their families observing Ramadan. Ramadan Around The World showcases how various cultures celebrate the Islamic holy month. The book beautifully illustrates the diversity of the global Muslim community and children of various nationalities and abilities are represented throughout the book. Families of diverse sizes and demographics have also been included. This book is a great read for children and useful as an educational tool for teachers.
Ramadan Moon
Author: Naima B. Robert
Good for: Ages 4-7
Summary: This lyrical and inspiring picture book captures the wonder and joy of Ramadan from a child's perspective. It is written and illustrated by Muslims for all children – those who celebrate Ramadan and those in the wider communities – who want to understand why this is such a special month for Muslim families.
This book is on Amazon's "Teacher's Pick" list, which is curated with feedback from hundreds of teachers. According to Amazon, K-8th grade "young readers can learn from home with Teacher's Picks that represent diverse voices, new authors, kid favorite series, and early reading titles that are sure to become instant favorites."
The Gift of Ramadan
Author: Rabiah York Lumbard
Good for: Ages 4-8
Summary: Sophia wants to fast for Ramadan this year, but when her first attempt at fasting fails, she learns other ways that to participate. This multigenerational family story explores the many ways to take part in the Ramadan holiday.
The Night Before Eid: A Muslim Family Story
Author: Aya Khalil
Good for: Ages 4-8
Summary: Celebrate the end of Ramadan with this Muslim family story about faith, history, and delicious foods. On the night before Eid, Teita (Grandmother) visits to prepare ka'ak, a traditional Egyptian sweet dish distributed on Eid day. The main character, Zain, helps his grandmother and mother follows his family's recipe while reminiscing on past Ramadans, Eids, Egyptian history, and the tastes of his heritage. The book, which contains a recipe for ka'ak, was released just released in March 2023.
Sadiq and the Ramadan Gift
Author: Siman Nuurali
Good for: Ages 6-10
Summary: Sadiq and his friends want to give back to their community during the month of Ramadan. They decide to raise money to build a new school for children in Somalia and host a community iftar as a fundraiser. The story revolves around Sadiq's plans, the special iftar, and disagreements that arise regarding how to spend the money. Eventually, everyone finds a way to work together. This book provides interesting facts about Somali culture and great lessons for young learners about charity and working together.
Zahra's Blessing: A Ramadan
Author: Shirin Shamsi
Good for: Ages 4-9
Summary: Beautifully detailed illustrations adorn this 32-page picture book about Ramadan and selflessness. The main character, Zahra, feels lonely and prays that Ramadan will bring her a sister. Her only company is her precious teddy bear, until he goes missing one day, leaving Zahra heartbroken. During the month, she helps her mother at a local shelter for asylum seekers and makes a new friend. She finally receives the Ramadan blessing she had been praying for. The book imparts many lessons for Muslim children about displacement, fostering, homeless shelters, and the importance of caring for the less fortunate. It also provides information about Ramadan, fasting, and Eid.
Special Mention
The Clear Quran for Kids: H3 Header
Volume 1 (Surah 1, and 49-114) H3 Header
Volume 2 (Surahs 29-48) H3 Header
Author: Dr. Mustafa Khattab
Good for: Ages 7+
Summary: While this is not a book about Ramadan, it contains chapters of the Quran accompanied by colorful illustrations and relevant lessons for children. Parents and caregivers should encourage children to read the Quran as part of their Ramadan worship. Often the focus can be placed on memorizing and/or reading chapters of the Quran in Arabic without really understanding its meaning. To describe his The Clear Quran for Kids Series, Dr. Mustafa Khattab, said:
"What makes this translation unique is that it has been edited by kids, for kids. I have worked diligently with a team of students (mostly grade 2-5) to identify difficult words and replace them with easier ones that carry the same meaning. As for the words we couldn't replace, they are explained in the glossary, along with the Arabic terms used in this book. With the help of qualified Islamic and public school teachers and professional editors, we made sure that the translation is accurate and accessible."
For these reasons, and more, The Clear Quran for Kids Volumes 1 and 2 are great additions for any library and will especially come in handy during Ramadan.
There are plenty of other Ramadan books out there, but these stood out most for their unique stories and illustrations and for having Muslim authors. Now that the month of Ramadan is quickly approaching, make sure to add them to your home, school, and local libraries. Share them with family, friends, neighbors, and your children's teachers so they may also benefit from these Muslim "own voices" literary pieces. As you urge your children to read and learn about Ramadan, also encourage them to read or recite some Quran daily. Make reading a regular habit for every member of your household during this time and always.
May we reap the benefits of reading, fasting, and praying this blessed month and always. Ameen.
Happy reading and Ramadan Mubarak!
NOTE: All of these books can be found in Amazon, Barnes & Noble, and other online bookstores. Consider also supporting one our Islamic online sellers, too. Here are a few:
*According to Amazon's standards. The Amazon Best Sellers calculation is based on Amazon sales and is updated frequently to reflect recent and historical sales of every item sold on Amazon.
Wendy Díaz is a Puerto Rican Muslim writer, award-winning poet, translator, and mother of six (ages ranging from infant to teen). She is the co-founder of Hablamos Islam, a non-profit organization that produces educational resources about Islam in Spanish (hablamosislam.org). She has written, illustrated, and published over a dozen children's books and currently lives with her family in Maryland. Follow Wendy Díaz on social media @authorwendydiaz and @hablamosislam