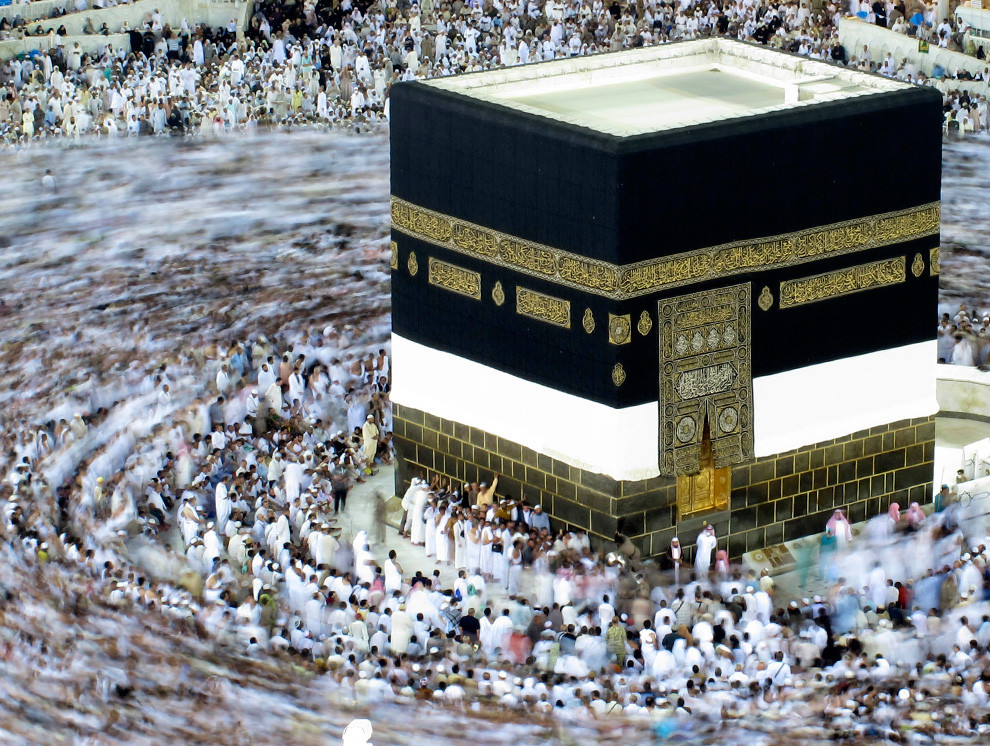 By Prof. M. Ishaq Zahid (Creator of Islam101.com)
A Personal Word:
By the grace of Allah Ta'ala, I was able to visit the holy cities, Makkah and Madinah in Saudi Arabia during 1994 and was able to perform Hajj.
It is a journey which I would remember for the rest of my life. I also hope that I will have opportunities to go back and visit the holy sites again, Insha' Allah.
It has deep spiritual benefits which change your life greatly.
I was asked by my friends at the Islamic Information and News Network (IINN) to write about my Hajj experiences to help others intending to perform Hajj in the future.
I was able to keep a diary of daily events during my trip that lasted twenty-one days.
Below is an outline of what I think this article should help in:
1. The intending pilgrims from the United States can plan better for the trip in the following areas.
a. the costs involved
b. health-related issues
c. what to take as luggage
2. The intending pilgrims need to understand the kind of physical hardships they may go through and mentally prepare themselves to accept such difficulties.
3. The article provides some insights on how to perform Hajj and when to go to the rituals to avoid unnecessary hardships.
4. The pilgrims need to understand that they are going there to perform obligatory worship, but will do so in an overall Islamic character. I hope that such cognizance will ease hardships for the pilgrims.
I also hope that Muslim governments and religious organizations will install programs to provide education and training necessary for the intending pilgrims before leaving their home countries.
5. I hope that this article will be read by some Saudis to think about improving the arrangements for Hajj, which is a great responsibility on their shoulders.
The experiences described here reflect my story. It should be kept in mind that Hajj is an experience taken up by over two million people each year. Considering the thousands of groups involved from all parts of the world, it is very likely that Hajj experiences differ greatly from one group to another.
However, all Hajis go through the same set of rituals and similar hardships.
I also would like to point out to the readers that the article should not be used to learn about the rituals themselves.
There are many good books available to prepare one for Umra and Hajj. Hajj is an obligation on every able Muslim. If you have the means to go, you must.
It is a command from Allah as revealed to Prophet Muhammad (peace and blessings be upon him) in the Holy Quran.
Only readers can tell if this was a fruitful endeavor. I hope it will be, insha' Allah. With any writing, there is always a possibility of errors, typos and omissions. I will greatly appreciate readers' comments and their personal experiences. I will incorporate these in the future revisions of the article, insha' Allah.
***************************
Arrangements you need to make before the trip
A good trip requires early planning, at least four months before the departure. The month of Shaban (before Ramadan) may be the time to start planning seriously.
Start with acquiring Hajj books and studying about Hajj. Obtain a Hajj guide to understand the terms and procedures.
A Hajj guide will help acquaint you with the Hajj places, sites and rituals. Start memorizing some of the supplications (Duas) in Arabic and understand their meanings.
Make contacts with travel agents and other groups for Hajj travel.
Obtain the required injections, cholera and meningitis, from the county health department or your private physician. A health certificate with these injections is needed for a Hajj visa. Make sure you have a valid passport. You may contact the Saudi consulate nearest to you to obtain guidelines for Hajj and Umra.
Below is an idea of how much money may be needed to perform Hajj, items to carry on and other relevant information.
The Budget
I went with a group to perform Hajj. The average group rate during 1994 was about $2,500 or above. The price may be higher in later years. The above included air fare from New York City, accommodations in Saudi Arabia and most meals. I strongly recommend group travel for Hajj. Here is what I spent:
$2450 air fare from JFK [John F. Kennedy International airport in New York City], all accommodations for about three weeks, all transportation in Saudi Arabia, and all meals. The price included bus transportation between Makkah and Madinah.
$68 for cholera and meningitis injections at county health department
$25 visa by the travel agent
$244 Hajj fee through the travel agent, includes the draft fee. The actual Hajj fee this year was $234.40.
$55 for two Ihrams and a belt. I purchased a five yard white terry cloth for one Ihram.
For the other Ihram, I purchased 5 yards of 100% cotton cloth. Terry cloth is towel-like and heavy.
Air transportation from my home town to JFK was extra.
I took about $1,000 with me, out of which $500 was in the form of travelers' checks. I did not spend all of it. I think one should at least have about $200 as pocket money.
In conclusion, I think that about $3,500 to $4,000 should be sufficient to perform Hajj, Umra and spend a few days in Madinah. Again, these estimates are based on my 1994 experience.
The luggage, the carry-on
I suggest traveling with only essential luggage. If possible, obtain 'Arabic dress'. In my case I had a Pakistani shalwar-kurta [traditional Pakistani men's dress] and a long Arabic shirt.
When I went to Madinah, I purchased an additional long Arabic shirt and trousers.
Although I took several pieces of underwear, pants and shirts, I did not use most of them. Mostly, I used shalwar-kurta, Arabic shirt and pants.
I had one medium-size suitcase and a carry-on. If you plan to purchase a lot of items, buy an extra suitcase there. The prices are good.
Don't forget to carry an Ihram, slippers and a waist belt before reaching Saudi Arabia. Hajj travel agents may carry Ihrams and belts.
Medicine and other items to take
Prescription medicine, if any
Tylenol
Advil
Imodium A-D (for Diarrhea)
cough and cold medicines
Vaseline Intensive Care for extra dry skin
baby powder
soap
toothpaste and brush
dental floss
shampoo
baby oil
safety pins (diaper pins are good, I am serious)
prayer rug
scissors to clip hair
nail cutter
a water-container for pre-wudu needs (useful at airports, etc. until reaching Saudi Arabia)
air mattress can be useful at Muzdalifah.
Suggested Books
The Holy Quran
Hajj Guides.
Documents
Passport with Hajj visa
Hajj draft
Health certificate
at least 12 passport-size photographs.