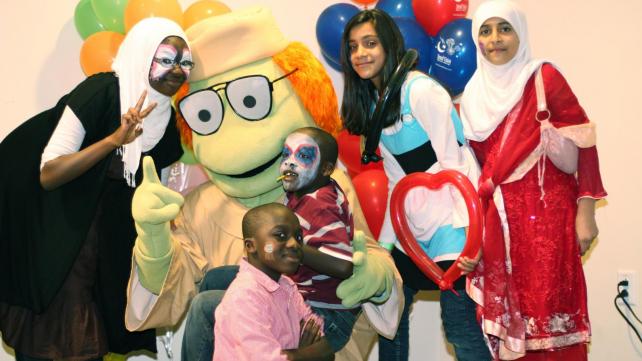 "Adam is the Kufi-wearing puppet star of the Adam's World children's video series. He is to Muslims what Mickey Mouse is to Disney and Larry the Cucumber is to evangelical Christians. ... Sound Vision, is a bit of Disney, PBS, Microsoft, and Oprah all rolled into one." Dallas Morning News
Tickets For Adam's World Live
Learn More • Book Live Adam's World Show • Adam's World Review

Adam, of the beloved Adam's World series, brings his sister Aneesah and their new friends live to you!
Through Adam's World Adam and Aneesah have delighted Muslim children around the world for years, teaching them about faith, culture, and life lessons.
For a limited time only, Adam's World is hitting the road! We bring a complete, professional-grade performance, complete with lighting and special effects to dazzle your school, mosque or community center, giving Muslim children the chance to meet one of their favorite teachers about religion and culture
In this live show, Adam is fighting a bully – a situation all too many children can relate to. How can he stop the bully without compromising his principles? Adam, Aneesah, and a brand new friend are here to show your children valuable life lessons in this light-hearted but meaningful production.
Our set is fully self-contained and we are flexible in audience accommodations.
Show time: 45 minutes

Language: English only
Master puppeteer Tom Vandenberg developed Adam in conjunction with Sound Vision Studios over 20 years ago and has performed all of the Adam's World episodes. In addition to Adam, he has worked with the Muppets, HBO, and Solar Stage. Today he runs T.V.Puppetree, a puppetry company co-located in Toronto and Detroit. He is excited to take this beloved character on the road to connect with his fans in person.