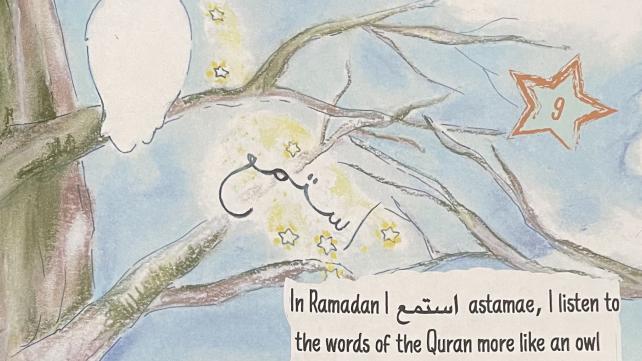 Ramadan, the month of blessings and the season of fasting and prayer offers us Muslims the chance to reflect on our relationship with Allah. The holiest month of the year, a time of self-purification and self-denial allows us the opportunity to renew our intentions and rededicate ourselves to the teachings of Islam. Ramadan imparts upon us numerous lessons that we can in sha Allah carry with us throughout the upcoming year.
In Ramadan written and illustrated by Mariam Popal Hama is a unique book that offers young children the experience and lessons that can be learned through Allah's animal creations. Each page is fully colored except for the white silhouette of an animal. There are 30 pages with 30 different animals, each having a characteristic that readers can learn from.
Children can learn 30 different characteristics in Arabic that includes the transliteration and meaning. Included are sabr (patience), taeataf (sympathy), shukr (thankful), and many more. The illustrations are colorful with the chosen animal and arabic word amidst a watercolor background.
In Ramadan is a lovely book to share with young children to help introduce the many important character traits that Ramadan and fasting help to build. From piety, discipline, and other acts of worship, teaching our little ones that Ramadan is more than abstaining from food is a sure way to promote reflection about Allah and His creation.
Miriam Mohamed is a mother to seven children and a granny to two cats! She loves trying new things and learning cool facts. She has taught in an Islamic school setting, has experience assisting children with special needs, and enjoys volunteering and being a part of the community. Miriam lives in Chicago with her beautiful flowering cherry tree and big family. Ramadan is her favorite time of the year!