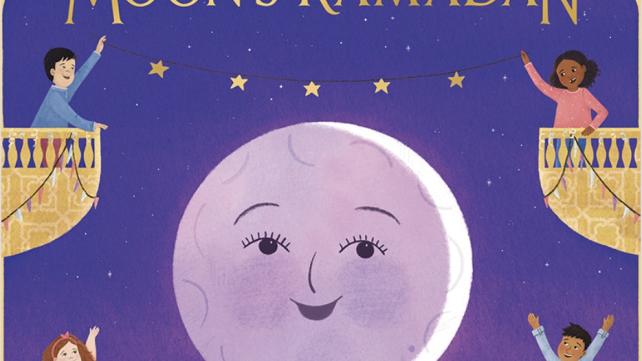 In this beautifully-illustrated picture book, author and illustrator Natasha Khan Kazi personifies the Moon, depicting "her" as a friendly observer in the night sky who "travels around the world, observing Ramadan." As she goes through her phases – waxing, waning, full, new – Moon watches the people down below and celebrates with them.
Highlighting diversity is a clear objective of the book. Khan Kazi depicts Ramadan traditions in many countries throughout the world: Egypt, Turkey, Indonesia, the United Kingdom, New Zealand, Somalia, the United States, Dubai, and Argentina. In her colorful pictures, she shows Muslims of all colors, ages, shapes, and sizes. There are some characters wearing hearing aids, one sitting in a wheelchair, and two holding white canes for blindness. In addition, Khan Kazi shows people of different faiths breaking the fast together; it is easy to identify a Catholic priest and a Jewish man among the guests at an iftar.
Khan Kazi's lyrics remind readers that Ramadan is a month of peace, community, charity, and kindness. One page shows Muslim children delivering baskets of food to their neighbors. The words read, "As each day passes, Moon grows fuller, happily watching children do good deeds. Even the smallest hands make a big difference."
On another page, Khan Kazi explains, "Those of the right age and health will fast. During daylight, no food or drink will pass their lips. Their hands will only do good deeds. Their mouths will only speak kind words. Always thinking of those who have less."
I think most Muslim kids will enjoy Moon's Ramadan because, amongst the multitude of diverse characters, they will likely see a child who looks like them. They will probably also recognize some of their own family traditions. Non-Muslims can also learn a great deal about Ramadan, cultural traditions, and Islamic values. Although it appears to be a simple picture book with minimal words, Moon's Ramadan holds a wealth of information within its pages.
At the end of the book, the author provides useful information such as a Ramadan glossary, a diagram of the phases of the moon, an explanation of the lunar calendar, and pictures of Ramadan accouterments like Eidi envelopes, a henna cone, a prayer rug, a Ramadan lantern, baklava, a sadaqah jar, and a Turkish drum.
Moon's Ramadan is definitely a book I will share with my own children. I suspect they will spend a long time savoring the detailed illustrations. They will also marvel at how diverse our Ummah is and how Ramadan is beloved all over the world.
Laura El Alam is a first-generation American Muslim and the author of over 100 published articles. She has written a children's book, Made From the Same Dough, due to be released in 2023. You can visit her online at www.seaglasswritingandediting.com.