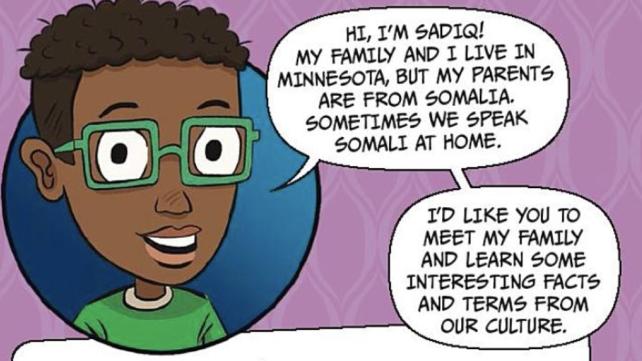 As Ramadan approaches, Muslim parents seek to engage their children in meaningful activities that can help them embrace the spirit of the holy month. While valuable resources like DIY Ramadan crafts and home decor can play a crucial role in fostering their love and interest, books can also be seen as a powerful tool in inspiring and captivating young minds. A thoughtful collection of books can allow children to explore the beauty and meaning of Ramadan, while also developing their literacy skills and expanding their understanding of cultural practices observed around the world.
This Ramadan, I was thrilled to discover one such multicultural children's book that perfectly embodies the spirit of the holy month. Sadiq and the Ramadan Gift by Siman Nuurali tells a heartwarming story that aims to inspire young readers to cultivate a spirit of generosity. The author has done an excellent job of creating relatable characters and setting the stage for key lessons to be learned. And the illustrations by Anjan Sarkar nicely complement the content.
Written for children between the ages of 6 and 10, Nuurali uses the story of Sadiq, a Somali boy and his classmates, to encourage children to participate in the deep-rooted traditions and festivities of Ramadan while collaborating their efforts to give back to those in need. The book includes several references to common Somali terms such as baba (father), hooyo (mother), habo (aunt), and dugsi (school). Author Siman Nuurali takes care to introduce and explain these terms at the beginning of the book and that approach really helps readers understand the story better whilst also providing the opportunity to learn about other cultures.
I was also impressed by the author's depiction of Mr. Kassim, the school teacher, who plays a significant role in the story. Through his lessons, he stimulates his students' curiosity by introducing the topic of Ramadan and prompting them with questions about the significance of waiting for the moon to come out. Additionally, he was the one to encourage his students to participate in the fundraising event for Al-Iqra School in Somalia, which precisely shows how a teacher can play a pivotal role in the narrative and help instill important values.
In addition to promoting charitable giving, Sadiq and the Ramadan Gift imparts important lessons to its young audience about obedience to parents and the value of listening to others and engaging in reflective thinking during times of conflict. The book masterfully introduces a common issue faced when working in groups: conflict. It shows children how to approach conflict resolution and highlights the importance of compromise and understanding in achieving a peaceful outcome. As a month of forbearance, empathy, generosity, and kindness, Ramadan is beautifully depicted in this book. It is a great choice for reading aloud to children and sharing its messages of compassion and giving. The book can also be helpful for encouraging those children who are beginning to take fasting seriously.
All in all, Sadiq and the Ramadan Gift is a wonderful story that teaches children the values of community, teamwork, and empathy. By highlighting the positive impact of small acts of kindness and charity, the story encourages young readers to make a difference in the world. Moreover, the book cleverly incorporates modern fundraising strategies such as the use of social media and other web-based promotions, which can be valuable tools for children to learn in today's digital age. The characters' innovative ideas for fundraising and the involvement of Sadiq's brother Nuurali demonstrate the power of creativity and collaboration. From designing flyers to making videos, the boys show how determination and resourcefulness can lead to a successful event that benefits their community. I highly recommend this book for parents, educators, and young readers who want to be inspired and empowered to make a positive impact in their communities.
Umm Ahmed is an early childhood educator and mother of three boys. Always on the quest to learn, she is passionate about seeking knowledge and passing it on to others. A writer in the making, she draws inspiration through deep conversations, laws of nature, and her own children. She and her family are currently living in Abu Dhabi, UAE.