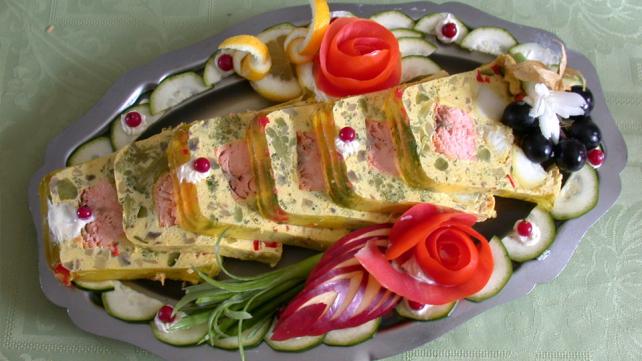 Paté au Saumon
(With accent circonflexe ^ above a in "pate")
INGREDIENTS:
1 or 2 small tins of salmon
4 to 5 medium-size potatoes (mashed by hand with some butter/margarine, enough milk, salt and pepper)
1 unbaked double pie crust (1 bottom + 1 lid)
METHOD:
Combine fish and mashed potatoes. Fill 1 unbaked pie crust, add pie pastry lid, flute edges, cut a few short slits in the top (allows steam to escape). Bake at 350*F until the dough is cooked.
YIELD:
1 pie.
SERVING:
In Quebec, it is often served with Ketchup – it just doesn't taste the same without it...

NOTE: Before trying my paté au saumon, my dad assured me that he did not like this dish because it is too dry. My paté au saumon made him change his mind, al-hamdulillah. The trick is to make the mashed potatoes creamy enough so that the fish-potato mix is like (well, for lack of a better comparison:) commercial icing: not too stiff not too runny. Also, to preserve the benefit of the high calcium content of canned salmon, I put the salmon, bones and all, in the food processor (I guess a blender would do the trick too) until the bones are crushed. I then add about half of the mashed potatoes and blend this in the machine. I then mix in the rest of the potatoes by hand. Why? Because I like the lumps :-)
Photo Attribution: http://commons.wikimedia.org/wiki/File:Terrine_de_saumon_au_basilic.JPG