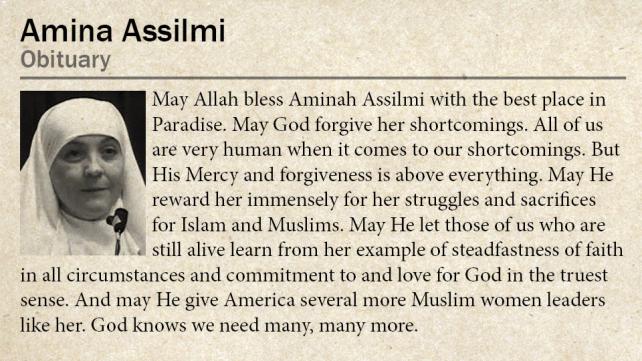 She was the only person I've ever met who could skewer you with a smile.
This was first obvious to me in the midst of a session at an ISNA conference in the early 1990s. During a presentation on the then very nascent American Muslim media, I was introducing Sound Vision's television program for children called Adam's World.
I was on a panel with a few others who were working to provide alternative Islamic-themed entertainment for Muslim youth, in particular. There was Uthman Hutchison, author of the Invincible Abdullah adventure series; Zeba Siddiqui, also a children's book author who has written Karavan: Tales and Plays for Children, as well as Abdul Hayy Moore, a poet. I showed some clips of Adam's World.
After we all made our presentations, the question and answer session began. Among the first to speak from the audience was a young, wiry white man. His face was tense and angry. He unleashed his fury on Adam's World thusly: you don't learn Islam from puppets, plays and games. You learn by sitting with a teacher. He had a lot more to say but I was too tense to register all of his words. These were the days when the Salman Rushdie controversy was happening and I had already received one written death threat, with someone accusing us of being Salman Rushdie at Sound Vision, particularly because we were using a puppet, which he considered like an idol.
Before I could respond, a tall, white Muslim woman stood up. With a smile, she greeted the audience with a Salam and began the most passionate defense of Adam?s World anyone has ever made. She explained that Adam?s World had taught her son more about Islam than she ever could as a mother. After she was done defending, she ended once again with a bright smile and a Salam to the audience.
I sat there in awe, wondering who this angel was who came to rescue me and Adam?s World. I did not know the first man or this woman. Later on, while meeting with the audience, I found out.
My tense questioner was Hamza Yusuf, who at that time was not a household name. He redeemed himself in later years during a fundraiser for Sound Vision in the San Francisco Bay area. By then, he was more well-known and while I was initially reluctant to let him speak at the dinner, I discovered he had changed his mind about Adam's World.
Once on stage, he shared how on one occasion, while his children were being taken care of by a relative, he saw hat they were exposed to Islamically inappropriate material on television. He decided to buy the entire set of our Adam's World program and gave it to his relative, asking her to not let his kids watch anything else while visiting. Then he appealed to the audience to donate to ISNAVision. Oops. He actually meant to say Sound Vision. A logical slip.
And the name of that Adam's World defender that day, the angel who eloquently expressed what I was thinking: Aminah Assilmi.
That was the beginning of my twenty-year relationship with Sr. Aminah Assilmi. Later on, I met her son Mohammed several times with his mother. He was with her when she died in a car accident on March 5, 2010, sustaining injuries but surviving. I hope Mohammed will fully recover. He is one of the hundreds of thousands of children raised on Adam's World. After that defense of Adam?s World at the ISNA conference, Aminah continued supporting Sound Vision in any way she could.
She did this with extraordinary selflessness. I have no memory of her ever asking me a favor. Most times, she would never tell me about the tremendous hardships she endured, whether it was homelessness or the poverty she suffered more than once.
Yet, many times, she found ways to help us financially, even as she struggled. Whenever I was able to help monetarily, she would graciously accept the gift. But not once did she ask for it.
I remember when we started Radio Islam, she would call several times a week to record her reflections on the Names of God. Radio Islam finished recording these in 99 programs. Incredibly, she prepared for it no matter how sick she was. She even traveled to our studio in downtown Chicago on one occasion and stayed a couple of days to finish many episodes. Later, we decided to turn that into a product. Once it was completed in four Cds, we sent dozens of them for her to give to people and keep for herself. Instead, she sold each one and sent all the money back to Sound Vision.
Within a few years of knowing each other through ISNA, on behalf of the Muslim community, I started organizing the Bosnia Task Force USA and was its national coordinator. It was a coalition of regional and national Muslim organizations who worked to stop the genocide in Bosnia after the breakup of Yugoslaviabetween 1992 and 1995.
Aminah was in California those days. One of the first issues we chose to focus on was the travesty of mass rapes of women during the war as a result of Serbia?s genocidal policy of ethnically cleansing non-Serbs from the region. About 50,000 women, mostly Muslims, were raped. Their images haunted television sets around the world, as well as the cover of newsmagazines, but America was silent. Neither women's groups nor American Muslims were doing anything about it.
We decided to engage the National Organization of Women (NOW) in a dialogue to take up the issue of rape as a war crime. Aminah took on the challenge instead of giving me the runaround. NOW agreed to support the cause. Considering that BTF was a coalition of mostly conservative religious Muslim organizations which were mostly pro-life and NOW was made up of far more radical feminists then than it is now, it was an extraordinary achievement on Aminah's part. She did tell me that she had engaged another sister as well in the effort. (Unfortunately, I don't remember who the other sister was. If you are that person, please let me know so it becomes part of our history.) That was probably the first coalition NOW had built with any Muslim group. Aminah was instrumental in making this happen. And her can do attitude played a major role in it.
NOW and Bosnia Task Force, USA issued a joint call for demonstrations by throughout the United States against these genocidal rape crimes in Bosnia. The Federal Plaza in Chicago had about 900 women demonstrating. Imam W. D. Muhammad gave a special call to his followers to join the demonstrations.
Interestingly, the Washington, DC chapter of NOW objected to women in Hijab being on stage during their demonstration. In response, Shareefa Alkhateeb started a dialogue with them. Finally, the agreement was a common sense solution: Muslim women would not tell NOW how their leadership should dress on stage and their leadership should not tell Muslim women how to dress either. After that, the demonstration went on. (Unfortunately, we have few records of these protests. If you have photos or clippings from this event, please send them to us so that we can share them with the website of Aminah Assilmi?s organization the International Union of Muslim Women, since she played a major role in making these protests happen.)
This cooperation between NOW and Muslims resulted in the women's caucus in Congress developing bills to declare rape a war crime. Bosnia Task Force, USA in this way brought the issue of the rape of Muslim women as a national issue with the help of NOW and was able to deliver good support for these bills through a grassroots campaign and lobbying Congress. This campaign not only led to the passing of a US law, but also caused the UN to deem rape as a war crime for the first time in human history.
But as the Bosnia Task Force USA's work spread out over several years, we lost track of Aminah. Phone calls went unanswered and at a time when email was just beginning to become a major mode of communication, contacting her was practically impossible. She had disappeared.
Several months later we found out that she could no longer afford her rented house in California. So in a truck with her son and her few belongings, she headed to New Mexico, living in a trailer without a door during the winter months, catching pneumonia in the process. I only found out about this after she had been able to get out of this situation. And once again, she recounted the difficulties she faced with a calm smile, retaining her good humor and winning attitude towards life.
Years later, she came to Chicago to record programs for Sound Vision and to make some presentations in the city. That was when I discovered her box of rocks. She would take each one and explain something beautiful about Islam with it. I didn?t know of her secret love for stones, but once I found out about it, I discovered her reflections were thought-provoking. This led to her recording Rocks and Amina: Reflecting on Allah's Names.
I was driving her to a program during that visit to Chicago when a car hit us from the back. Aminah was hurt in the neck. That was probably one of those moments when I did not see her smile. But she expressed no anger or frustration. The other person had no insurance and because there was no damage to the car, Aminah decided to let the other driver go.
I wish she had survived that accident the Friday morning of her death as she did the one in Chicago. But I can see her smiling, still full of plans, because whenever I met her, she had some fantastic idea about what needed to be done for Islam in America.
May Allah bless Aminah Assilmi with the best place in Paradise. May God forgive her shortcomings. All of us are very human when it comes to our shortcomings. But His Mercy and forgiveness is above everything. May He reward her immensely for her struggles and sacrifices for Islam and Muslims. May He let those of us who are still alive learn from her example of steadfastness of faith in all circumstances and commitment to and love for God in the truest sense. And may He give America several more Muslim women leaders like her. God knows we need many, many more.