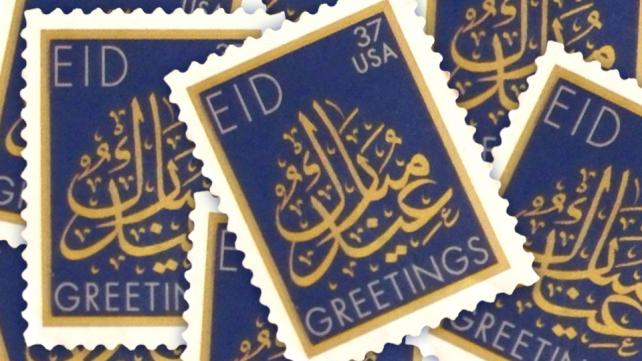 After years of effort and struggle, spearheaded by Muslim activist Aminah Assilmi, as well as thousands of Muslim American schoolchilden, the United States Postal Office finally released the Eid Mubarak stamp in early September this year.
The beautiful stamp, featuring gold Arabic calligraphy with the words "Eid Mubarak" written on top of a royal blue background, however, must sell out by December 31, 2001 if we want to continue having the stamp available in the future.
Initially, 75,000,000 Eid stamps were printed. In order for the stamps to become part of the annual permanent holiday issue printing, they need to sell out for three issue years.
This is why Muslims must do their best to buy the Eid stamps in bulk while encouraging family, friends and businesses to do the same. If the stamps sell out, not only will it ensure that they will be reissued, but Muslims will be able to retain a small but symbolic cultural presence in America. Please remember that Christians, Jews, and many other religious and cultural groups in America have their own stamps. This effort is also important to reward the efforts of schoolchildren who lobbied the USPS to get it issued.
Here are three ways you can buy the Eid stamp as soon as possible:
1. Buy it at your local Post Office. Ask for the "EID GREETINGS" stamp.
2. Buy via phone. Call Stamp Fulfillment Services at 1-800-STAMP-24 (1-800-782-6724). Customer Service Representatives are available to place your order 24 hours a day, 7 days a week.
3. Buy Online. Visit http://shop.usps.com/ Move your mouse to the selection "Stamps by Subject" (then a menu should appear) - Click on "Holiday" - Click on "Buy" under EID Greetings Name: