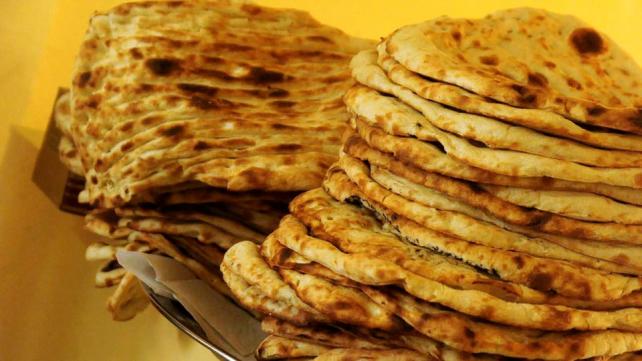 FROM THE KITCHEN OF SR. HUMA MURAD
Naan (Without a Stone Oven)
This bread is traditionally made in stone ovens, but your broiler will do just fine. This bread is good with soups, curries, kabobs, or plain eaten hot from the oven.
Ingredients:
4 cups flour (preferably un-bleached)
1 teaspoon salt
1 packet yeast
1/2 olive oil
1-11/2 cups water (scalded)
Method:
Add 1/4 cup scalded water to the yeast and let sit for 10-15 minutes. Add everything to large mixing bowl. Knead dough until smooth, approximately 5-10 minutes. Cover and let rise in warm place for 1 hour. Punch down and knead again for 1 minute. Divide into 14 balls and roll on floured surface. Roll into 6" in diameter and 1/2 inch thick. Broil them in broiler until golden brown, turning once. Remove and brush with melted butter or margarine. Cover to keep warm.
Photo Attribution: http://commons.wikimedia.org/wiki/File:Bread_of_Afghanistan_in_2010.jpg