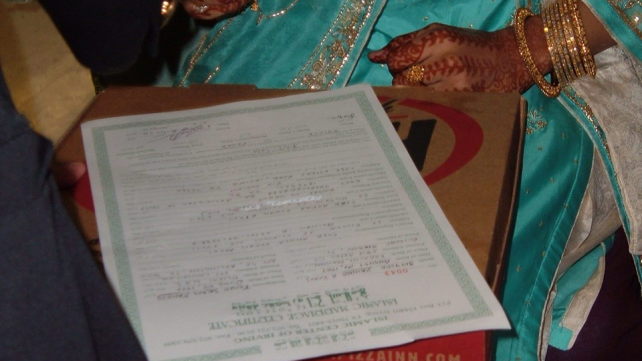 A prenuptial agreement (which is also called an antenuptial) agreement is a contract entered into by a couple planning to be married.
This contract specifies the married couple to be's individual rights throughout the marriage and if their marriage should end.
This agreement must be in writing, signed by both parties, and in some states of the United States, signed before witnesses and entered into the court records.
Prenuptial agreements and the rights of Muslims in marriage
But prenuptial agreements don't just have to cover issues pertaining to wealth and property. They can also be used to safeguard your Islamic rights within a marriage and, if necessary, in the case of divorce.
Imam Yusuf Ziya Kavakci is Imam of the Dallas Central Mosque in Richardson, Texas. He has a Ph.D. in Islamic law from the Institute of Islamic Research of Istanbul University in Turkey. He strongly recommends Muslim couples sign a prenuptial agreement before getting married. Here's what he had to say about this in an interview with Sound Vision:
It is good and necessary to benefit from the law of the land and to get its protection in terms of documentation, in terms of court systems.
For this purpose, I think no Muslim marriage be performed without having a marriage license given by marriage offices of the state. These marriage licenses with their blank spaces may be used by Islamic centers, by Imams in their marriage contracts and everything could be recorded on that paper.
In this context, Muslims could benefit from the prenuptial agreement system by writing down all conditions they would observe in their married life including following Islam and Shariah and that conflicts will be solved by mediation and arbitration.
So couples may prepare these prenuptial marriage agreements, with their signatures on them and get them notarized. Then the rights of couples according to their belief system will be guaranteed and practiced in any condition everywhere in the world.
Prenuptial agreements come before the law of the land when conflict arises. So this is a nice opportunity for Muslims to guarantee their rights of Islamic belief and also to let Islamic law be applied on their family life.
Some clauses that Muslims have put in their contracts
A prenuptial agreement seems to give more strength to the Islamic marriage contract and the conditions placed therein. Muslim men and women are allowed to put conditions in the marriage contract, provided that they do not contradict Islamic law.
Below are some things Muslims have or may put in writing in their marriage contracts include.
Disclaimer: Many of the items below are not in agreement with others. Nor are the conditions below recommendations from Sound Vision.
We strongly urge anyone who is considering putting conditions or any of the following clauses in their marriage contract or working out a prenuptial agreement with their spouse-to-be to consult a qualified Islamic scholar as well as a Muslim lawyer well grounded in marriage and divorce law of the land.
both husband and wife agree to discuss all issues that arise in their marriage and arrive at mutually agreeable conclusions. Differences of opinion concerning a point of Islamic practice will be referred to the Quran and Hadith. Both will admit if they are simply expressing personal opinions, which will not be binding.
none of them will have a right to physically hurt each other.
the husband must learn to speak and read Arabic fluently.
that the husband will not require the wife to move out of her home town.
the wife will bring all twenty of her cats to live in her husband's house.
husband and wife both will share responsibilities of cooking, cleaning and other homemaking tasks.
income of husband and wife both will be pooled together in one account operable by each one individually with mutual consent.
husband will not exercise his option of another wife
husband is the leader of the family who will run the family in consultation with the wife.
wife will not be required to work outside the home. If she chooses to work, she will be not be stopped from it and she will not be required to share that income for the family needs.
wife will not work to earn money without the consent of husband.
wife will be solely responsible for homemaking.
children will be raised as Muslims in home and through Islamic education.
home will be run Islamically as described in the Quran and Hadith
Children will not be taken to church.
A court granted divorce will be considered, Islamically, a first level of Talaq (divorce), which has a room for remarrying the same person without any condition.
husband or wife will facilitate each other's Islamic work and will not stop each other from it.
in case of a dispute, husband and wife will appoint one person each to arbitrate between them
if either husband or a wife suggests marriage counseling, the other party must agree to it.
husband will not ask wife to stop her Islamic practices like Hijab
if anyone indulges in Haram (what is forbidden), it will be an acceptable ground for divorce.
in case of divorce, children will be with Muslim spouse and will be raised Muslims.
in case of any spouse's death, the surviving spouse will be responsible for the distribution of inheritance according to the Islamic law.
family will not move out to another country without mutual agreement.