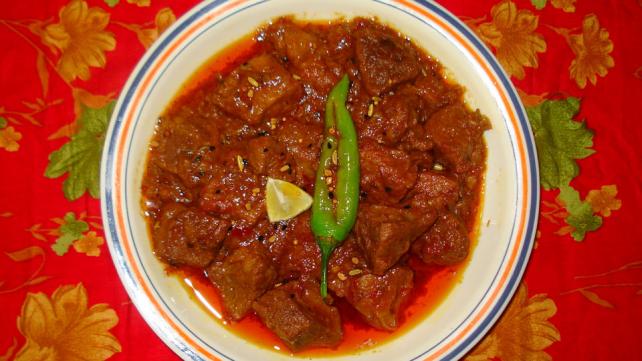 Need a quick meat recipe? This one is and easy too. Serve with naan, plain yogurt and a tossed salad or use as a side dish. Either way it is sure to be a winner!
FROM THE KITCHEN OF SR. HUMA MURAD
Ingredients:
1 LB meat (beef, lamb) cut into 1 inch cubes and visible fat removed
2 Teaspoon chili (to taste)
1 Teaspoon coriander powder
2 large tomatoes chopped small
1 large onion cut in thin slices
1/2 Teaspoon ginger powder or paste
1/2 Teaspoon garlic powder or paste
1 Teaspoon turmeric
1/2 Teaspoon amchur powder or 3-4 Teaspoon lemon juice
2-3 Tablespoon oil
Method:
Wash meat and drain water completely. Add salt and turmeric, cook meat with 1 cup water in pressure cooker for about 10 minutes. Check to see if meat is done add more water if need to be cooked longer. Dry up any water remaining. In separate pan heat oil and add onion. Fry till brown. Add tomato and rest of ingredients, fry until tomatoes are soft and mixed with spices. Then add meat to it and fry for few minutes till brown. Add lemon juice, fry 2-3 minutes. Garnish with chopped coriander.