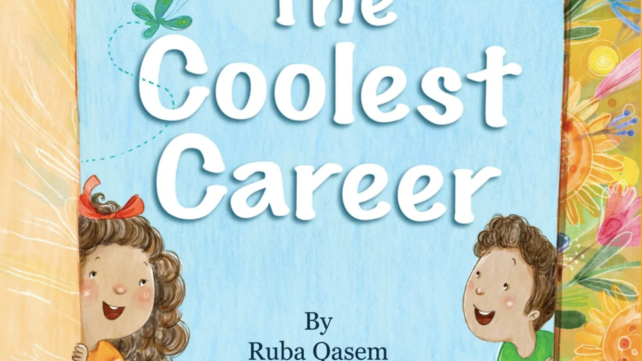 When I was a kid, I imagined having lots of different careers.
Some days I pictured myself as a doctor, performing life-saving surgeries. Other days I envisioned following in my parents' footsteps and joining the military. For a long time I worked toward being an engineer (and actually began my college career in an engineering program). And for even longer than that, I dreamt of being a reporter, a photographer, and a mother. Alhamdulilah, all praise and thanks are to Allah, I still find myself doing all of these today.
When you're a kid, anything seems possible and The Coolest Career by Ruba Qasem celebrates this perspective with an adventurous exploration of the many careers that Muslim children can have when they grow up.
In beautifully illustrated, full-color spreads by illustrator Golnar Servatian, the main characters, Yasmeena and Yousef, a brother-sister duo, explore various professions from nursing to construction, from librarians to chefs, from farmers to astronauts and many more. What stands out about this book is the frequent mentions of the types of feelings individuals with these careers might experience in their line of work.
With her Master's in Mental Health Counseling and her personal commitment to educating about emotional intelligence, Qasem uses each career exploration as an opportunity to openly discuss emotions and their expressions to help increase understanding and empathy in the readers. Here are a couple of examples:
"Teachers are trustworthy and tell students to reach for the sky, but they might get tearful when they have to say goodbye."
"Tailors are talented and spend many hours working away, but they must get tired if their hands move all day."
The story even begins with Yasmeena in the midst of a very relatable emotional scene for children: the feeling of frustration, the stamping of feet, and the shouting of anger because she can't decide what career to pick for herself. Being the emotionally intelligent child that he is, Yousef isn't fazed by his sister's display. He gently reminds Yasmeena to take deep breaths and then joins her in the calming action until her big feelings pass.
One of my personal favorite careers to see being explored in the book was that of a parent and on roller skates, too! Yes, parents may not earn degrees or salaries for all that they do, but to see parenthood being represented and respected as any other career would be, was both refreshing and heartwarming.
Which career did Yasmeena and Yousef decide was the coolest when their exploration was done? You'll have to read the book with your children to find out!
You may also want to check out the author's website at https://www.readingwithruba.com/.
Melissa Barreto is a home educating mother of five children and the Co-Founder of Wildflower Homeschool Collective, a homeschool organization based in Northern New Jersey.