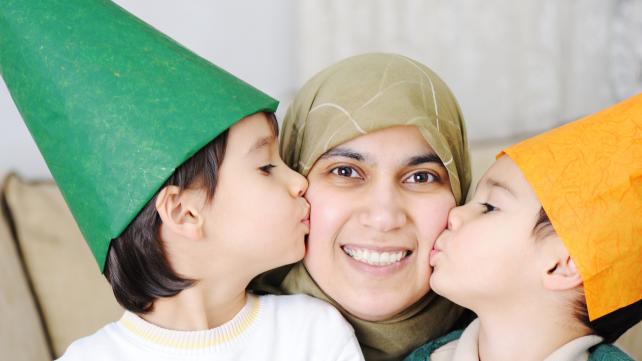 "I'm bored!"
It is not uncommon to hear your kids whine about boredom at various times of the year. The COVID-19 pandemic has taken creative approaches to boredom (or more problematic, the absence of creativity) to new heights. With COVID spikes, seasonal colds, and the flu adding to the instances of illness over the next few months, children are likely to be housebound for some period of time.
When your child is sick, there is a need to first address the symptoms and assist them on the road to recovery. That period should be filled with rest, attention to nutrition, and medication, if necessary. Once the vomiting, fever, congestion, body aches, and discomfort subside, insha Allah, God willing, they will be on the road to recovery. This is when your child may be too ill to return to regular activities, but may feel well enough to be bored.
Here are 10 ways to help you pass the time together meaningfully.
1. Read or tell stories
Many parents capitalize on bedtime to read to their children. It is a great way to wind down after a long day. When your child is spending more time in bed with illness or recovery, share gems of Islamic history, stories from the Quran, an in-depth look at the beauty of Allah's creation (did you know that honey is the only food product on earth that never spoils!), or even your own family's history. Reading a book aloud to them or telling a story can be a great bonding experience.
2. Watch a video together
If your own storytelling skills are not up to par, you can always watch stories on video together. Sound Vision has a ton of resources for young and elementary-aged children. Check out our classic Adam's World videos online. New videos, nasheeds (Islamic songs), and stories are available as well. You can find videos or get more details about our Adam's World App at adamsworld.org.
For older children and teens, there are some amazing video series about the Prophets and Sahaba, the Companions of Prophet Muhammad, peace and blessings be upon him, in English and many other languages. There is a host of options available at muslimkids.tv.
Science videos are also popular with kids, and plentiful online. Here are some of our favorites: SciShowKids, Bill Nye the Science Guy, Ted Ed (be sure to check out the chemistry of cookies!). And there are a gazillion more! Planting the seeds of curiosity about science can spark an early career interest in medicine, engineering, agriculture, and more.
Important caution: Kids are spending tons of time online these days, and it may be tempting to use videos as a babysitter. Be careful if you find yourself heading in this direction. Be sure to preview the selections or plan to watch videos together. It is also important to discuss the topic afterward. What new lessons were learned? How can these lessons apply to your own life? Is there any new information that you'd like to learn? Children have their own reactions and perspectives, but they also are always interested in yours, too. And by paying attention to the videos they are watching, you can help them become more informed online consumers themselves.
3. Write a letter to Allah
Encourage your child to write a letter to Allah. It could be about being sick or it could be about any other issue of concern. Learning to communicate with Allah on a personal level is an important milestone that can be fruitful for a lifetime. The letter could be in the form of a Dua (supplication). Encourage them to address Allah by one of His Most Beautiful Names and read the Dua after making Salat (the five daily Islamic prayers).
4. Listen to Nasheeds
Islamic songs or Nasheeds are nice to listen to when you are in a captive space. Sound Vision has relationships with many amazing Nasheed artists from all over the world. Here are some of our favorite children's songs by Dawud Wharnsby: ("Being Thankful" – contains "thank you" in many languages), Zain Bhikha ("Allah Made Everything" – a beautiful celebration of Allah's creation), Ilyas Mao ("The Provider" – explores the beauty of Allah's name Al-Razzaq). These Nasheeds are pleasing to the ear and contain lessons for the heart. Some are available at adamsworldapp.com/islamic-songs-nasheeds. Others are available on YouTube.
4. Make Dua
Prophet Muhammad, peace and blessings be upon him, said: "When you visit a person who is sick, tell him to make supplication (Dua) for you, for his supplication is like that of the angels" (Ibn Majah).
Encourage your son or daughter to make lots of Dua while s/he is sick. Suggest that they pray not only for their own health, but also for that of their family and friends – whether it's for a sibling to do well on an exam or for a neighbor who may need assistance. This will teach your child to rely on Allah and to ask Him for all things, big and small.
5. Be Creative
Children love to work on arts and crafts, even those who don't consider themselves "artistically talented." Suggest making a small comic strip that tells a real or made-up story. You could encourage them to make drawings of their favorite things or pull it in an Islamic direction with a beautiful geometric design or pictures of mosques from around the world. If drawing is too difficult, a collage is another option. You can have them scour old magazines for certain types of pictures (for example, parts of Allah's creation, favorite foods, etc.) and then glue them on a poster board. Don't forget about creative written works like writing a poem or even postcards to friends, too.
Note that every family should have a stash of art supplies and potential art project instructions on hand. If you have not already done so, invest now for future use. It doesn't have to be expensive (many dollar stores have a great selection of supplies) and you can even reuse and recycle things you may already have. Pinterest is a great resource for ideas.
6. Count your blessings
When we're sick, we tend to look at the world through dim glasses, forgetting the good things in our lives. Help your daughter get out of this mode by reminding her to count her blessings. To add a creative touch, suggest making a paper chain of blessings. On each loop of the chain, write down the blessing (like eyesight, a safe home, food to eat, names of each friend, etc.). Hang up the chain over her bed once it's done. It is likely to become a treasured reminder.
7. Complete a puzzle
Puzzles can be an enjoyable and quiet activity. Jigsaw puzzles can be worked on over time and can create a nice family project. If you don't have a jigsaw puzzle on hand, consider word search puzzles or crosswords, brainteasers, or math challenges from puzzles-to-print.com. Or try a silly mad lib (a funny story created on the spot. These are available as workbooks or can be generated online. These will keep a mind busy!
There are also sites which allow you (or your child) to make your own puzzles – try names of people in your family, favorite foods, or places to visit.
8. Visit a virtual exhibit
When you are housebound, it is a great opportunity to take a virtual field trip. There are some wonderful online tours available with a quick online search. Many of the National Smithsonian Museums or children's museums (check out 10 children's museums you can visit virtually) have online tours. There are also tours of manmade and natural wonders of the world as well.
9. Play board games
Another favorite in our house to beat back boredom is board games. You can dive into Candyland or Chutes and Ladders for the young ones, or Monopoly, Clue, Scrabble, or UNO for the older kids. There are some great Islamic board games, too, like the classics Race to the Kaba, Quran Challenge, and Mecca to Medina, as well as some new favorites, like 5 Pillars, Ilm Quest, Quran Explorer, and more. Check them out for purchase online at Noor Art. By doing so, you can also support another Muslim-owned business.
10. Thank Allah
Recovery from illness is a great time to remind your child to be grateful. Often, we (young and old!) take our health for granted until we get sick. Remind your son or daughter that Allah is the One who cured him and to thank Allah with Dua and by doing more good deeds.
Spending time in sickness and health with our children is priceless. The physical and emotional demands are heightened when they don't feel well. This is when they need us the most. Keep from becoming frustrated and overwhelmed by looking at each challenge in a new way, as an opportunity to come closer to your children and to Allah.
May Allah keep your family safe and healthy, reward you for your attention when they are sick, and strengthen the bonds between you in the process. Ameen.