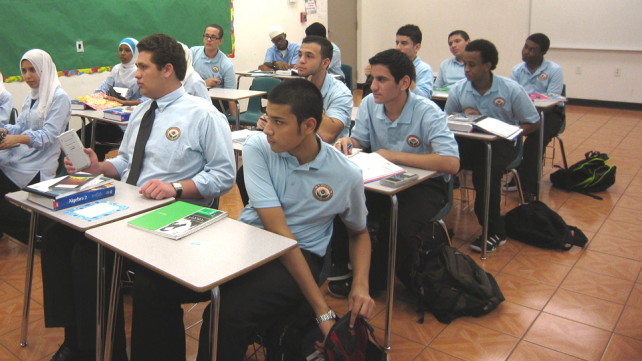 The amount of attention parents display in their kid's education is shown in the performance of the students in their exams and their attitude towards their teachers.
Below are a few suggestions on how parents can have their children extract the most out of Weekend School.

The weekend school usually last about 4 hours, which is not enough time for the teachers to cover the curriculum in a comprehensive way. The role of the parents come into play. Keeping a close attention on their children's homework and assignments, may help children remain focus on learning at the weekend Schools.
Showing Genuine Concern for Child's Education
Parents should exhibit as much, if not more, interest in the weekend school studies of their children. Usually this is not the situation. Parents usually drop off their children late to Islamic schools, many times don't even bring them, and further more if students do arrive at school, they have not completed the required homework, and frequently come without the necessary books or previous weeks handouts.
Frequent Meetings with Child's Teacher
Parents should have a private meeting with the principle and each of the teachers of their child on routine basis to evaluate the performance. This will also give a psychological boost to the teachers, who are mostly on a voluntary basis, and will help them to be more professional in their approach to dispersing their knowledge.
Parents Taking Active Role in Schools
Parents should become members of the PTA (Parents and Teachers Association) they can volunteer to be teachers in the school. This will place them in direct contact with the school administration and help them to submit proposals to transform the school for the better. The weekend school teachers are less appreciated and often times feel that parents just drop them off in the morning and go to shopping until the time of the end of the school.
The Bottom Line
Children follow their parents. When parents show interest and importance to something, children likewise will get motivated follow them. No wonder we usually see that children of highly educated parents who are involved in their children's studies also tend to excel in their studies. Since gaining knowledge of our deen is an obligation, parents should assist their children in fulfilling this obligation both at home and in the School.