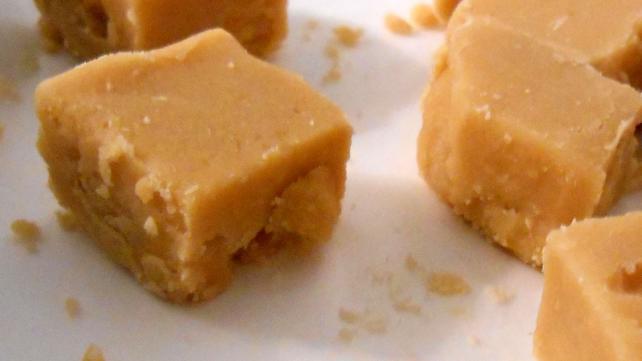 Ingredients
250mL of 35% cream
1 cup white sugar
1 cup brown sugar
a lump of butter the size of 1/2 an egg
more or less 1/2 teaspoon vanilla extract (the alcohol-free kind, of course)
Method
Boil cream and sugars together until a spoonful dropped in a glass of icy water forms a ball.
Add butter and vanilla.
Remove from heat.
Beat with a wooden spoon until it thickens.
Spread in a greased pan big/small enough to make a ~ 2 cm
thick layer. Chill until firm. Cut into not-too-big pieces.
Yield
A pan of delight.
Notes
Beating the mixture might tire you out. You can help the thickening process by placing the pot in a sink that has some cold water at the bottom.
For baking dessert squares and the like, I learned to line my pans with foil and then oil the foil, so that I later just have to lift the foil out for cutting the food – especially with non-stick pans.
Store your sucre a la crème in the fridge.
Photo Attribution: http://commons.wikimedia.org/wiki/File:Sucre_a_la_creme.JPG