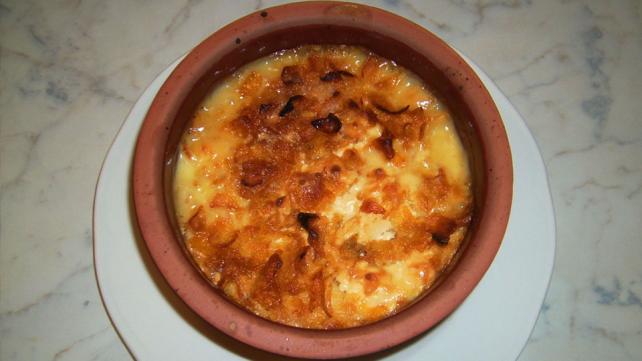 Ingredients:
1 sheet frozen puff pastry, defrosted
1/2 cup pistachios, chopped
1/2 cup almonds, sliced and toasted
2 tablespoons lemon juice
1 pint whipping cream
3 cups cold milk
3 tablespoons cornstarch
2 tablespoons sugar
pinch of cinnamon
rose water (optional)
Method:
Pre-heat oven to 400 degrees F. Roll out a sheet of puff pastry to spread evenly into a 9x13 inch pan. Bake approximately 15 minutes, or until lightly browned. Remove from oven, and reduce oven temperature to 350 degrees F.

Mix the almonds and pistachios with the lemon juice. Spread mixture over the pastry, reserving a small amount for garnish.

Combine cream, milk, cornstarch, sugar and cinnamon in a saucepan. Stir over medium heat until thickened. Remove from heat and let cool.

Spread the cooled cream mixture over the nuts and pastry. If desired, sprinkle with rose water. Return dish to oven for 30 minutes, or until cream becomes golden.

Serve hot, garnished with reserved nut mixture.
Photo Attribution: http://commons.wikimedia.org/wiki/File:Rizbihaleeb.JPG