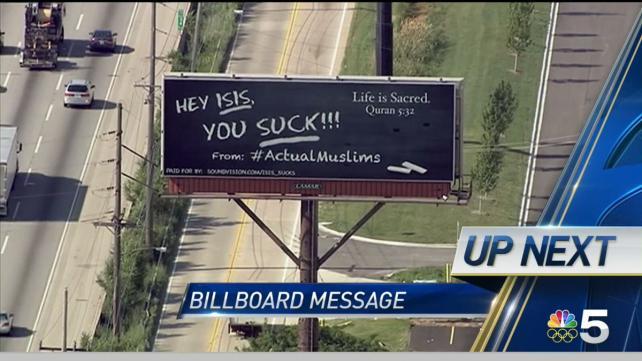 Did you know? The "ISIS Sucks" billboard campaign was envisioned by a group of young American Muslim fathers on a WhatsApp group in Chicago.
Endorsed and supported by Sound Vision, this campaign has created a good buzz in the Chicagoland and has been covered by several local media outlets and blogs across the USA.
If you would like to bring this billboard campaign to YOUR city, here is what is involved.
Sound Vision Will Offer the Following Assistance to You
Determine the billboard location options in your city and negotiate with the billboard company
Provide creatives / graphics for the billboard ad
Develop customized press release for your city to launch the billboard campaign
Train your city representative for media inquiries and interviews
Promote your city campaign through our online networks and social media
What You Need to Do
Be willing and able to raise some funds in your community to pay for this campaign. The billboard campaigns typically cost around $2,500 on average.
Complete and submit interest form below and one of our team members will get in touch with you, Insha Allah.