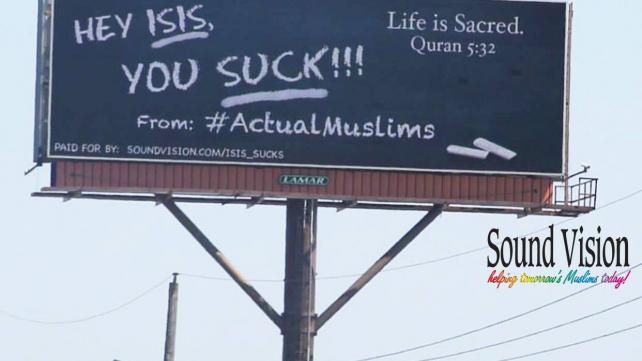 ---
The "ISIS Sucks" billboard campaign, envisioned by a group of young American Muslim fathers on a WhatsApp group in Chicago and endorsed and supported by Sound Vision, has created a good buzz in the Chicagoland area.
This campaign has been covered by several local media outlets and blogs. Check out some links below.
Moreover, the "ISIS Sucks" campaign with the hashtag #ActualMuslims has engaged thousands of Muslims and their neighbors across the USA in healthy and much-needed conversations.
---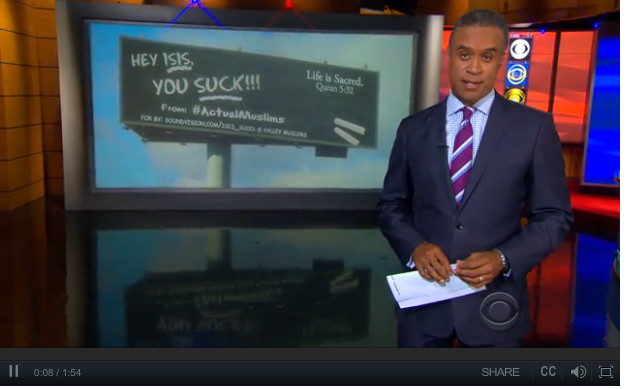 [CBS News]

Muslims Erect anti-ISIS Billboard in Chicago

A group of Muslim-Americans have sponsored a blunt billboard in Chicago denouncing ISIS. Now other cities are asking for the same. Dean Reynolds reports.
---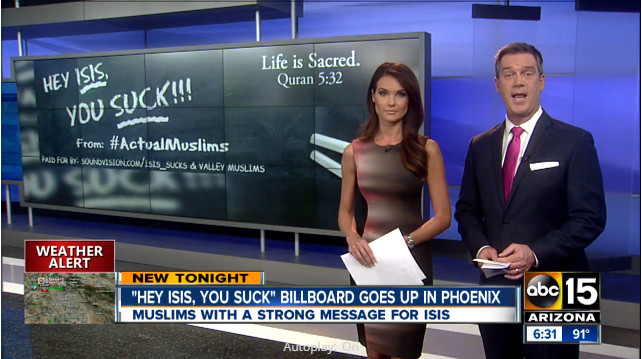 [ABC News]

'ISIS Sucks' billboard goes up in West Valley

Muslims in the Valley have a strong message for ISIS, also known as Islamic State or ISIL, that they're sending with a new nationwide billboard campaign.
---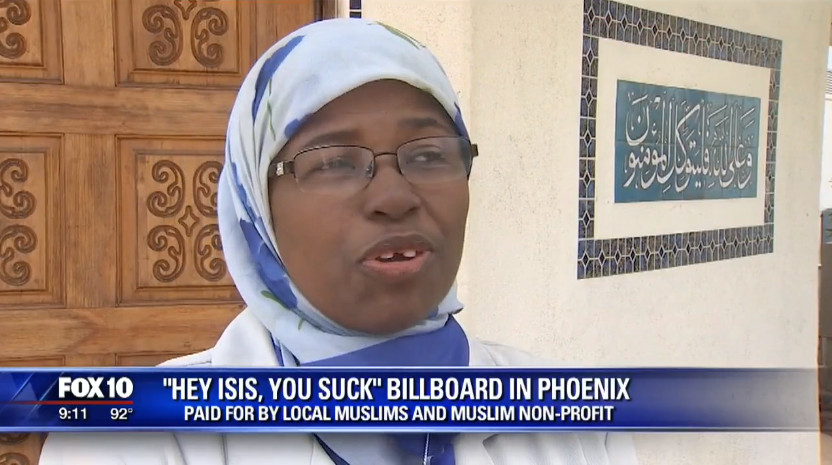 [Fox 10]

Muslim group condemns ISIS on valley billboard

A large electronic billboard has a simple message directed at ISIS: "Hey ISIS, you suck." The billboard was paid for by a national Muslim-American non-profit with help from the Muslim community in the valley.
---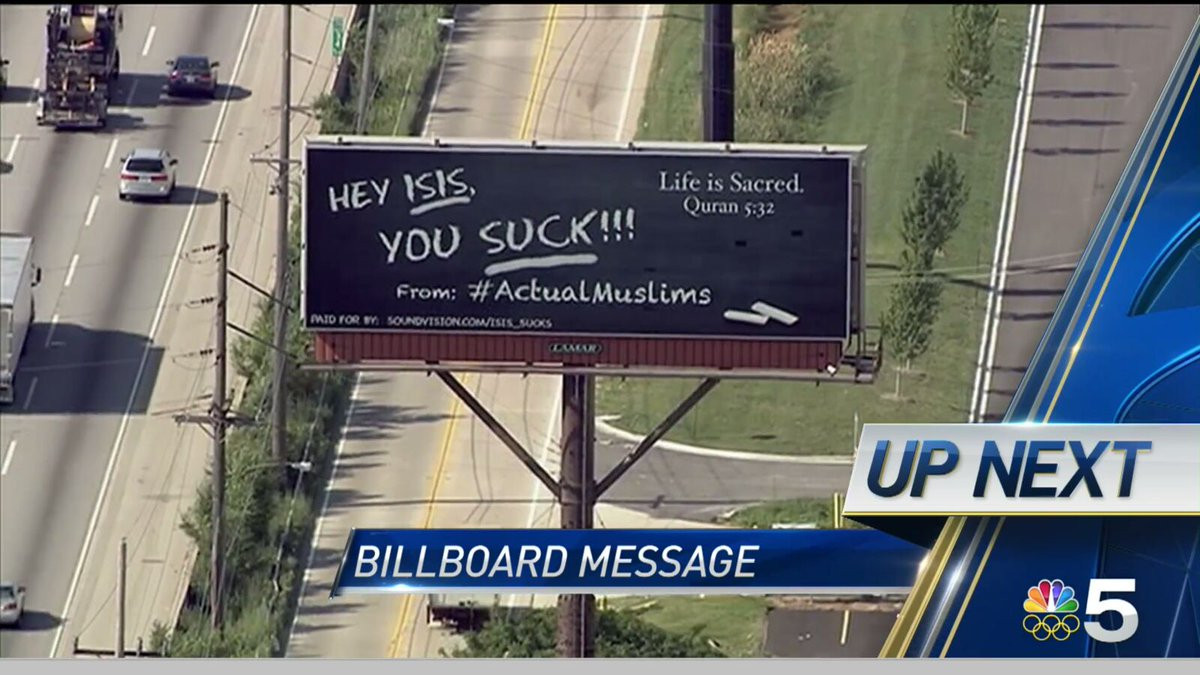 [NBC]

Muslim Group's Message to ISIS: 'You Suck'

A billboard with the message was hoisted in a Chicago suburb Thursday
---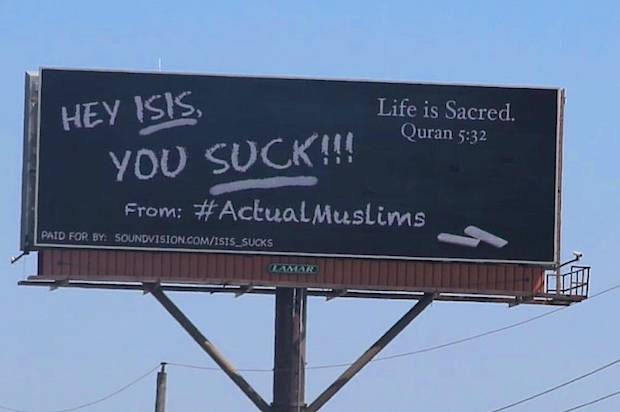 [Salon.com]

Muslim Americans launch "ISIS Sucks" billboard campaign: So-called Islamic State "does not represent Islam"

Non-profit Sound Vision created an anti-ISIS billboard campaign in Chicago to challenge extremism and Islamophobia
FRIDAY, AUG 5, 2016 12:18 PM EDT
---

[Upworthy]

American Muslims bought this billboard to send a loud message to ISIS.

If there's one thing in this contentious election year that nearly every American citizen can agree upon, it's that ISIS totally, totally sucks. And there's no one more fed up with those monsters than, well, actual Muslims.
---
[Religion News Service]

'Hey ISIS, you suck!!!' New campaign by #ActualMuslims pulls no punches

Mow a Muslim-run public relations firm in Chicago is taking the denunciations to a new level — and with a decidedly different tone — by producing a billboard and social media campaign that pulls no punches.
---
[KTAR News]

Clear message: 'ISIS sucks' billboard erected in Phoenix-area suburb

Billboards are no strange sight to drivers in the Phoenix area, but one taking an aggressive stance on the Islamic State is turning a few heads.
---
[Mic]

#ActualMuslims Post a Giant Billboard Outside Chicago Telling ISIS They 'Suck'

A new giant billboard on Interstate 294 just outside Chicago has some words for the Islamic State.
---
[The Gazette, Colarado Springs]

'Hey ISIS, you suck!!!' New campaign by #ActualMuslims pulls no punches
---
[Western Journalism]

US Muslim Organization Puts Up Billboard That's Turning Heads

A Muslim-American organization has taken a bold step to strike at ISIS while at the same time defending Islam.
---
[Step Feed]

American-Muslims say, 'Hey ISIS, you suck!'

Drivers along a busy stretch of highway in Chicago received a particularly poignant message during their daily commute on Thursday, "Hey ISIS, you suck!"
---
[Carbonated TV]

Muslim Group Slams ISIS With Billboard: 'You Suck'

Chicago activists raised a billboard stating "Hey ISIS, You suck!" in hopes to spread the message that "actual Muslims" are against the militant group.
---
[Newshub]

ISIS sucks, say #ActualMuslims with billboard

A new billboard in Chicago carries a blunt and direct message for notorious terrorist group Islamic State from Muslims in the US.
---
[Daily Star UK]

'You suck!' ISIS trolled by 'actual Muslims' with brilliant billboard

THIS is a brilliant way to diss Islamic State.
---
[The Times of Israel]

US Muslim group slams IS in billboard campaign

Chicago poster reading 'Hey ISIS, You suck!!!' is initiative of American group Sound Vision, using hashtag 'Actual Muslims'
---
[Middle East Eye]

'Hey ISIS, you suck' US Muslim group says with giant billboard

Chicago poster campaign picked up by social media users to tell Islamic State group it does not represent Islam
---