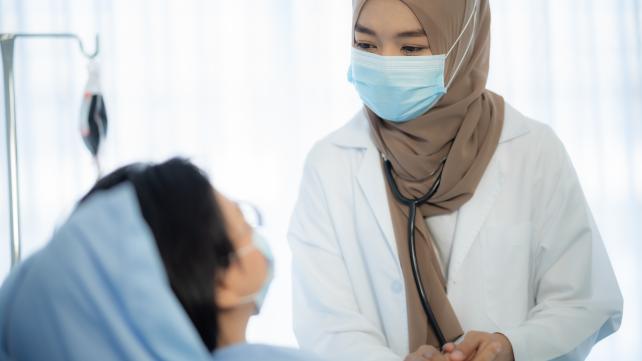 This year was indelibly marked by the COVID-19 pandemic, which brought death, disease, and economic hardship to the whole world. However, it also led to rapid advances in science, as well as long-ranging changes in every facet of life, from worship and work, to education, elections, and errand-running.
For Muslims, the pandemic led to developing unique ways of balancing faith, safety, and community service. Like everyone else, we faced this formidable test as we mourned our dead, cared for our sick, and grappled with the new challenges.
Among Muslim countries, Iran was hit especially hard in the first phase of the pandemic. Reporting its first cases in mid-February, it quickly became the world's hotspot for the disease outside of China in March. This was attributed to a combination of American sanctions on the country, government incompetence, as well as censorship of critical information.
In the United States and in other countries, Muslims fared better, but still suffered and struggled, even as they stepped forward to serve.
Muslims Helping the World Overcome the Pandemic
Muslim Heroes on the Frontline Fight COVID-19
"Reinventing" Ramadan, Eid, Juma Prayers, and Hajj
Scholars, Imams, and leaders swiftly began developing ways to handle Islamic worship and the religious life of their communities in a way that limited physical contact and respected COVID-19 protocols. It was a struggle in a community used to hugs, handshakes, and shoulder-to-shoulder prayers. But they met the challenge with determination and a commitment to the health and well-being of all.
Virtual Khutbas: Congregational Friday prayers in mosques were cancelled for several weeks in countless Masjids worldwide. They were replaced by virtual Khutbas. Once Ramadan began at the end of April, Taraweeh prayers were also canceled, followed by Eid prayers for both Eid-ul-Fitr in May and Eid-ul-Adha in July.
Pre-registration with apps and other conditions: When Masjids did open with restrictions, many adopted an app-based, pre-registration system. This issued a barcode to limit attendance at mosques in order to maintain physical distancing protocols. Some Masjids checked worshippers' temperatures at the door, had them bring their own prayer rugs, enforced mandatory mask-wearing, as well as a six-feet distance between attendees during prayer. An additional measure was thorough cleanings and disinfection after each of the five daily prayers.
A number of Masjids also established a system of contact tracing: if someone who attended the mosque later tested positive for COVID-19, worshippers who were also present on the same day and time would be informed and they would be advised to get tested as well.
The cancellation of Taraweeh prayers hit Masjids hard. Ramadan is an important time for charity and fundraising for Muslims around the world. According to one report, Masjids in the United States raise up to 30 percent of their annual revenue in the month of fasting. That is when attendance is generally higher than during the rest of the year, and Muslims tend to donate larger amounts to charity.
The shift to online congregational prayers, services, and programs benefitted Muslims who, due to disability or other challenges, are not normally able to attend the Masjid in person.
Hajj: COVID-19 affected Hajj in July, when Saudi Arabia announced that it would restrict admission to the pilgrimage to only 1,000 pilgrims of various nationalities already living in the country. It was the first time in Islamic history that foreign visitors had been barred from performing Hajj.
Muslim non-profit organizations also reeled from the pandemic, as they awaited the dire news of a wave of closures. In response, the American Muslim Community Foundation opened the Covid-19 Response Fund for Nonprofits in April. This was an online crowdfunding campaign that raised $100,000 for 17 Islamic organizations. The grants ranged from $1,000 to $66,000.
Virtual Classes: In the U.S., Islamic schools, both full-time and weekend, also moved online or to hybrid classrooms that combined online schooling with part-time, in-person attendance. As with other schools, the move to online schooling led to a decline in enrolment. Some artists and trained teachers joined together to offer innovative, interactive, work-based online classes to overcome children zooming out.
Deceased Declared Martyrs: Burial Rules Adapt to COVID-19
Islamic scholars gave Fatwas early on that those who died of COVID-19 are to be treated as Shaheed (martyrs), as per Prophetic hadith.
Muslim funeral directors faced the challenge of preparing and burying the bodies of COVID-19 victims in a way that maintained Islamic requirements of burial while respecting restrictions on touching the deceased. The Canadian Council of Imams published a guide on how to do this. Some advised performing Tayamum over the body instead of washing with water if there is a risk of infection. Others noted that since the deceased are Shaheed (martyrs), they can be buried in body bags without need for pre-burial washing.
Scholars also recommended performing the funeral prayer outside of the Masjid to maintain physical distancing, and limiting the number of attendees.
In Sri Lanka, Muslims struggled to convince the government not to forcibly cremate the bodies of Muslims who have died of COVID-19. The government requires the families to bear the cost of cremation, which typically amounts to around LKR 50,000-60,000 (approximately $270 to $325 US dollars) at a time when many families are struggling financially due to the pandemic. The Sri Lankan government's chief epidemiologist, Dr. Sugath Samaraweera, has claimed that burials would "contaminate ground drinking water". This is in opposition to the guidance of the World Health Organization, which notes that victims can be buried or cremated. Over 185 countries allow for the burial of COVID-19 victims.
It is important to note the context of the situation in Sri Lanka: Anti-Muslim riots in 2018 exploded after a buildup of tension between the majority Sinhalese Buddhists and the Muslim minority in the country. This has been due to a number of factors, including the growing Muslim population, which is seen as a threat by the Buddhist majority. As a result, Muslims have come under suspicion and faced profiling and harassment by the government.
Increased Muslim Charity and Philanthropy Worldwide
COVID-19 Inadvertently Introduces Islamic Hygiene Methods
Panic buying resulted in toilet paper shortages in the United States, Canada, Australia, the U.K., and other countries as COVID-19 hit. This led to a push for other methods of toilet hygiene, including the Islamic practice of Istinja, as well as a spike in sales of bidets.
Indians Falsely Blame Muslims for Spreading COVID-19 Intentionally
The pandemic became another excuse for Islamophobia by India's Hindu nationalist government under the leadership of Prime Minister Narendra Modi. This was in the context of outrage and outcry over bigoted legislation like the Citizenship Amendment Act and the National Register of Citizens. These laws specifically target and marginalize Indian Muslims, stripping them of citizenship and rights. The term "CoronaJihad" was coined to blame Muslims for spreading the disease in the country intentionally. This translated into calls for social and economic boycotts of Muslims, as well as physical attacks on them, including on volunteers distributing relief material.