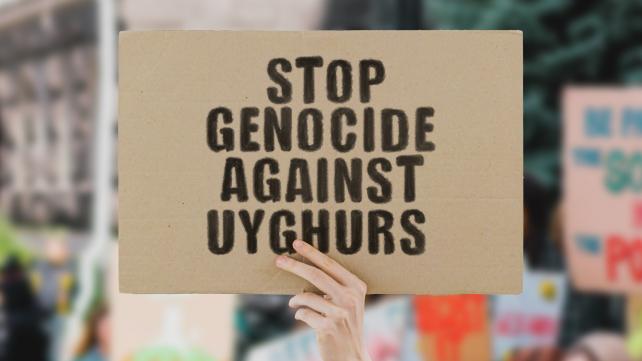 While most Muslims are concentrated in African and Asian countries, where the majority of the population is Muslim, significant numbers live as minorities all around the world. In the east, you will find Muslims in China; in the north Muslims in Russia; in the west, Muslims in Europe and North America.

The Global Muslim Diaspora Project notes that Muslims now constitute one of the largest and most widespread diasporas in the world. Over one-fifth of Muslims today live in Europe, North America, and Australia.
In 2020, minority Muslim communities faced unique challenges and opportunities.
Uyghur Muslims Remain a Target
The genocide of Uyghur Muslims in East Turkestan, called "Xinjiang" by the Chinese government since its most recent occupation of the region in 1949, gained greater attention and led to serious actions against China this year.
In February, a report entitled "Uyghurs for Sale" by the Australian Strategic Policy Institute revealed the extent of the Chinese government's use of forced Uyghur labor. The document estimated that more than 80,000 Uyghurs were transferred out of Xinjiang to work in factories across China between 2017 and 2019. Some of them were sent directly from detention camps. This involves the supply chains of at least 82 well-known technology, clothing, and automotive global brands including Apple, BMW, Gap, Huawei, Nike, Samsung, Sony, and Volkswagen.
In June, the Uyghur Human Rights Policy Act was signed into law by President Donald Trump, after being passed by both the House and the Senate.
In July, the U.S. Department of Treasury's Office of Foreign Assets Control (OFAC) sanctioned one Chinese government entity and four current or former government officials in connection with serious human rights abuses against Uyghurs.
President-elect Joe Biden's campaign labeled China's actions "genocide". A campaign spokesman said in a statement in August that Biden "stands against it in the strongest terms."
In October, a bipartisan group of U.S. senators introduced a resolution stating that the "atrocities" committed by China against Uyghurs and other Turkic people by the Chinese Communist Party constitute genocide. The House of Representatives passed two pieces of legislation which aimed to prevent items produced using Uyghur forced labor from entering the U.S. These range from tea and handicrafts to electronics and textiles, according to a 2019 report.
Indian Muslims Protest Discriminatory Laws
TIME magazine has named Bilkis Bano, an 82-year-old protestor, as one of the 100 most influential people in the world this year. From December 2019 until March 24 this year, she led a peaceful, sit-in protest which began by blocking a six-lane highway that borders her predominantly Muslim neighborhood in southeast Delhi, Shaheen Bagh. This was in response to the passage of India's discriminatory Citizenship (Amendment) Act (CAA), the National Register of Citizens, as well as other issues like police brutality, unemployment, poverty, and women's safety. It ended when Delhi Police vacated the site following the COVID-19 pandemic outbreak.
With crowds reaching as high as 100,000, the protest became one of the longest sit-in protests of this magnitude in modern India. The stages of Shaheen Bagh became a prominent platform to voice issues.
Taking advantage of the pandemic, the Indian police, under the direct control of the Minister of Home Affairs Amit Shah, attacked the protestors and killed some through extremist Hindu militias, the Rashtriya Swayamsevak Sangh (RSS).
When Amnesty International released a report on the issue, it was forced to shut down its operations in India. The United States Commission on International Religious Freedom recommended that India be placed on the top tier of concern for ongoing violations against religious minorities.
Rohingya Muslims: Refugee Relocation; Prosecution for Genocide
Amid protests by Rohingya refugees, their advocates, and human rights activists, the government of Bangladesh moved forward with a plan to relocate thousands to Bhasan Char, a floating, seasonally submerged island. The long-term plan is to send 100,000 Rohingya to this facility.
Human Rights Watch reports that more than a dozen families whose names appeared on the list claim they were not consulted in this decision. Many refugees are wary of moving to the island after hearing of the "prison-like facilities" they would be living in, as well as the government's reneging on cash gifts for people moving to the island. The first groups scheduled to relocate began their travels on December 3.
Since August 2017, after the Burmese government targeted the Rohingya community for genocide following decades of human and political rights violations, refugees fled to neighboring Bangladesh.
The Bangladesh government, with assistance from United Nations agencies, international, and national aid groups, have provided Rohingya refugees with food, healthcare and basic facilities like communal toilets and drinking water.
Most of the refugees live in shelters made of bamboo and plastic sheets.
The U.N. International Court of Justice at The Hague ordered Burma to "take all measures within its power" to protect Rohingya Muslims from genocide after Gambia filed a case last year.
Sri Lankan Muslims: Forced COVID-19 Cremations
In Sri Lanka this year, Muslims struggled to convince the government not to forcibly cremate the bodies of Muslims who have died of COVID-19. The government requires the families to bear the cost of cremation, which typically amounts to around LKR 50,000-60,000 (approximately $270 to $325 US dollars) at a time when many families are struggling financially due to the pandemic.
The Sri Lankan government's chief epidemiologist, Dr. Sugath Samaraweera, has claimed that burials would "contaminate ground drinking water". This is in opposition to the guidance of the World Health Organization, which notes that it is "a common myth that persons who have died of a communicable disease should be cremated, but this is not true. Cremation is a matter of cultural choice and available resources." Over 185 countries allow for the burial of COVID-19 victims.
It is important to note the context of the situation in Sri Lanka: Anti-Muslim riots in 2018 exploded after a buildup of tension between the majority Sinhalese Buddhists and the Muslim minority in the country. This has been due to a number of factors, including the growing Muslim population, which is seen as a threat by Buddhists. As a result, Muslims have come under suspicion and faced profiling, targeting, and harassment.
Sri Lanka is the only country in the world forcing cremation of those who have died of COVID-19, thereby creating double trauma for Sri Lankan Muslims who have lost loved ones to the disease.
Muslim Freedom Struggle: Palestine
Palestinian leaders, protestors, and children continued to be arrested throughout the year despite the COVID-19 pandemic. Israel's Prime Minister Benjamin Netanyahu, took the following longstanding and ongoing illegal actions almost monthly:
-Bulldozing and demolishing Palestinian houses.
-Sanctioning construction of houses in illegal settlements in occupied Palestine.
-Threatening to declare all illegally annexed parts of the occupied West Bank Israeli territory.
The Palestinian Colonization and Wall Resistance Commission reported that for the first half of 2020, Israel demolished 313 homes and issued 129 eviction notices; Jewish settlers launched 419 attacks, injuring 78 Palestinians, damaging 1,100 dunums of land, and 78 vehicles; Israel sanctioned building 7,1100 new homes in different illegal settlements.
The United Arab Emirates, Bahrain, and Morocco signed a peace agreement with Israel, formalizing the three countries' existing relationship with Israel.
Muslim Freedom Struggle: Kashmir
Fifteen months after the re-invasion of Indian-held Kashmir, the streets are still full of soldiers, Indian military bunkers are back, and the passage of military convoys takes precedence, even over medical emergencies. Kashmiris are stopped, and the halts can last for hours. Human rights organizations and local Kashmiri media are essentially dead.
Hundreds of Kashmiri activists, including those who are pro-India, are still detained without any due process of law. Those who are released are forced to sign a document saying that they will not issue any statement or speak publicly. The Indian occupying forces do not even trust the so-called pro-India politicians, many of whom are still in jail.
To rule over Kashmir's majority Muslim population, India has imposed a RSS Hindutva Hindu, Manoj Sinha, as Lieutenant Governor of Jammu and Kashmir, from 1,000 kilometers in Uttar Pradesh. In one of his critical meetings about development in the region, only one Kashmiri was among 19 Indians in attendance, cementing the belief that Kashmiris are being pushed out of governance.
India has enacted a series of new laws allowing non-Kashmiris to buy land in the disputed Indian-administered Kashmir, essentially aiming at diluting the Muslim majority character of the region. So far 400,000 non-Kashmiris have been issued domicile certificates for this purpose. This is in addition to 800,000 Indian soldiers already in occupied Kashmir.
The Kashmiri resistance movement continued its attacks on Indian forces. The Indian military has killed more than 155 militants.
Pakistan, which claims the whole of Kashmir as India does, issued its own map showing Indian-occupied Kashmir as a part of Pakistan.
Indians held an election of local bodies in late December after arresting most leaders of the Kashmiri freedom movement who had called a boycott of elections. While the elections were unfair, an anti-Modi alliance acquired a majority of the votes.
France Faces Boycott After Crackdown on French Muslims
In October, Paris history and geography teacher Samuel Paty was killed by a Muslim, Russian-born student in his class, Abdoullakh Anzorov. This was after Paty presented a copy of insulting cartoons of Prophet Muhammad, peace and blessings be upon him. These were the same cartoons that had provoked the attack on Charlie Hebdo magazine five years ago. The murder was immediately condemned by Muslims in France and around the world, including by the leaders of Turkey, Iran, Jordan, Kuwait, as well as the Organisation of Islamic Cooperation.
The French government used the incident to further crack down on the country's Muslims with arrests, mosque closures, as well as calls for the dissolution of two Muslim NGOs, the retraining of Imams, and an overhaul of Islam itself to fit into French society.
The incident reignited debate about the longstanding struggles France has had with its marginalized Muslim community, which has been subject to racism, discrimination, and profiling at virtually all levels of French society. It also brought into focus the way "secularism" as the law of the land has been wielded to target French Muslims specifically, as opposed to other religious groups.
Islam is the second largest religion in France, and the country has the largest Muslim population in Western Europe.
Updates on Mosque Massacres in New Zealand and Canada
New Zealand's Prime Minister Jacinda Ardern apologised to the country's Muslim community for failings that led to attacks on two Masjids in the city of Christchurch in March last year.
The mosque massacre killed 51 people and injured 49. It was the worst mass shooting in the nation's history. The killer was Australian white supremacist Brenton Tarrant, who livestreamed the attacks on Facebook. Ardern's apology came after a 792-page report by the country's Royal Commission was published in December. It found that the security services did not pay enough attention to the threat posed by right-wing terrorists, instead placing an "inappropriate" focus on Islamist extremism. It also noted problems in gun control laws, and said that Tarrant was frequently online in extreme right-wing discussion boards that were hosted by 4chan and 8chan. In addition, he regularly watched extremist videos on YouTube. Tarrant was jailed for life without the possibility of parole in August.
In Quebec, Canada, white supremacist killer Alexandre Bissonnette, who murdered six people in a Quebec City mosque massacre in 2017, had his sentence reduced in November. Bissonnette, who was influenced by U.S. President Donald Trump and American conservatives like Ben Shapiro, will be eligible to apply for parole in 25 years rather than 40. He is 31.The province's highest court ruled in December that the section of the Criminal Code allowing consecutive life sentences was unconstitutional. Bissonnette was originally sentenced in February 2019 to life in prison with no possibility of parole for 40 years. National Council of Canadian Muslims representative Yusuf Faqiri called the decision to reduce Bissonette's sentence a "travesty of justice."
Muslim Response to Wildfires in Western U.S. and Australia
Wildfires raged in Australia for months, including at the start of 2020, when over 2,000 homes were damaged or destroyed. In response, a group of Muslim women from the Australian Islamic Centre filled five trucks full of donated supplies and raised $1,500 in 48 hours. They traveled over four hours with other volunteers to distribute the supplies to victims and cooked breakfast for 150 firefighters.
In California, Islamic Relief worked with the American Red Cross in responding to raging wildfires that broke out in July, destroying over 38,000 acres and forcing 20,000 people to evacuate. The non-profit organization provided financial assistance to victims affected by the fire and supported relief efforts on the ground.