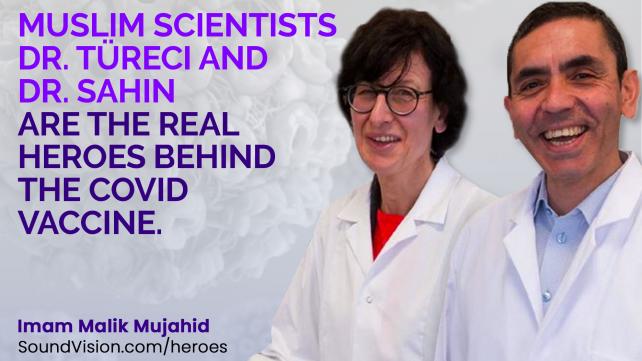 The news is full of stories about the vaccine ready to save the world from the pandemic. Pfizer, an American multinational pharmaceutical, is jumping up and down with joy. President Trump is tweeting and complaining, asking why the great news came six days after the elections: it might have flipped the election for him.
But in the midst of this great news, the world will most likely not notice one fact: that the vaccine was invented by Muslim couple scientists, Turkish immigrants to Germany. These heroes could protect humanity from a virus that has killed 1,280,000 people and impacted billions.
If Germany had an "American dream" these scientists, physicians, and now billionaires would be its poster child. These two physicians-turned-scientists, Dr. Ugur Sahin and his wife Dr. Özlem Türeci, met each other in a German medical school. She was born to Turkish immigrants and he was four years old when he came with his immigrant parents to Germany. Dr. Sahin is also Professor of Immunology at University of Mainz, Germany.
A bit about their names: Sahin is the Turkish way of writing Shahin, which means a falcon. But it is more of a mythological falcon, representing the ideal Muslim and popularized by Dr. Muhammad Iqbal, the poet of Pakistan. It is also a common name for both boys and girls in South Asia.
Dr. Sahin was awarded the Mustafa Prize in 2019. The award is named after Prophet Muhammad, peace be upon him, by an organization called Khuddame Mustafa (the Servants of the Prophet). It is a prize for Muslims in science and technology, which he received for his development and clinical testing of mRNA-based cancer vaccines that can be tailored to individual patients' mutation profiles.
They founded the German company BioNTech. It is currently valued at $21.9bn and has 1,800 staff. Their scientific innovation beat the larger and more famed competitors in bringing a covid vaccine to market.
Their first company name was Ganymed, a Turkish word meaning "earned through hard work." This company pioneered antibody therapies against cancer. They sold the company to Japanese Astellas.
Dr. Sahin knew his science. He was ready before the pandemic hit, as the New York Times reported:
Two years ago, Dr. Ugur Sahin took the stage at a conference in Berlin and made a bold prediction. Speaking to a roomful of infectious disease experts, he said his company might be able to use its so-called messenger RNA technology to rapidly develop a vaccine in the event of a global pandemic.
Dr. Sahin cancelled the vacations of his staff and got to work, calling their project "Project Lightspeed" and initially developing 20 candidates. But to test it rapidly, he partnered with the chief executive of Pfizer, an immigrant from Greece.
And now the world has a vaccine.
The New York Times says that both scientists are simple people. "The two billionaires live with their teenage daughter in a modest apartment near their office. They ride bicycles to work. They do not own a car."
Germany, which welcomed almost a million Syrian refugees, definitely benefits from its immigrants. It is a far better scenario than France where Muslims face huge discrimination and Islamophobia.
The world is a connected place. Building walls and closing borders has not stopped the infinitesimally small covid virus from killing 1.2 million people around the world. But God-given human brains are figuring out how to deal with it.
Muslim scientists are all around the world. But they shine in the West, as its scientific opportunities, resources, systems, and processes allow them to focus.
I only wish that walls and borders would not stop people of the world from connecting, collaborating, and innovating to serve humanity, save the planet, and to please the Creator of us all.
And this is how this husband-and-wife team celebrated according to the New York Times:
Dr. Sahin said he and Dr. Türeci learned about the efficacy data on Sunday night and marked the moment by brewing Turkish tea at home. "We celebrated, of course," he said. "It was a relief."
I don't drink tea, but I raise my hands in dua for them. May God bless them, keep them healthy, humble and productive.
A note from the author
When I posted it on my Facebook page, I got a lot of pushback from people asking what faith has got to do with science. Good question. Here is my answer.
Muslim physicians and scientists don't get much recognition and often face discrimination. A study out of the University of Chicago found that about half of the Muslim physicians in USA reported discrimination. One such glaring example is that of a World-renowned Northwestern University researcher Professor Teepu Siddique. This Pakistani-American Muslim physician discovered the gene causing neurodegenerative disorders like Parkinson's disease and Lou Gehrig's disease. However, he is currently forced to fight in the courts to save his research work. His work is cited in over 1600 scientific publications, but the University has cut 80% of its funding. Muslim physicians and scientists are often ignored. One recent example is President-elect Biden's 16-person Pandemic Task Force. There are tens of thousands of Muslim physicians in the USA saving lives day and night during the pandemic and many among them are accomplished epidemiologists serving on other task forces, but none was allowed to serve at this level. For example, I interviewed Dr. Uzma Syed at Muslim Network TV, who is just one such epidemiologist and mother of two who runs around saving lives in three hospitals while also chairing the local pandemic task force in Long Island New York.
Each time people mention the faith of a terrorist and the skin color of each criminal, I wonder when they will mention the faith of all those who quietly do good.