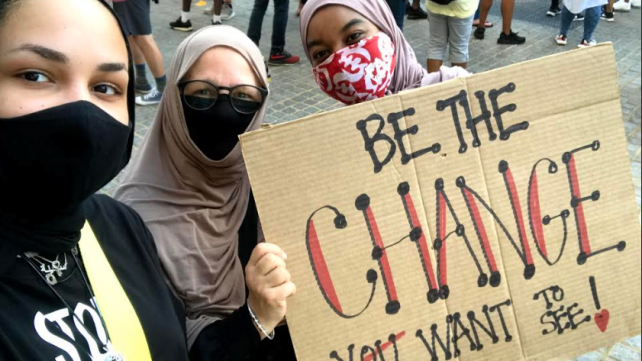 The November 3, 2020 United States presidential election was a key event that defined and affected the American Muslim community this year. It was an historic election, with the highest voter turnout since the presidential election of 1900 over a century ago.
Muslims were among over 66 percent of eligible voters, nearly 160 million Americans, who cast their ballots.
The Council on American-Islamic Relations (CAIR)'s poll of 844 registered Muslim voter households indicated a high turnout, with 84 percent of respondents reporting that they voted in the election.
But Muslims also did more than vote. A larger number ran for office, and the more well-known U.S. Representatives, like Andre Carson, Ilhan Omar, and Rashida Tlaib, were all re-elected.
Other highlights from Election 2020:
According to an NPR poll, 64 percent of Muslim voters supported President-Elect Joe Biden nationally, while 35 percent backed President Donald Trump. Muslim voter turnout was especially critical in states like Michigan, Pennsylvania, Arizona, and Georgia. In 2016, 67 percent of Muslims chose a Democrat as their candidate of choice, while 16 percent chose a Republican.
President-Elect Biden had reached out to American Muslims during his campaign and promised to challenge increasing anti-Muslim hate crime in the country, and to protect their constitutional rights.
Biden Campaign's Treatment of Linda Sarsour: When Linda Sarsour, the founding co-chair of the Women March, spoke at the Muslim Delegates event at the Democratic National Convention in August, Biden's spokesperson Andrew Bates told CNN "Joe Biden has been a strong supporter of Israel and a vehement opponent of anti-Semitism his entire life, and he obviously condemns her views and opposes BDS, as does the Democratic platform. She has no role in the Biden campaign whatsoever." Sarsour is a Palestinian-American who mobilized Muslims to support the Democratic party.
Muslims For Trump: More Muslims supported President Trump in this election than in the previous one. According to the Institute for Social Policy and Understanding, support for Trump's reelection climbed ten percent between 2016 and 2020 among Muslims. ISPU noted that the increase was partially driven by white Muslims being more likely than non-white Muslims to select Trump as their candidate of choice. Nearly one-third of white Muslims (31 percent) chose Trump, compared with eight percent of Black and Arab Muslims, and six percent of Asian Muslims.
Muslim Support for Senator Bernie Sanders: Right before Sanders dropped out of the presidential race in April, he held a slight lead over Joe Biden among Muslims. According to the ISPU, 29 percent of Muslims selected Sanders, 22 percent chose President-Elect Biden, and 14 percent President Trump. Two percent selected Bill Weld, and less than half a percent selected Tulsi Gabbard. Senator Sanders' campaign manager was a Muslim, Faiz Shakir, and his surrogates included major Muslim politicians. Senator Sanders was the only presidential candidate who criticized India.
Muslims Running for Office: 110 Muslim candidates ran for office in 2020. Seven were elected as state legislators. Most Muslims who ran for smaller offices at the city and county levels won.
Muslims in Congress: Despite Islamophobes' heavy funding to defeat U.S. Reps. Ilhan Omar and Rashida Tlaib, both won their seats, although both lost their margin of victory slightly. Ilhan Omar won in 2018 by 78 percent of votes but in 2020 she won by 64.3 percent. Rashida Tlaib, who won in 2018 by 84.2 percent of votes, this time won by 78.1 percent. Rep. Andre Carson also was re-elected. Omar and Tlaib are the first Muslim women to serve in Congress. Carson is the second Muslim to serve in Congress, after Minnesota Attorney General Keith Ellison, who became the first Muslim elected to Congress in 2006.
EMGAGE & Zionist Connections: A major controversy erupted within the American Muslim community in the weeks prior to the election related to the activities of Emgage. This is a Muslim political organization which was accused by its former staff of serious problems, and faced criticism for its ties to Zionist, pro-Israel groups. When the controversy began, Emgage took down pages on its website showing its board members who, along with its co-chairs, have visited Israel funded by pro-Israeli Zionists.
Emgage was blamed for endorsing at least 20 pro-Israel candidates in the election, as well as one supported by Hindutva extremists, Sri Preston Kulkarni in Texas, and endorsed an Ahmadi candidate, Qasim Rashid, who is the spokesperson of Ahmadis in U.S. While Emgage built enthusiasm among Ismailis and Ahmadis, the mainstream Muslim community became more suspicious of Emgage's ties and a sudden influx of funding at the organization. In October, after a failed dialogue, it was dropped from the US Council of Muslim Organizations after it refused requests to end relationships with pro-Israel and anti-Muslim groups.
Muslim Demands With The President-Elect: Justice For All submitted a detailed ask to President-Elect Joe Biden in regards to what he can do to strengthen human rights at home and abroad. Muslim Advocates also submitted a memorandum to the President-Elect, mostly focused on domestic policies.
Other Developments
Launch of Muslim Network TV: Sound Vision launched a new Muslim TV channel broadcasting on satellite, reaching 57 million people, mostly in rural America, and covering the whole United States, Canada, and Mexico. Its programs are also streamed at Apple TV, Amazon FireTV, and Roku. The Muslim Network TV is available 24 hours a day, seven days a week, producing 8 hours of programming every day. This includes talk shows, children's and art programs, as well as documentaries. It is available on app for your phone as well. Future programming will insha Allah include a comedy show currently being produced on the model of the Tonight Show.
No Muslim Ban Ever: The U.S. House of Representatives passed the NO BAN Act (H.R. 2486) on July 22, which would repeal President Trump's Ban on Muslims and citizens of certain African nations - if it becomes law. The historic vote was the first time either chamber of Congress passed a Muslim civil rights bill. It must now be taken up by the Senate.
Supreme Court Rules In Favor of Three Muslim Men: On December 10, the US Supreme court issued a unanimous judgement in favor of three Muslims who were placed or kept on the government's no-fly list in retaliation for refusing to serve as terrorism informants for the FBI. The judge ruled that they may sue individual FBI agents for money damages under a federal law protecting religious exercise.