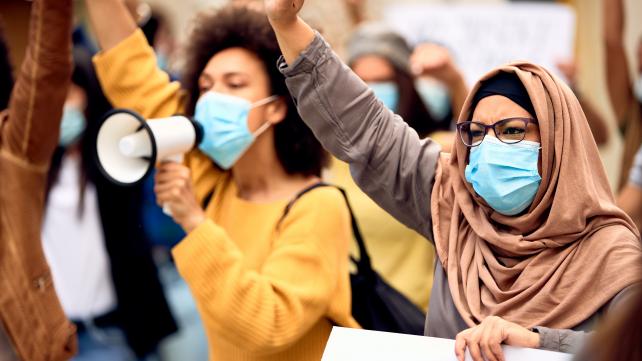 According to a July 2020 poll, a large majority of Americans, 71%, believe that race relations in the United States are either very or fairly bad, a 16-point increase since February.
This was just a few weeks after the May 25 homicide of George Floyd, a Black man in Minneapolis, who died after the white police officer arresting him, Derek Chauvin, pressed his knee onto his neck. Autopsy reports confirmed that he died by asphyxiation.
Floyd's death ignited protests against racism and police brutality across the U.S. Chauvin was charged with second degree murder. He is the first white officer in Minnesota to be charged in the death of a Black civilian. He was released on conditional bail in October after posting a $1 million bond. His trial is set to begin next March.
Muslims all over the United States marched in the protests and supported the cause as well. According to the Institute for Social Policy and Understanding's American Muslim Poll 2020, Muslims are the most likely faith group to favor building a coalition with the Black Lives Matter movement. Months before Floyd's murder and the subsequent protests, 65 percent of Muslims expressed support for activists in their faith community to build coalitions with Black Lives Matter, compared with 54 percent of Jews, 42 percent of Catholics, 37 percent of Protestants, 30 percent of white Evangelicals, and 44 percent of the general public.
The poll also found that among Muslims, women, youth aged 18 to 29-year-olds, Black, and Arab Muslims are more likely than men, elders (those 50 years old and above), white, and Asian Muslims to support building such coalitions.
Muslims In Minneapolis: In Minneapolis the shopkeeper whose employee called the police because of a counterfeit bill is a Muslim named Mahmoud Abumayyaleh. Social media targeted him with his photo saying "Meet the man who called the police on George Floyd because of an alleged $20 fake bill." Later media investigation and conversation with the neighbors led to reports that the owner actually advised staff to call the police on police attacking Floyd.
The Muslim-owned Gandhi Mahal Restaurant in Minneapolis became the undeclared base of the protest movement. Meetings, food, as well as paramedics used the space until it burned down. The owner, Ruhel Islam, said in response, "Let the buildings burn. Justice needs to be served. Put those officers in jail."
A 21-year-old Muslim, Hamza "Travis" Nagdy, emerged as one of the leaders of the Black Lives Matters protests in Louisville, Kentucky in the wake of Breonna Taylor's murder. Considered an inspirational leader, he was shot dead by an unknown assailant on November 23. Another Muslim activist, Reena Paracha, also emerged as one of the organizers of the movement for justice for Taylor.
Linda Sarsour, Imam Omar Suleiman, and many other Muslim leaders marched in the Black Lives Matter protests.
A joint statement of Imams and Muslim leaders of the United States on the murder of George Floyd was also issued, condemning his killing and calling for police reform.
The movement continued to build as other cases came to the fore, including the March 13 murder of Breonna Taylor, a Black medical worker, who was shot and killed by Louisville, Kentucky police officers in her home. Another was the murder of Jacob Blake in Kenosha, Wisconsin on August 23 by a police officer who shot him seven times when Blake opened the door of his SUV where three of his children were sitting.
Protests were mostly peaceful, according to the Armed Conflict Location & Event Data Project (ACLED). Between May 24 and August 22, ACLED recorded over 10,600 demonstrations across the country. More than 10,100 of these, almost 95 percent, involved peaceful protesters. Less than 570 (about five percent) involved demonstrators engaging in violence.
At least some of this violence was caused by white supremacists, who also saw the protests as a recruitment tool. In addition, police violence against peaceful protesters became an issue. An August report by Amnesty International documented serious and widespread human rights violations by police officers against protesters, medics, journalists, and legal observers who participated in Black Lives Matter protests in May and June.
A July poll may indicate that the protests have helped shift public opinion on the prevalence of racism in American society and discrimination against Black Americans. From February to July 2020, the number of people who see race relations in this country as "very or fairly bad" has increased by 16 percent. Voters who recognize discrimination against Black Americans has roughly doubled since 2008.