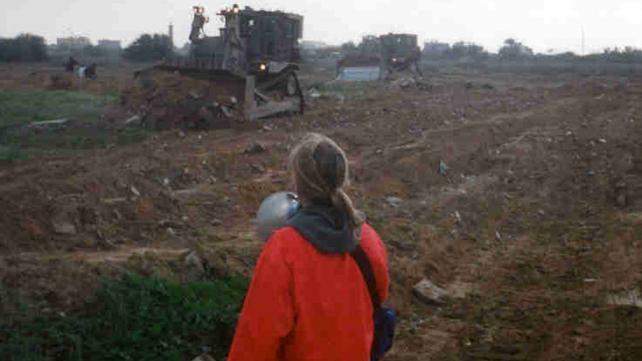 Many a night Rachel Corrie slept next to a well, in a town called Rafah in Palestine, near the Egyptian border. She felt afraid that this source of much needed water would be destroyed on some pre-text by the Israeli military. A Palestinian lady who had the keys to this well would quite frequently ask Rachel about her Mother. The reason? She wanted to make sure Rachel kept in touch with her mother.
Rachel did this via email.
She wrote regularly to her family and friends, recounting stories of home and green house demolitions, the constant firing, sniping, explosions and the abject poverty of the Palestinian people.
Here and there she would write about her nightmares... her reaction to the constant violence imposed on the people of Rafah:
When that explosive detonated yesterday it broke all the windows in the family's house. I was in the process of being served tea and playing with the two small babies. I'm having a hard time right now. Just feel sick to my stomach a lot from being doted on all the time, very sweetly, by people who are facing doom...
She had some warning. On February 14th of 2003, she was pushed into a house by an oncoming bulldozer, along with other peace activists - and the house was partly demolished while she and her fellow "internationals" were inside. Fortunately they survived.
Despite such terror, she wrote about how she would feel bad about leaving:
...I would like to leave Rafah with a viable plan to return, too. One of the core members of our group has to leave tomorrow - and watching her say goodbye to people is making me realize how difficult it will be. People here can't leave, so that complicates things. They also are pretty matter-of-fact about the fact that they don't know if they will be alive when we come back here.
I really don't want to live with a lot of guilt about this place - being able to come and go so easily - and not going back...
Rachel Corrie, a twenty-three year old American, was crushed to death while defending a Palestinian home. She was wearing a bright red jacket and was waving her arms and hands standing on a pile of debris as a bulldozer (made by Caterpillar of Peoria, Illinois) drove over her and then backed up again, silencing one of the most courageous human beings of our time.
Rachel understood the plight of an ignored people. And her effort to help them was almost Prophetic in scope - she is a tribute to her parents, and to her country.
Send condolences to Rachel's Parents rachelsmessage@the-corries.com
Pictures of Rachel Corrie: http://www.indybay.org/news/2003/03/1583823.php and the destruction of Rafah, the town she was trying to save: http://www.rafah.vze.com Rachel Corrie's Letters: http://www.guardian.co.uk/israel
Photo Attribution: http://commons.wikimedia.org/wiki/File:Rachel_Corrie_2003_March_16.jpg