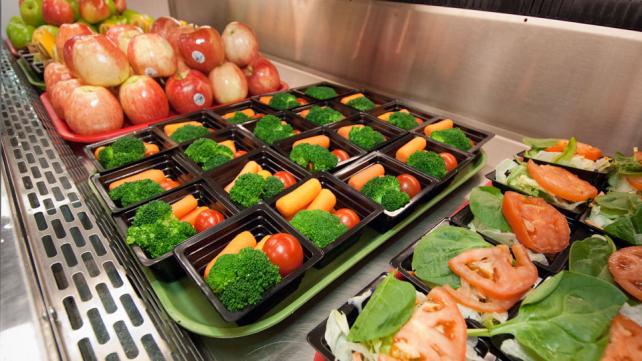 Many of us find ourselves standing in line at the nearest fast food joint may wonder whether the food we are about to eat is Halal. With fast food, the answers are not so cut and dried. It is not simply an issue of avoiding pork or meat. For example, there may be bread and vegetable products fried in animal fat. This is why it's a good idea to choose a purely vegetarian or vegan diet if you have to eat at a fast food place. Vegetarians are people who do not eat meat, fish, or poultry. Vegans are even stricter. In addition to being vegetarian, they do not use other animal products and byproducts (i.e. eggs, dairy products, honey, leather, fur, silk, wool, cosmetics, and soaps derived from animal products). Below is an introduction and quick index of vegetarian and/or vegan products at some of the fast food outlets. It is compiled by the Vegetarian Resource Group and we are posting it here with their permission. (Sound Vision).

Food served in restaurant and quick service chains has become a mainstay in the North American diet. Vegetarianism is also becoming increasingly popular. Where do these two trends meet?

We surveyed over one hundred fast food, casual theme dining, and family-style restaurant chains as well as several quick service food chains to find out the current answer to this question. Over seventy-five chains responded with intent to show that their establishments can be vegetarian- and vegan-friendly. We were pleasantly surprised to find out about all of the menu items that are suitable for vegetarians and vegans. In general, we may say that many chains are becoming more health conscious as lowfat or fat-free menu offerings gain popularity. Many of these menu items are vegetarian or can be easily modified to become vegetarian. We are pleased to report that one chain, Subway, with over 13,000 locations worldwide, has earned the right to use the "Five a Day for Better Health" logo of the Produce for Better Health Foundation. Subway menu items, several of which are low in fat and 100% of which contain vegetables, meet the rather strict standards of that organization. We encourage other chains to follow the lead and hope that vegetarian consumers will support those chains which offer healthy, vegetarian meals.

We were happy to learn about the many restaurant chains which are seriously test marketing vegetarian items in selected regions with the hope of adding new items to their national menus. Although we are not throwing all caution to the wind, we can say that a visit to many restaurant chains can make for a satisfying eating experience for vegetarians and vegans alike.

Sometimes, vegetarian or vegan dishes are offered on the menus. Yet even if they are not, it is possible to order menu items without certain ingredients; you just need to ask. For instance, otherwise vegan tacos and pizzas can be ordered without cheese at some restaurant chains that serve these foods. Furthermore, many restaurants would be happy to make specially requested items for guests. For example, Eat n'Park Restaurants, which previously had a vegetable stir-fry on their menu but removed it due to low consumer interest, would prepare the dish on request.

Nevertheless, the vegetarian and vegan should be wary about "hidden" ingredients (such as gelatin in guacamole or a Danish), or objectionable preparation methods (such as frying hash browns in the same oil used to fry meat/seafood products). It is always best to ask at a particular restaurant. If the given answer is not satisfactory, try calling the corporate headquarters. Ask the manager at the particular restaurant for the phone number.

Likewise, if you are happy with a vegetarian or vegan meal at a restaurant chain or have suggestions on how a restaurant menu can be made more veggie-friendly, please let the manager or corporate headquarters know! Without a demand for vegetarian or vegan options, restaurants remove these offerings from their menus. This happened recently in the case of Denny's which eliminated a vegetarian burger from its menu due to low sales volume.

During the research for this update, we were glad to learn from quality assurance managers of several restaurant chains that many individual consumers contact them for information about their menu offerings. Thus, several chains had already conducted research into their ingredients by contacting their ingredient suppliers. As a result, many responses to us were ready-made. This shows that individuals can and do make a difference.

The most notable example of this occurred in the case of Wendy's. During a phone conversation, a nutrition specialist informed us that an individual recently called to inquire about the gelatin in the Reduced Fat/Reduced Calorie Garden Ranch Sauce. The nutrition specialist told us that because of this inquiry, she contacted the supplier and requested that the gelatin be taken out of the sauce. The supplier agreed to the request. The new sauce should now be available in Wendy's restaurants.

When you talk to a customer service representative or a quality assurance manager about the sources of an ingredient, such as natural flavors or mono- and diglycerides, you are educating people about the concerns of vegetarians and vegans. You are helping the next person who inquires about that ingredient, too.

Many restaurant chains are now exploring the use of ingredients that are at the same time economical and acceptable to all guests, including vegetarians and vegans. For instance, during the research for this update, we learned that almost all restaurant chains use all-vegetable shortening for frying. A few use an animal-vegetable shortening blend. Many quality assurance managers told us that the avoidance of animal fats in their recipes and preparation methods was now standard due largely to consumer demand. Although this is not yet a universal preference, we are happy to report it.

The same may be said about the use of animal-derived enzymes in cheese. Two cheese suppliers and at least three quality assurance managers at restaurant chains told us that a microbially-derived enzyme is currently the enzyme of choice in domestically produced cheeses. We were informed that microbial enzymes are more economical and more efficient at making cheese than their animal counterparts. Keep in mind that animal enzymes are still in use. This is true especially in the case of imported cheeses. Nevertheless, their use in cheese making has been reduced. Of course, we hope that a good-tasting vegan cheese will be an option in the future.

Restaurant chains are realizing the importance of responding to the needs of vegetarians and vegans. For example, Carl's Jr. restaurants asked The VRG to prepare a list of ingredients that are of concern to vegetarians and vegans. They would like to further research the sources of their ingredients so as to serve better their vegetarian and vegan guests. Burger King also asked us to prepare a similar list for the same purpose. Although these requests do not guarantee that restaurant chains will make changes in their ingredients or menus, they represent a first step toward this result.

Some chains are testing vegetarian options in a few of their restaurants. Shoney's, for example, has recently started to test market a vegetarian burger. Burger King has been testing a veggie burger in parts of Canada since October 1996. Burger King continues to have a veggie burger available in its British, Irish, and European restaurants. If you are in any restaurant where a vegetarian or vegan option is being offered, show your support and try it! This is the primary way by which we can keep vegetarian and vegan options on the menus or put them there in the first place. Perhaps one day there will be an all-vegetarian or all-vegan national restaurant chain.

Please use this guide to restaurant chains as a guide. Menus and ingredients do change, sometimes suddenly and without well-publicized notification. If you see something which you believe is incorrect, please let us know. We will look into it. Likewise, if you notice that something is missing, please let us know. We will add it to the next update. Bon appetit!
The Restaurants:
The following is a sample of the listings found on our 24-page restaurant chain guide. To order the complete Guide to Fast Food send $4 to The Vegetarian Resource Group, PO Box 1463, Baltimore, MD 21203 and request the Guide to Fast Food.
APPLEBEE'S: Applebee's uses 100% fully hydrogenated vegetable oil to prepare all of its fried items. The same frying equipment and frying surfaces are used for most fried menu items. For example, a grilled cheese sandwich could be prepared on the same surface next to a pastrami sandwich. The same oil is used to fry vegetarian items, such as French fries and mozzarella cheese sticks, and meat products.

Some Applebee's restaurants serve refried beans. The corporate-approved product does not contain lard. Differences may exist at certain franchises, so if you are concerned, ask the restaurant manager.

Applebee's serves several types of baked goods, soups, sauces, and gravies, which may contain animal-derived ingredients. The cheeses at Applebee's may contain animal-, vegetable-, or microbially derived enzymes. Applebee's stated that vegetable and microbial enzymes are more commonly used although this may change.

Applebee's offers on its standard menu a Sizzling Vegetable Skillet. This dish consists of red potatoes, zucchini, squash, red and green bell peppers, mushrooms, carrots, and broccoli prepared in lemon-and dill-flavored butter. The vegetables are first steamed and then further cooked in a skillet. This skillet may be used to prepare meat products although it is washed in between orders. This entree may be requested without the butter.

Other standard menu items that may contain, according to Applebee's, "dairy, egg, or other animal-derived ingredients" include the Cheese Quesadilla, Mozzarella Sticks, Onion Peels, Caesar Salad, and the Low-Fat Veggie Quesadilla. The Low-Fat Veggie Quesadilla is composed of fresh mushrooms, red peppers, onion, broccoli, and carrots, along with non-fat shredded cheddar and mozzarella cheeses, in between two wheat tortillas. This menu item is served with fat-free sour cream and shredded lettuce. Note that the Caesar and Pasta Bowl Combo is made with the Caesar salad dressing which contains anchovies.

Applebee's also serves various salads, which may be made upon request without meat, poultry, cheese, or eggs. This restaurant chain also offers a salad and steamed vegetable plate, which consists of a house or small Caesar salad followed by a plate of fresh steamed broccoli, carrots, cauliflower, new potatoes, and zucchini. Note that the Caesar dressing contains anchovies.

Available at certain Applebee's Restaurants are the following menu items which may contain, according to Applebee's, "dairy, egg, or other animal-derived ingredients": Parmesan Pizza Sticks, Spinach and Artichoke Dip, Veggie Patch Pizza, Vegetable Stir-Fry, spinach-filled Triple Stack Tortilla, California Vegetable Rollup, Fettuccine Primavera al Pesto, and the Gardenburger®. The Gardenburger® is served with fresh guacamole and Monterey Jack cheese on a multi-grain roll. Because ingredients in these dishes may vary from restaurant to restaurant, inquire about these entrees at particular Applebee's Restaurants.

Side dishes at this restaurant chain include French fries, new potatoes, baked potatoes, steamed mixed vegetables, coleslaw, and mixed side salad. Like the menu items above, these dishes may contain eggs, dairy, or other animal-derived ingredients.

Applebee's has a child's menu with the following offerings: cheese nachos, cheese pizza, grilled cheese, macaroni and cheese, and pasta marinara. These dishes may contain dairy, eggs, or other animal-derived ingredients.

This chain serves a Weekend Brunch. Some menu items that may be appealing to vegetarians include waffles, French toast, cheese/vegetable omelets, spinach and artichoke eggs benedict, fresh melon, cinnamon rolls, English muffins, and croissants.
Because of Applebee's commitment to providing "World Class Food and Service" to its guests, this restaurant chain is more than happy to modify existing menu items or prepare items upon request in order to accommodate to the greatest degree possible all those with special dietary needs or preferences. Please ask the restaurant manager to assist you.

BASKIN-ROBBINS: Most Baskin Robbins' desserts are vegetarian and some are even vegan. Dairy-free and gelatin-free products include the Ices and Sorbets. Most of their products are also egg-free with the exception of Egg Nog, French Vanilla, Vanilla, and Custard flavors, and those with cookie or cake pieces. Flavors made with miniature marshmallows, however, such as the Rocky Road flavor, contain animal-derived gelatin. The creamy marshmallow flavoring that is a swirl in some of the flavors does not contain gelatin; it is derived from egg whites. The marshmallow topping is also gelatin-free and contains egg whites.

CHUCK E. CHEESE'S: The pizza at this restaurant chain is made with vegan sauce and dough. The mozzarella and cheddar cheese blend used on the pizzas is made with non-animal rennet. Toppings on the pizza include green peppers, mushrooms, onions, black olives, and tomatoes. The Parmesan cheese is not made with animal-derived rennet.

The salad bar at Chuck E. Cheese's has a wide selection of salad fixings. There are also mayonnaise-based pasta salads and sometimes a three-bean salad. Salad dressings include thousand island (contains eggs), ranch and blue cheese (contains dairy), and Italian and fat-free Catalina (both are vegan).

LITTLE CAESARS: Little Caesars uses microbial rennet in their pizza cheeses. Their dough and tomato sauce are vegan. Other vegan items include the Crazy Sauce® and Crazy Bread® without Parmesan cheese. The Parmesan cheese may contain animal rennet. The pizza toppings available at Little Caesars include mushrooms, onions, green peppers, tomato slices, black olives, pineapple, and hot peppers. Little Caesars would be happy to prepare menu items on request.

You may contact Little Caesars for their Vegetarian Guide at the following address: Corporate Communications, 2211 Woodward Ave., Detroit, MI 48201-3400.

NATHAN'S: Their thick French fries, made from fresh potatoes at the restaurant, are cooked in unused corn oil. The potatoes are not treated or pre-cooked in any way.

PIZZA HUT: Pizza Hut's Thin 'n Crispy, Hand Tossed, and dessert crusts are vegan. The pan crust contains whey and enzymes, and the stuffed crust contains enzymes and mozzarella cheese (which is made with enzymes). Whey is an ingredient in the breadsticks, and enzymes and natural flavor are ingredients in their bread stick seasoning. All of the enzymes used in the cheeses at Pizza Hut are of unspecified sources.

The regular pizza sauce contains beef base, whey, cheese solids (which is made with animal enzymes), buttermilk powder, nonfat milk solids, and MSG. The Cavatini, meatless, and bread stick sauces contains beef base, beef flavor, meat type flavor, natural flavor, and MSG. No further information was available on these ingredients. The Zesty pizza sauce contains chicken fat and two types of cheeses (made with enzymes). The sauce, which is served with the spaghetti marinara with meat, contains precooked sausage (composed of pork and beef), beef, chicken stock, chicken fat, and nonfat dry milk. All the pasta at Pizza Hut is vegan.

The sandwich cheese contains Swiss, American, and cheddar cheeses (all made with enzymes) and cream. The blue cheese dressing contains enzymes, egg yolk, and natural flavor. The ranch and buttermilk dressings contain cultured buttermilk, egg yolk, MSG, and natural flavor. The Romano dressing contains cheese, egg yolk, buttermilk powder, and MSG. The Italian dressing is vegan and contains MSG. The creamy cucumber dressing contains nonfat dry milk and natural sour cream flavor. The French dressing contains natural flavor. The Thousand Island dressing contains Worcestershire sauce (made with anchovies), natural flavorings, and egg yolk.

The dessert pizza cherry topping and icing are vegan. The dessert pizza blueberry and apple toppings contain natural flavors. The dessert pizza crumb topping contains mono- and diglycerides and natural flavor.

SUBWAY: Subway is the only restaurant chain of its type which has achieved the right to use the "Five a Day for Better Health" logo of the Produce for Better Health Foundation who works with conjunction with the National Cancer Institute. Subway's menu items, several of which are low in fat, and 100% of which contain vegetables, meet the rather strict standards of this organization.

A Veggie DelightTM Salad is on the national menu at Subway. It consists of lettuce, tomatoes, onions, pickles, green peppers, and olives. Dressings include Creamy Italian, Fat-Free Italian, French, Fat-Free French, Thousand Island, Ranch, and Fat-Free Ranch dressings. Ingredient statements appear on the individually labeled packages in the restaurants. Subway also offers a vegetable/olive oil blend and vinegar that can be used as a dressing. Red wine vinegar is used in this dressing.

American cheese is an optional item on this salad. The cheese may be made with either animal (pig or calf) or microbial rennet, or chemically engineered chymosin, an enzyme. Other varieties of cheeses, such as provolone, lowfat American, Swiss, or mozzarella, may be available at certain Subway restaurants. The source of the enzyme could vary in these varieties as well.

The Veggie DelightTM Salad may be ordered on a sub roll. Subway offers a wheat sub roll, which contains honey and powdered honey. The Italian white roll is vegan. Subway also serves other sandwiches on a deli-style bun, which contains whole egg product.

All of Subway's bread products contain vegetable-based mono- and diglycerides. Subway also reports that the L-cysteine used in its bread dough is synthetically derived or derived from wheat protein.

It is also possible at Subway to order a cheese sub. A wheat or white sub roll is typically used for this sandwich. Optional condiments, which are free of charge, include oil, vinegar, mayonnaise or light mayonnaise, and mustard. This sandwich, like all of Subway's sandwiches and salads, are built according to the customer's specifications. It is possible to request extra vegetable toppings as well, free of charge.

Subway restaurants have the choice of offering a few other menu items besides those on the national menu. Among them is a meatless burger. The most popular brands are Wholesome & Hearty's Gardenburger® and Morning-star Farms' Veggie-Max®. Both of these items contain egg whites and dairy products (cheese or caseinate). Vegan Boca Burgers or White Wave soy turkey subs may be offered at certain Subway restaurants in some areas. The "turkey" in the soy turkey sub is vegan but the soy cheese used on it contains casein. If you are interested in seeing a veggie burger in your area contact your local Subway restaurant.

Subway also serves cookies. All varieties are made with vegetable shortening and eggs. Whey solids are in the chocolate chunk cookies and may be present in some of the other varieties as well. A concerned customer may inquire about the ingredients at the restaurant.

Certain Subway restaurants serve breakfast items and/or soups. Selections and ingredients may vary. You may inquire at the particular restaurant about ingredients in a locally offered menu item.

Subway is testing FruizleTM Smoothie (a non-dairy, fat-free, fruit-based drink) and lowfat frozen swirled yogurt in certain markets. The smoothie is made with frozen or canned fruit in its own natural juice and fruit syrups and juices. It contains unrefined cane sugar and other sugars of an unknown source. There are twelve blend-ins. Some are in powdered form and others are veggie-encapsulated ingredients such as wheat grass or wheat germ powder, which may be added to the FruizleTM. Subway's lowfat gelatin-free frozen swirl yogurt comes in vanilla and chocolate flavors.

T.G.I. Friday's: T.G.I. Friday's vegetarian items include Cheddar Cheese Nachos, Friday's Gardenburger, Spinach & Feta Pizzadilla, Veggie Wrapper, Broken Noodles, and Fettuccine Alfredo, all of which contain dairy products. Their baked goods also contain dairy, but contain no animal shortening. Rennet from an unspecified source is used in Friday's cheeses. Friday's Mushrooms are another vegetarian option, but they are cooked in the same (vegetable) shortening as meat/seafood products. Vegan items include Friday's House Salad and the Fresh Vegetable Medley, when ordered with a plain baked potato instead of the brown rice pilaf. The brown rice pilaf has chicken base in it. All of their soups contain animal-derived natural flavors. The refried beans contain bacon grease. The Vege-table Baguette and the Garden Cobb are no longer on the menu. T.G.I. Friday's will gladly prepare menu items on request in order to accommodate vegetarians or others with special dietary needs.

(This article has been reprinted with permission from "Vegetarian Menu Items at Restaurant and Quick Service Chains" by Jeanne-Marie Bartas and The Vegetarian Resource Group). You can contact VRG at: The Vegetarian Resource Group PO Box 1463 Baltimore, MD 21203. E-mail: vrg@vrg.org Website: www.vrg.org Telephone: (410) 366-VEGE
1996-2000 The Vegetarian Resource Group
Photo Attribution: "20111019-FNS-RBN-1744 - Flickr - USDAgov" by U.S. Department of Agriculture - 20111019-FNS-RBN-1744. Licensed under Creative Commons Attribution 2.0 via Wikimedia Commons - http://commons.wikimedia.org/wiki/File:20111019-FNS-RBN-1744_-_Flickr_-_USDAgov.jpg#mediaviewer/File:20111019-FNS-RBN-1744_-_Flickr_-_USDAgov.jpg