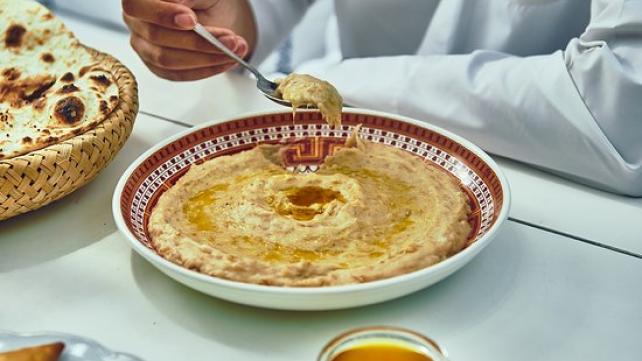 Harees is one of the most popular traditional foods in the Emirati kitchen. This slow-cooked porridge-like dish is most often eaten during important family gatherings, such as weddings, and savored particularly during the Holy Month of Ramadan. Harees is known for being easy to digest, and hence it makes for a great iftar choice, knowing that your body needs those carbs and proteins right away!
Ingredients
500 gms wheat berries
1 kg meat (lamb or boneless chicken)
1 ½ tsp black pepper powder
2-3 tsp salt
2-3 cinnamon sticks
Water, for soaking the wheat
local clarified butter or ghee
Instructions
Soak the wheat berries overnight, in a pot filled with water. The berries will swell, so be sure to fill the pot with sufficient water.
Drain the water and transfer the wheat berries to a heavy-bottomed pot. Add the meat, salt, black pepper and cinnamon sticks. Next, add hot water to the mix, and ensure that it is about 2 inches above the uncooked mixture.
Place a damp cloth or aluminum foil over the pot and secure the lid tightly. Allow the mixture to come to a boil and then reduce the heat and let it slow cook for about 2-3 hours. It is important that you stir occasionally to skim off the froth from the surface and also to avoid the mixture from sticking to the bottom of the pot. It is preferable to use a wooden spoon, as is used traditionally to ground the wheat.
Once the wheat is soft, remove it from heat. Check the water level at this point - it shouldn't have been absorbed completely or be too much in excess. If the wheat is cooked and the water is in excess, then ladle out some of the excess water. However, if the wheat is still uncooked, add 1 cup of boiling water to the mixture and cook for some additional time.
When done, allow the mixture to cool down and then remove the bones off the lamb. Shred any large pieces of meat.
Using a hand blender, blend the wheat and tender meat until it reaches a slightly elastic, but not overly paste-like consistency. Check the seasoning and add more if needed.
Serve in a dish and pour over the melted butter or ghee. You can also sprinkle chopped, fried onions on top for extra flavor and taste.
Enjoy!
This recipe typically serves 6-8.
Umm Ahmed is an early childhood educator and mother of three boys. Always on the quest to learn, she is passionate about seeking knowledge and passing it on to others. A writer in the making, she draws inspiration through deep conversations, laws of nature, and her own children. She and her family are currently living in Abu Dhabi, UAE.