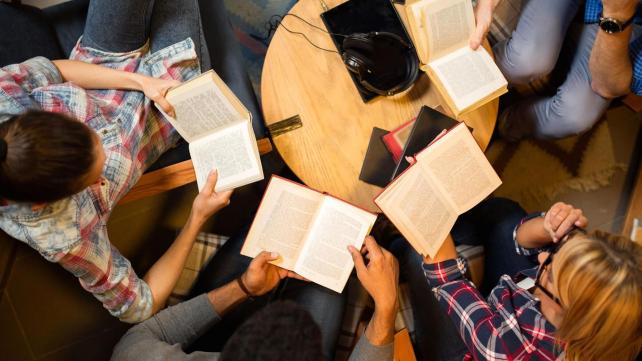 Radio Islam has established a reading club for this year, 2018. The first book we discussed on live Radio was the Autobiography of Malcolm X as told to Alex Haley. The Radio Islam crew, along with the live audience, enjoyed a great discussion last Friday, January 26, 2018. We began with the discussion of the philosophy of Malcolm X, how it changed over time, and especially what his philosophy morphed into after his Hajj and contact with Sunni Islam. We talked about the challenges he overcame, from the state tearing his family apart, to his search for identity in an increasingly hostile world. From there, our discussion branched off into the hypothetical: what would have happened had he had lived?
Afterwards, we discussed the story arc of Laura, the true tragic character in the novel. Her story had no redemption, and it was one of Malcolm X's biggest regrets. Here we discussed the importance of owing up to our mistakes, and not just hiding them under the rug. Malcolm could have easy omitted Laura's story, and no one would have heard of her, but he purposely put it out there, as a way to attest to his mistakes, acknowledge them, and try to be better.
We finished our discussion by segueing into one about standards of beauty in America. We talked about how even today, apart from the rare makeup brand like Fenty Beauty, most stores only carry foundation in white shades. In Malcolm X's day, there was also a white standard of beauty, to the extent that even he would chemically treat his hair to make it straight and Caucasian-looking. It seems that there has been a slight change, but the change has been slow.
We ended our segment with the point that Malcolm X should be seen as a role model by all members of the Muslim American community, be they Black, White, Pakistani, or Arab; how his life and legacy have to be seen as a Muslim struggle, and how he needs to hold a place in the Muslim narrative.
If you missed this month's book club, you can join us next month. For February, we will be reading Servants of Allah, written by Sylviane A. Diouf. You can call us with your thoughts on the book while we are live at Radio Islam.