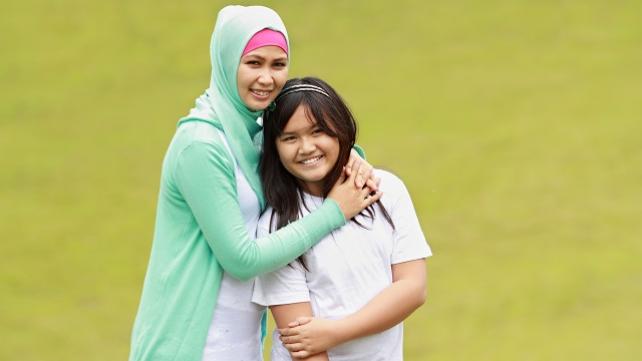 Feeling rushed is a part of everyday life for today's parents in the United States. Among those with children under the age of 18, 40 percent of working mothers and 34 percent of working fathers say they always feel rushed.
As well, many parents wonder whether they are spending the right amount of time with their children. Overall, 33 percent of parents with children under age the age of 18 say they are not spending enough time with their children.
For American Muslims, the lack of time has effects not just on an individual or family basis, but for the entire community. This is especially true given the level of Islamophobia young Muslims face in school and other venues.
"Forty-seven percent of college-going young Muslims drink alcohol, while 16 percent engage in binge drinking; 29 percent of Muslim students in New York public schools sometimes use a non-Muslim name to get by," notes Sound Vision president Abdul Malik Mujahid. "Some have changed their names to Christian names. A small number have joined urban gangs. Some have left Islam and some have become more religious.
"This marginalization of the community and alienation of its youth constitutes a breading ground for extremism, while proper engagement has only benefits for both Muslims and the United States in general," he explains.
With this reality, along with parents' struggle to juggle myriad responsibilities, it is more important than ever to make time for young Muslims. But that doesn't have to mean hours of one-on-one interaction.
"Make sure to spend at least 15 minutes a day of alone time with each child," suggests Dr. Sameera Ahmad, Director of The Family & Youth Institute in Hillard, Ohio. "It is best to have it to have at a consistent time, place, style and make it a ritual."
"We need to be intentional on how we spend our time with our kids," she adds. "The quality of time and interaction we have with them will impact the outcome of our relationship with them."
Here are a few quick ways parents, as well as other adults, can bond with young Muslims.
1. Eat a snack together
Prophet Muhammad, peace and blessings be upon him, said, ""Eat together and not separately, for the blessing is associated with the company" (Ibn Majah).

While we often associate this with dinner, we can squeeze in a mini-meal if time is pressed. Share milk and cookies before bed or dessert after dinner, for instance.
2. Pray together
It takes seven minutes or less to pray four units of prayer. Choose one prayer of the day to offer together, whether it's Isha before bed, Fajr at the start of the day, or Maghrib after school. Also try to squeeze in a minute or two of Dua (supplications) when you're together, asking Allah directly for what you want.
3. Play together
You can shoot some hoops, play a short video game, shoot a funny, short video with your or their phone, or take a few memorable selfies. You can also engage in some fun teambuilding exercises as a family. These are just some ways we can revive the spirit of lightheartedness and play that the Prophet perfect with the children in his midst, most notably his grandchildren.
4. Text more than "I love you"
Share jokes, funny things that happen during the day, cravings for food, fears, worries, requests for Dua, using the most common way teens like to communicate, since they may initially prefer texting to talking.
5. Share a journal
An older version of texting, this notebook would be in the kitchen so you and your kids can trade info by writing the old-fashioned way, on pen and paper.
6. Hug
Hugging is good for both physical and emotional health. Even if you or your family aren't used to it, hugging, or even just patting on the head or the back for the purpose of encouragement mean a lot to a young person. And it definitely takes less than 15 minutes to tousle a head of hair or give a quick bear hug.
7. Share a chore
There are countless chores that need to be completed everyday for a household to run smoothly. Every family member, from age two onwards, can and should participate, especially older kids. And there are those tasks that literally take 15 minutes or less. Choose a room to work together on and watch not only your bond with your young Muslim strengthen, but your house sparkle.
© Sound Vision Foundation
Note: Please share this article using our share buttons below. However, for permission to distribute electronically or in print, please send an email to Copyrights@SoundVision.com. Thank you.
---
"Adam is the Kufi-wearing puppet star of the Adam's World children's video series. He is to Muslims what Mickey Mouse is to Disney.." Dallas Morning News
Download Adam's World App today for your iOS or Android screens.