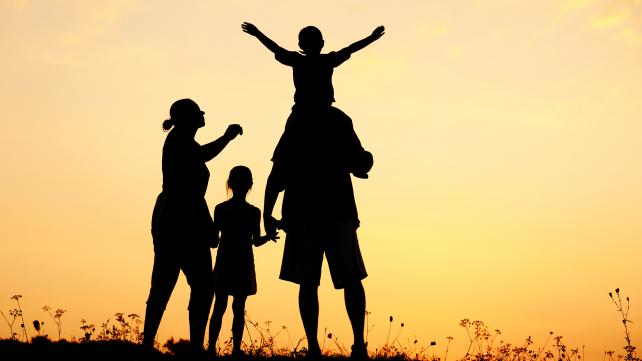 In our times, it seems the family unit has become a complex, compartmentalized, configuration of many moving schedules that must run like clockwork or risk catastrophe! Parents often leave the home early each day to work in offices, factories or retail environments. Many travel for business for long periods, bouncing from hotel to hotel or truck stop to truck stop ~ being away sometimes weeks at a time, depending upon their career paths.
Children endure longer school days and time away from home than they did in the past. Many little ones are out the door to their school-buses and classrooms as early as 7 am, then home again at sunset for hours of homework or evening extra curricular activities, before trying to get off to bed at a decent hour.
Young adults may be on university campuses, away from home at work placements or volunteering in the community. Infants, the elderly and those with medical struggles are often bumped to baby-sitters, retirement facilities and medical institutions.
The frenzy surrounding COVID-19 has forced us all to seek out ways of flat-lining the rapid spread of the virus. In an effort to ensure our hospitals, health care providers and resources may be utilized to care for those most vulnerable to the coronavirus, namely infants and seniors, life as we have known it has come to an abrupt halt.
Gatherings of over a hundred people have been discouraged, with schools, universities, community events and even services at places of worship being cancelled completely. People have been asked to work remotely from home and travel has been slowed to crawl, with flights from abroad being grounded and borders being monitored tightly.
Suddenly, families are waking up at home like usual, only now, they have no place to go and no one else to be with but each other! For some families, this new lifestyle arrangement may not be as easy to adjust to.
Working from home poses it's challenges with kids running and playing underfoot, or the distractions of family breakfasts, lunches and dinners! Being home from school, on an extended March break, may start to seem like a prison sentence if you are sharing a small space with all your siblings of many ages, and your parents who may have increased stress levels due to lost work time or wages. As a university student, the shift to on-line courses and studies amid the chaos of the average family dwelling may be challenging. And as a senior, whether residing in an extended family arrangement or on your own, these social changes may result in feelings of isolation, loneliness or emotional fatigue.
What are some ways families may try to balance being at home together during these days of the Coronavirus?
As an introverted artisan and writer who works from home, I can testify to the fact that it isn't easy to always be productive and focused when the work-place and dwelling-place are one and the same. My spouse and I have also been homeschoolers for about ten years now, alongside our experiments in urban farming. To ice the cake of family insanity, we frequently host relatives for weeks at a time, have an open-gate/door policy with our neighbours (our house being the crazy place on the street where most of the neighbourhood kids gather) and lately, I have personally been minimizing air-travel in my own effort to battle climate change.
How do we cope? It ain't easy, but we have tried over the years to create an infrastructure that helps us work toward a balanced family environment.
These sudden days of COVID-19 throwing us all into what may seem like temporary house-arrest, have had little impact on the lives of our family, as we are all pretty used to being with each other 24/7.
Here are a few thoughts, ideas and suggestions our family would like to share with those of you who may be feeling overwhelmed at being tossed into an extended family "staycation" you were not expecting.
1. Organize: Spend some time each day independently, or as a family, cleaning, simplifying and decluttering your house or apartment. Dig into closets, crawlspaces or storage lockers to sift, sort and cringe at all the junk you've accumulated over the years. When you are done taking a walk down memory lane, divide the things into piles: Things to keep, things to recycle/trash and things to donate. Then make a trip with your family to a local charity where your unwanted books, clothing or household items may be passed along to welcoming hands. If you really get into a groove, then move onward to the garage, back-yard garden shed, pantry, fridge or crystallized freezer!
2. Catch Up: With extra time at home, think of how much you can catch up on! No commute time to school or work means more time to catch up on sleep, reading books, correspondence with old friends or calls to relatives you haven't spoke to enough. Catch up on laundry, DIY tasks around the house or even your dreaded preparations for taxes due in April!
3. Cook: No more $8 Hot-venti-2shot-frappa-crappy-soy-latte with whipped cream and fructose syrup from a suburban drive through to kick start your day. As a family, enjoy meal-time together by cooking up a storm! Breakfast with homemade chai or fill your home with the beautiful smell of Turkish coffee, boiled with a hint of orange blossom water. Experiment and practice new recipes together as a family, maybe even create a competition by assigning different days of cooking to kids and adults in the home. Whip up more food, cookies or cakes than you need and freeze extra for later. Share your creations (the ones that work out and the ones you like) with neighbours (even the ones you don't like…wink wink.)
4. Hobbies: Resurrect old hobbies that may have gone dormant in your life. Start a COVID-19 Memoir to document the experience at home with family. Start, or resume, a practice of journal writing. Try your hand at creating a poem or short story. Dabble with painting, doodling, woodworking or crafting. Tinker and get creative at repurposing things you may have collected around the house. Build bird-feeders, bird houses or start a scrap-book. Dig through old family albums to reflect on days gone by, captured on paper photographs… or sift through the tens of thousands of digital photos you've taken over the years to organize them and create files featuring the "best of the best".
5. Get a Jump on Spring: For many of you, spring may be in full swing ~ embrace it! Get outside and do some outdoor clean up: raking, lawn care, or gardening. Map out a spot for a new vegetable plot and plan what you want to grow. If you are in colder climates (like me) get a head start on sewing seeds indoors, which may be transplanted outside in mid to late May. Even indoor seedlings will then require care and watering over coming weeks, giving you lots to do with extra time at home.
6. Research: More time on your hands means more time to keep learning new things. Use this COVID-19 family time to do some research into a subject of interest to you. Many on-line resources are available to get you started on setting up your own Family Tree. Call up some elderly aunties and uncles and conduct a few family interviews to see what you can learn about your ancestors and where they came from. Have a friendly contest with children in the gathering of information, leading up to a Household Research Fair, where each family member does a presentation about a thing or subject they enjoyed learning about.
7. Exercise: Keep moving and don't let extra time at home make you sluggish or lazy. Start a new routine by getting out each day to walk, bike, play some basketball, soccer or badminton. Stretch throughout the day (especially if you are working from home at a laptop, in some twisted configuration on the sofa) or use Youtube to help you learn some new exercise techniques.
8. Volunteer: Give some of your time away to others who may need help getting through these trying times. Seniors are often living on the fringes of community and depend on daily or weekly day programs to keep them connected with others. Programs cancelled or postponed due to COVID-19 will lead to the isolation of many. Volunteer with local organizations like Meals on Wheels, delivering lunches and dinners to seniors. Offer to help elderly neighbours with things like yard clean up, house cleaning or shopping. Take it upon yourself and your family to voluntarily head out each day for an hour to clean up a park. Visit a different community green-space each afternoon and spend thirty minutes picking up trash and thirty minutes having fun together in play! By the end of your Coronavirus "holiday" you will be an expert on local parks in your city and will have built a treasured bond with each one you visited.
9. Prepare for Ramadan, Easter or Passover: All three deeply important celebrations are coming soon, with the Christian fasting season of Lent already here! It never hurts to prepare mentally, spiritually and logistically for the special holidays your Muslim, Christian or Jewish family may be embracing this spring. Let your neighbours of other faith traditions know you care about their spiritual well-being by dropping some homemade cards and cookies in their mail-boxes over the next few weeks. Share a little with them about the tradition you are preparing for as well.
10. Deepen Your Spirituality: Use these days at home with family to deepen your spirituality through increased prayer, reading, reflection, mediation, devotion to your holy scripture or time in study and spiritual discussion with your family.
Dawud Wharnsby is an artisan, writer, gardener and homeschooling parent based in Kitchener, Ontario, Canada