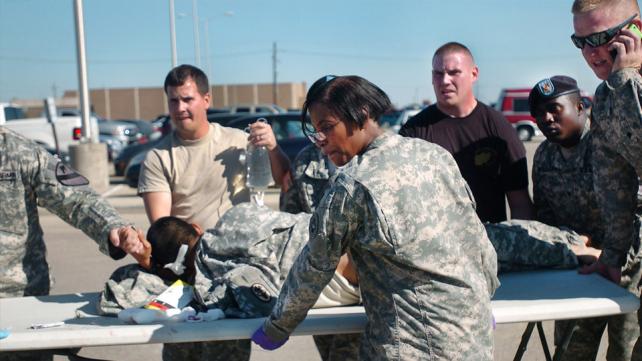 Your Islamic center can adopt, rewrite and issue the following statement to your local media.
Please replace "The Islamic Center of ABCD" with the name of your Masjid or organization and please send it out on your group's official letterhead.
Fax this to the news desk of your local media outlets (newspapers, radio and television).
You can find the fax numbers here, among other places on the web:
http://www.mrc.org/MediaAddresses/mediaaddresses.asp
Do add the name of a contact person and a cell number on which that person can be reached. This individual should be able to speak articulately on your community's behalf.
If the media is interested in visiting your Masjid, Islamic center or school, welcome them.
Sample press statement:
FOR IMMEDIATE RELEASE
Contact:
Ali Smith
Islamic Center of Abcd
987 Townsend Court
Abcd, IL 60607
Phone: 312-555-5555
http://www.abcdmasjid.org
info@ abcdmasjid.org
Islamic Center of Abcd condemns murder of soldiers at Fort Hood army base in Texas
Chicago, Illinois, November 6, 2009-Members of the Islamic Center of ABCD join fellow Americans in condemning the attack on soldiers at Fort Hood Army Base in Texas yesterday. We share the grief and sorrow of the nation. Our hearts go out to the families of the victims of this tragedy.

We are distressed to learn that the alleged killer was an American Muslim, and a mental health professional in the army. He has marred the reputation of tens of thousands of Muslim physicians, nurses and other health professionals who help save the lives of fellow Americans daily.
-End-
You can also choose wording from any of the other statements issues by Muslim organizations.
Photo Attribution: http://commons.wikimedia.org/wiki/File:Army_mil-55427-2009-11-07-171121.jpg