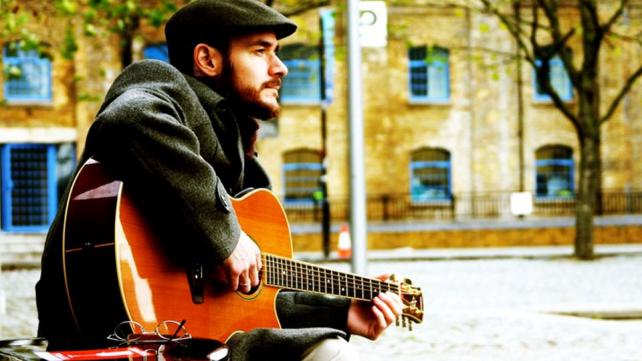 Folk, jazz, rock, world-beat, classical, country: musical genres that have been defined and consistently evolving for decades. Many talented artists interpret, arrange and blend these genres with their unique styles. Few though, are able to claim being pioneers in charting a completely new musical market. Dawud Wharnsby, however, is one such artist.
A third generation Canadian with Scottish and English roots, Dawud Wharnsby's recordings and reputation have established him as an institution in the realm of English language nasheed (spiritual songs of a world-beat/folk style, drawn from Islamic cultural and musical roots). In true folk-song tradition, his writings have taken on a life of their own - spreading far beyond official marketing territories by way of a bootleg industry which circulates his recordings unofficially and uncontrollably throughout the world. Though distribution of Wharnsby's material is difficult to gage, his efforts have spawned an artistic movement and musical industry of young artists hailing from Los Angeles, London, Jakarta and all stops in between.
Hints that his creative side was stronger than his will to apply himself academically surfaced early during Wharnsby's years as a student in Catholic schools, where he spent long hours writing stories and drawing cartoons which were not part of class curriculum. The secure, supportive and spiritual nature of his family helped Wharnsby foster the desire to combine his creative expression with his fascination for spirituality.
By the age of 10, Wharnsby was preoccupied with Christian history, ancient Chinese, Greek and Egyptian mythology. He found contentment in his imaginative games and favorite school subjects of religion and art. Determined not to lose his love for expression as he grew into his teens, Whansby transferred his child-hood dress up and role-playing games into the areas of film making and theatre. As his experience in theatre, music, writing and entertaining became more and more refined, his interest in his own spirituality and purpose in life also intensified. A headstrong teenager, who always chose to "wing it" on high school exams, Wharnsby became increasingly focused on personal studies of various scriptures and holy books. At 18, following his shaky graduation from High School, Wharnsby's true personal quest for education and direction began.
Independently minded and somewhat introverted, Wharnsby spent extended nights writing, listening to music, and absorbing books of Hindu, Buddhist and Taoist literature. Gradually his spiritual identity developed and matured alongside his craft of composing poetry and song. Within a year, Wharnsby taught himself to play a variety of musical instruments and blended his introspective lyrics with his simple yet distinctive voice. He soon began to network with other young Canadian musicians and songwriters, performing at intimate clubs, coffeehouses, universities, and folk festivals.
During this time, Wharnsby devoted himself to a diverse array of activities, working as a puppeteer and children's educator, a traveling troubadour and a personal health care assistant for the physically disabled. His zeal for travel and exploration often found him spontaneously taking extended hikes, walking for days, weeks and sometimes months through parts of Canada, the U.S. and the United Kingdom. Fascinated with birth, death, faith, the occult and his Celtic roots, Wharnsby's songs and writings became a reflection of his continued search for some place to settle and find purpose.
Individually, and as part of a musical folk duo, Wharnsby first emerged onto the North American folk music scene in 1991, participating in the production and limited release of several recordings. In 1993 he created his own independent label, distributing a collection of traditional acoustic songs, as well as a book of original sketches and poetry. Social gatherings, performances and expectations quickly increased. His debut solo recording "Blue Walls and The Big Sky" (1995), firmly established his skills not only as a crafty lyricist, but also as a powerful vocalist, capable of drawing listeners into his world like a vibrant stage actor or an intimate storyteller.
Inspired by his devotion to the teachings of The Holy Qur'an and merging the Celtic/folk styles of his upbringing with embellishments of the Middle and Far East, his 1996 CD "A Whisper Of Peace" was a groundbreaking effort in the area of Islamic nasheed (spiritual songs) sung in the English language. "Whisper" was followed by a string of internationally recognized recordings including, "Road To Madinah" (1999), "Sunshine, Dust and The Messenger" (2001), "The Prophet's Hands" (2002) and most recently, his powerful 3 CD "Simplicitea Trilogy" (2005) ("A Differnt Drum", "The Truth That Lies Inside" and "Hi Neighbour, Salam Neighbour!") - all released through the US based label Sound Vision. Wharnsby's unique lyrical style, warm voice and knack for penning catchy melodies yield a rich reception from his listeners world-wide, who in many cases do not even speak English as their first language.
Several of Wharnsby's latest recordings feature collaborations with the likes of UK based artist, producer and peace activist Yusuf Islam (formerly CAT STEVENS) South African songwriter Zain Bhikha, Canadian percussion ensemble The Fletcher Valve Drummers, and award winning producer/songwriter Zuriani (KEB'MO', BRENDA RUSSELL, MELISSA MANCHESTER). His 2005 world-music CD, "Vacuous Waxing" brings together a unique mix of featured artists, including Canadian songwriter Bill Kocher, UK bass legend Danny (PENTANGLE, NICK DRAKE, EVERYTHING BUT THE GIRL, DONOVAN, RICHARD THOMPSON, ERIC CLAPTON), Canadian folk icon Stephen Fearing (BLACKIE & THE RODEO KINGS, SARAH McLACHLAN) and world renown sitar master Irshad Khan
Dawud serves as a full-time executive member of the creative team behind educational multimedia entity Sound Vision, also acting as director of Sound Vision's audio production department and actively participating as a writer, actor and puppeteer with Sound Vision's popular Adam's World series. Frequently assisting with television and video production, Wharnsby has scored or personally hosted programs produced with the support of Canada's Vision TV, the National Film Board of Canada, CBC, and BBC Scotland. As a respected and vibrant solo musical performer, social activist and motivational speaker, he travels extensively throughout the world and often lectures at schools and universities - addressing gatherings of all ages with his inspirational talks and diverse educational programs for children. Though his performance venues have included Toronto's prestigious Living Arts Centre, and London England's famed Royal Albert Hall, Dawud (who got his start humbly busking on cold street corners of small Canadian and Scottish towns) maintains a love of simplicity - never straying far from opportunities to share his music informally with intimate audiences. When not on tour, Dawud Wharnsby divides his home life between Colorado, (USA), Ontario (Canada) and Cairo (Egypt).
A Brief Biography of Dawud Wharnsby Ali
With a background in children's education, health care and the arts, Dawud Wharnsby-Ali spent many years as a writer, musician and puppeteer before embracing the religion of Islam in 1993. Since that time he has become an active member of the Muslim community at local, national and international levels. He is currently an educational consultant and audio director with Sound Vision.Com and his recordings of spiritual songs (such as "A Whisper of Peace", "Colours Of Islam" and "Road To Madinah") are known worldwide, enjoyed by both children and adults. During the past few years Dawud has established The Muslim Children's Education Waqf, an endowment fund supporting educational projects for children. He was also a founding member and board member of The Canadian Islamic Congress. A motivational speaker and activist, Dawud is often called upon to address gatherings of all ages. He currently resides in Southern Ontario with his wife and stepson where, in addition to his work with Sound Vision.Com, he oversees an Islamic Information Centre, directing several study groups and youth discussion circles.