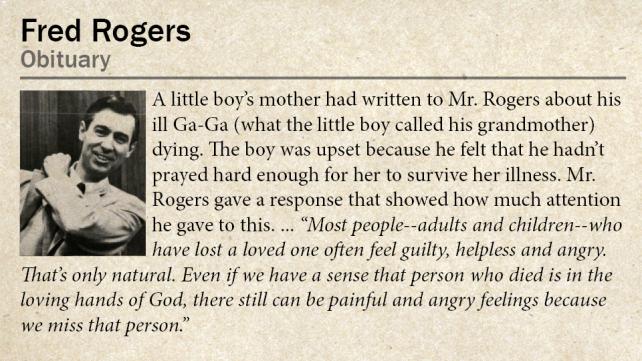 The wooden door would open, and he would come in, smiling.
Singing, he would put his jacket away and put a sweater on--still smiling.
Every day my little brother and I would watch this routine. He was like a grandfather. He would talk to us, and we would go visit places.
He was like a kind friend. To two little boys (5 and 6 years old) who knew little English and were outcasts in the schoolyard, he always offered a comforting smile.
I remember rooting for Mister Rogers during a TV popularity contest between him and Big Bird (I was so sad when Big Bird won).
As I grew older and stopped watching his show, I always wondered how he was.
To me, he seemed like an example of what a good Muslim should be. He was kind, calm, principled, and never hesitated to smile.
So for the longest time, I wanted to write to him about Islam. I actually sat down and wrote a couple of letters. But I never sent them. Something would always come up. I would procrastinate. A close friend even gave me, as a gift, a book entitled "Dear Mister Rogers: Does it ever Rain in Your Neighborhood?"
The book came with a self-addressed envelope. All it needed was my letter. But I still never got around to sending him one.
Dozens of letters sent to him and his responses that were in this book. Questions like "Are You Real? " and expressions of grief for divorce and death were answered in such a caring and sincere way that it confirmed in me the belief that he was a good man. He was someone who was naturally connected with God.
A little boy's mother had written to him about his ill Ga-Ga (what the little boy called his grandmother) dying. The boy was upset because he felt that he hadn't prayed hard enough for her to survive her illness.
Mister Rogers gave a response that showed how much attention he gave to this.
... Most people--adults and children--who have lost a loved one often feel guilty, helpless and angry. That's only natural. Even if we have a sense that person who died is in the loving hands of God, there still can be painful and angry feelings because we miss that person.
This is a portion of the letter dated August 25, 2001 that I wrote (but didn't send)
-----------------
Dear Mr. Rogers
I love you. I have a special place in my heart for you. I don't wan to proselytize but I feel that it is my duty as a human being who cares about another to give a message that may be not only very beneficial but may also bring a person closer to God.
Very Sincerely,
P.S. .. please enclosed find a copy of the Quran...
------------------
I was looking at this letter a few days before he died. I decided to make a few changes before I sent it to him.
He died on February 26th.