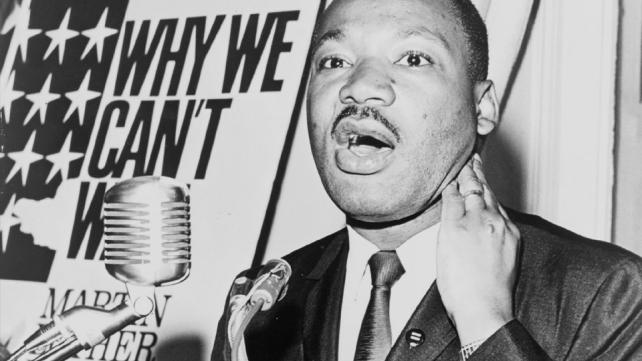 These excerpts are from a speech delivered by Dr. Martin Luther King, Jr., on April 4, 1967, exactly one year before his assassination. He spoke at a meeting of Clergy and Laity Concerned at Riverside Church in New York City.
"Even when pressed by the demands of inner truth, men do not easily assume the task of opposing their government's policy, especially in time of war. Nor does the human spirit move without great difficulty against all the apathy of conformist thought within one's own bosom and in the surrounding world. Moreover when the issues at hand seem as perplexed as they often do in the case of this dreadful conflict we are always on the verge of being mesmerized by uncertainty; but we must move on."
…
Some of us who have already begun to break the silence of the night have found that the calling to speak is often a vocation of agony, but we must speak. We must speak with all the humility that is appropriate to our limited vision, but we must speak. And we must rejoice as well, for surely this is the first time in our nation's history that a significant number of its religious leaders have chosen to move beyond the prophesying of smooth patriotism to the high grounds of a firm dissent based upon the mandates of conscience and the reading of history. Perhaps a new spirit is rising among us. If it is, let us trace its movement well and pray that our own inner being may be sensitive to its guidance, for we are deeply in need of a new way beyond the darkness that seems so close around us.
…
Over the past two years, as I have moved to break the betrayal of my own silences and to speak from the burnings of my own heart, as I have called for radical departures from the destruction of Vietnam, many persons have questioned me about the wisdom of my path. At the heart of their concerns this query has often loomed large and loud: Why are you speaking about war, Dr. King? Why are you joining the voices of dissent? Peace and civil rights don't mix, they say. Aren't you hurting the cause of your people, they ask? And when I hear them, though I often understand the source of their concern, I am nevertheless greatly saddened, for such questions mean that the inquirers have not really known me, my commitment or my calling. Indeed, their questions suggest that they do not know the world in which they live.
…
A few years ago there was a shining moment in that struggle. It seemed as if there was a real promise of hope for the poor -- both black and white -- through the poverty program. There were experiments, hopes, new beginnings. Then came the buildup in Vietnam and I watched the program broken and eviscerated as if it were some idle political plaything of a society gone mad on war, and I knew that America would never invest the necessary funds or energies in rehabilitation of its poor so long as adventures like Vietnam continued to draw men and skills and money like some demonic destructive suction tube. So I was increasingly compelled to see the war as an enemy of the poor and to attack it as such.
…
So we have been repeatedly faced with the cruel irony of watching Negro and white boys on TV screens as they kill and die together for a nation that has been unable to seat them together in the same schools. So we watch them in brutal solidarity burning the huts of a poor village, but we realize that they would never live on the same block in Detroit. I could not be silent in the face of such cruel manipulation of the poor.
…
As I have walked among the desperate, rejected and angry young men I have told them that Molotov cocktails and rifles would not solve their problems. I have tried to offer them my deepest compassion while maintaining my conviction that social change comes most meaningfully through nonviolent action. But they asked -- and rightly so -- what about Vietnam? They asked if our own nation wasn't using massive doses of violence to solve its problems, to bring about the changes it wanted. Their questions hit home, and I knew that I could never again raise my voice against the violence of the oppressed in the ghettos without having first spoken clearly to the greatest purveyor of violence in the world today -- my own government. For the sake of those boys, for the sake of this government, for the sake of hundreds of thousands trembling under our violence, I cannot be silent.
…
If America's soul becomes totally poisoned, part of the autopsy must read Vietnam. It can never be saved so long as it destroys the deepest hopes of men the world over. So it is that those of us who are yet determined that America will be are led down the path of protest and dissent, working for the health of our land.
…
They watch as we poison their water, as we kill a million acres of their crops. They must weep as the bulldozers roar through their areas preparing to destroy the precious trees. They wander into the hospitals, with at least twenty casualties from American firepower for one "Vietcong"-inflicted injury. So far we may have killed a million of them -- mostly children. They wander into the towns and see thousands of the children, homeless, without clothes, running in packs on the streets like animals. They see the children, degraded by our soldiers as they beg for food. They see the children selling their sisters to our soldiers, soliciting for their mothers.
What do the peasants think as we ally ourselves with the landlords and as we refuse to put any action into our many words concerning land reform? What do they think as we test our latest weapons on them, just as the Germans tested out new medicine and new tortures in the concentration camps of Europe? Where are the roots of the independent Vietnam we claim to be building? Is it among these voiceless ones?
We have destroyed their two most cherished institutions: the family and the village. We have destroyed their land and their crops. We have cooperated in the crushing of the nation's only non-Communist revolutionary political force -- the unified Buddhist church. We have supported the enemies of the peasants of Saigon. We have corrupted their women and children and killed their men. What liberators?
…
Somehow this madness must cease. We must stop now. I speak as a child of God and brother to the suffering poor of Vietnam. I speak for those whose land is being laid waste, whose homes are being destroyed, whose culture is being subverted. I speak for the poor of America who are paying the double price of smashed hopes at home and death and corruption in Vietnam. I speak as a citizen of the world, for the world as it stands aghast at the path we have taken. I speak as an American to the leaders of my own nation. The great initiative in this war is ours. The initiative to stop it must be ours