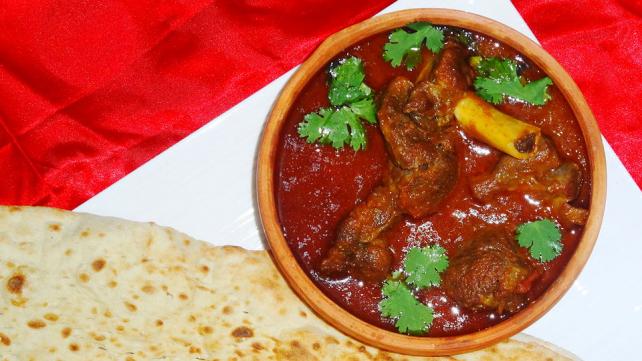 This menu includes dishes from India, Pakistan and Bangladesh. You'll find a mix of appetizers, rice, meat and vegetable dishes, as well as two types of dessert.
Suggestion on how to set up this meal
Before you jump right in and start making these great recipes, don't forget that part of the art of eating is how the table is set, how people are seated, etc. On this note, we have a couple of suggestions:
1. Make sure everyone is eating together. In our fast-paced culture, it seems few of us have time to sit together and eat. The Prophet Muhammad (peace and blessings be upon him) said: Eat together, and do not separate, for the blessing is in the company (Ibn Maja).
2. Make sure younger children of the family are hungry at meal time. One of the hardest things to do is to feed a child who is not hungry. Don't give them any snacks about one to two hours before this meal.
3. The best place to have this meal is not in the small kitchen. It's in the living room.
Take out all of the furniture and spread clean white sheets. Then in the center, spread a bright, decorated table cloth. Put the different dishes in the center, and everyone sits around this set up.
4. Make sure everyone has washed their hands before settling down.
5. Get one of the younger family members to say a short Dua (supplication) before eating. Especially remember those who have not been blessed with so much to eat. Chechnya and Mozambique are current examples to keep in mind. Everyone should pray for those suffering there and elsewhere and thank Allah for giving us more than we need to fill our stomachs.
Remind everyone to begin eating by saying Bismillah (In the Name of Allah).
6. Once the meal is over, remind everyone to wash their hands again and say the following as the Prophet instructed: Praise be to Allah, who gave us to eat and to drink and made us Muslims (Abu Dawud, Tirmidhi).
7. Make sure EVERYONE helps clean up. It is not Haram (forbidden) for men to help with the housework. In fact, this was a practice of our blessed Prophet.
The Food
Now, here is an example of a menu you can use to put together a great Eid feast based on a South Asian menu (dishes from India, Pakistan, and Bangladesh).
An South Asian Menu includes the following dishes:
Crispy Fried Vegetables
Biryani
Raita
Korma
Tandoori Chicken
Almond Ice Cream
Kheer
Recipes:
1. Crispy Fried Vegetables
Courtesy of Shamima Rahman
Ingredients:
2 cups flour
2 tablespoons salt
2 tablespoons sugar
3/4 cup water
1 pumpkin
1 eggplant
1 head cauliflower
Corn Oil
Method:
-Thoroughly mix the flour with 1/4 of a cup of corn oil. Thoroughly dissolve salt and sugar in water. Mix with flour and make a thick batter. Keep mixture covered for two hours under room temperature.
-Cut the pumpkin and eggplant into small cubed pieces.
-Separate the cauliflower into different stems. Add a little bit of salt to all the pieces and keep at room temperature.
-Preheat the corn oil in a frying pan, dip each square into the flour mixture and then fry the squares until brown and crispy.
-Serve with ketchup, mustard or salsa.
Serves 8-10 people
2. Biryani
Courtesy of Rehana Syed
Ingredients:
1 pound of goat meat
2 cups of basmati rice
1 large onion
2 medium tomatoes
1 teaspoon ginger paste
1 teaspoon garlic paste
2 green chilies
1 cup yogurt
1 teaspoon red chili powder
1/2 teaspoon turmeric powder
1/2 teaspoon coriander powder
1 teaspoon garam masala powder
2 sticks cinnamon
3 black cardamom pods
1 teaspoon whole black pepper
2 bay leaves
Salt to taste
Pinch of Saffron strands
Method:
-Mix the yogurt with the chill powder, turmeric powder, coriander powder, garam masala
powder, salt, ginger and garlic paste.
-Marinate the meat in this mixture overnight.
-In a pan boil water with whole black pepper, cinnamon, cardamom, bay leaves and salt. When water starts boiling add washed rice. Cook for 5 minutes. Strain immediately.
Rice should remain uncooked.
-Finally chop onions, tomatoes, and green chilies, fry onions in large pot for 2 to 3 minutes until golden brown, then add chilies and tomatoes. Stir fry for 2 to 3 minutes more.
-Add meat and mixture, stir fry on high for 2 to 3 minutes. Reduce heat to medium. Add rice over the meat. The meat should be layered, one layer of meat below one layer of rice, do not mix together.
-Mix saffron and pour over rice in different places.
-Make 4 to 5 holes with the back of a wooden spoon in the rice to allow steam to cook rice when covered.
-Cover pot with aluminum foil and place the lid on top and let it cook on very low heat for 1 hour or until meat and rice are done.
-When ready garnish with coriander and crispy fried onions.
Serves 8 people.
3. Cucumber and Yogurt Raita
Courtesy of Zuju Shareef
Ingredients:
2 medium cucumbers
2 pints natural yogurt
2 teaspoons salt
Freshly ground black pepper
Chopped fresh mint
Method:
-Choose fresh young cucumbers, peel the skin and grate the cucumbers
-mix with the yogurt
-add the salt, pepper, and mint.
Serves 8 -10 people
4. Korma
Courtesy of Farah Mohiuddin
Ingredients:
3 tablespoons of Corn oil
1 chicken cut into pieces
2 large red onions
2 teaspoons ginger paste
2 teaspoons garlic paste
1 teaspoon garam masala
1/2 teaspoon chili powder
2 green chilies
3 large tomatoes
2 black cardamom pods
5 black peppercorns
2 teaspoons salt
2 tablespoons half and half
2 tablespoons natural yogurt
1 teaspoon lemon juice.
Method:
-Heat the oil in a large heavy bottomed pan, slice the onions finely and then sauté the onions until they are golden brown.
-Add the ginger, garlic, chili, garam masala, salt, cardamom, and peppercorns. Mix well, chop the tomatoes, and add the chopped tomatoes stir well for two to three minutes.
-Add the chicken and fry on high heat and coat the chicken mixture with the spices. Reduce heat to low and cover.
-Let chicken cook for 25 minutes.
-Add half and half, yogurt, lemon juice and chilies.
-Let cook on low heat for another 20 minutes.
5. Tandoori Chicken
Courtesy of Farah Mohiuddin
Ingredients:
3 small black cloves
5 red dried chilies
1/2 pint of natural yogurt
2 teaspoons salt
1/2 teaspoon powdered red food coloring
1 teaspoon ground ginger
2 cloves ground crushed garlic
11/2 teaspoons chili powder
1 chicken cut into pieces
1/8 cup of butter
Recipe:
-Roast the cloves and dried chilies, grind and set aside.
-Mix the yogurt, salt, food coloring, ground ginger, garlic, and chili powder and mix with the ground ingredients.
-Place the chicken pieces in a dish and pour yogurt over. Leave to marinate.
-Smear butter over the large piece of foil. Arrange the chicken on the foil with the marinade mixture and dot the butter on top.
-Fold the foil around the chicken and seal and bake for about 45 minutes or until done.
-Serve immediately with lemon wedges and green chilies.
6. Almond Ice Cream
Courtesy of Farah Mohiuddin
Ingredients:
1 lb of blanched almonds
6 pints of whole milk
1 lb sugar
1 pint of heavy cream
4 tablespoons rose essence.
Method:
-Place the almonds in a large bowl, cover with cold water and set aside.
-Set aside 1/2 pint of the milk. Bring the rest of the milk to a boil in a large non stick saucepan.
-Simmer until the milk is reduced by half, stirring from time to time.
-Drain the almonds and grind them roughly, then mix together with the 1/2 pint of milk set aside.
-Add almond mixture and sugar to the hot milk and continue stirring on low heat for 20-30 minutes.
-Remove from the pan and allow to cool to room temperature. Place in the refrigerator until well chilled.
-Roughly chop the remaining almonds and stir into the chilled milk mixture, add the heavy cream and the rose essence.
-Stir to mix all the ingredients. Pour into a freezer safe container and freeze until solid.
-Thaw in the refrigerator 20 minutes before serving.
7. Kheer - Rice Pudding
Courtesy of Farah Mohiuddin
Ingredients:
1 cup of cooked basmati rice
8 green cardamom pods crushed
71/2 cups of whole milk
12 tablespoons sugar
2 tablespoons rose essence
2 tablespoons ground pistachio nuts
Method:
-Grind the rice finely. Place the ground rice in a saucepan with the cardamoms.
-Add 6 3/4 cups of milk and boil over medium heat stirring continuously.
-Add remaining milk and cook over a medium heat or until the rice mixture thickens to a creamy consistency.
-Stir in the sugar and the rose water and continue to cook for 2 minutes longer.
-Serve chilled, and garnished with nuts.
Photo Attribution: http://commons.wikimedia.org/wiki/File:Afghani_Mutton_Shorba.JPG