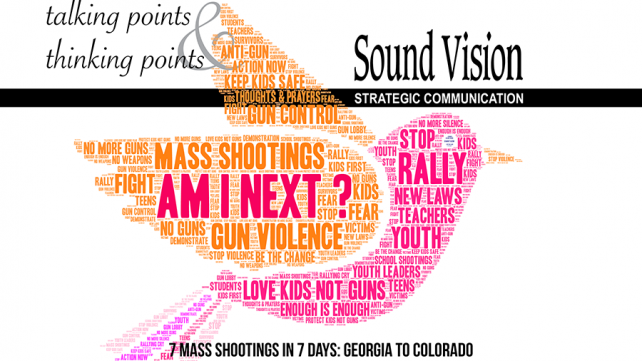 It has been an extremely sad week in America: seven mass shootings have taken place in seven days.
Our deepest sympathies are with the victims and their families.
The alleged killer, 21-year-old Ahmad Al Aliwi Alissa, is charged with 10 counts of first degree murder.
The victims range from 20 to 65 years old.
U.S. President Joe Biden has directed that all flags at the White House be flown at half-staff today.
He also urged Congress to take action to pass gun-reform legislation.
Alissa's brother, Ali Aliwi Alissa, told The Daily Beast that his brother has mental health issues and became anti-social after being bullied at his high school for racial reasons.
Action Items
For the media, we are in touch with a spokesperson from the Muslim community in Colorado. If you are interested in speaking to them, please email us at news@MuslimNetwork.tv
Contact your Senators to pass stricter gun control measures passed by the House early this month. In the Atlanta, Georgia shootings last week, as well as the one in Boulder yesterday, easy access to guns played a role in aiding and abetting those struggling with addiction and mental illness to kill.
Also ask that more funds be allocated toward mental health resources in your community. In the Atlanta case, the alleged killer claimed he had a sex addiction that led him to kill; in Boulder, a history of paranoia and mental illness seems to have led the alleged killer to murder.
Do not allow your mosque to issue yet another statement condemning terrorism. This is not terrorism.
Talking points
As Muslims we stand for justice and we should not be silent, whether the perpetrator is a Muslim or not
Our sympathies lie with the victims and their families.
Easy gun access is the problem. Gun control advocates strongly suggest adopting waiting periods that allow a window of a few days between the purchase of a gun and taking possession of it.
Research suggest that waiting periods for buying guns may help bring down firearm suicide rates by up to 11 percent and gun homicides by about 17 percent.
Media outlets are trying to link the Boulder killings to how "foreign" Alissa is (see this report making a reference to how long Alissa has lived in the United States). Point out how this was not discussed at all when it came to Robert Aaron Long, the white man in custody for killing eight in Atlanta last week.
Although the mental health of the mass shooters is referenced in the media, especially if the killer is white, it absolutely cannot justify murder and violence no matter who the perpetrator is.
Thinking points
A lethal mix of four combustible factors is creating a serious danger for our communities:
Rising extremism
Thriving hate
Easy access to guns
Mental health crises
It was this realization that led Sound Vision, in collaboration with the Carter Center, to offer workshops to prevent violence before last November's presidential election. It is also why we have been offering programs on mental health. We have also addressed the issue with younger Muslims through Adam's World.
The Muslim community must engage with our neighbors in all of the above four areas of concern.
Whereas education about mental health is growing in the Muslim community, Muslims have more mental health issues than others.
The pandemic and its resulting isolation is worsening the mental health situation in America and around the world. A November 2020 Gallup poll found that 76 percent of adults in the United States rate their mental health positively, representing a nine-point decline from 2019. This assessment of their mental health is worse than it has been at any point in the last two decades.
A survey by the American Psychological Association (APA) conducted during the first wave last year found that people of color (who make up the majority of the Muslims in the U.S.), are more likely than white adults to report significant stressors in their life as a result of the pandemic. In particular, getting coronavirus (71 percent versus 59 percent, respectively), basic needs (61 percent versus 47 percent), and access to health care services (59 percent versus 46 percent).
This effect on mental health is leading to violence inside the home and outside of it.
It is crucial to make time away from screens for ourselves and our families. Screen addiction is affecting our mental health, as watching Haram and harmful and content like pornography, increases, and the effect on our physical and emotional health worsens.
May Allah give Sabr to the relatives and survivors of the seven mass shootings of the last seven days.
May God strengthen us to engage with our neighbors of other faiths to ensure that gun access is responsible and limited, assault rifles are banned, and people have access to mental health resources to help them.