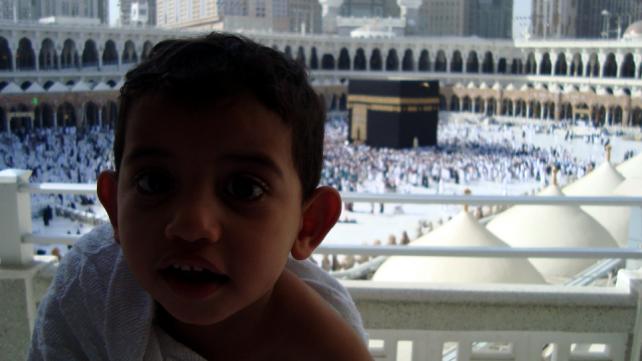 For many young Muslims, Hajj is a distant ritual they know they'll eventually have to perform, but one that has little meaning for them in the present. The awe, wonder, and connection to God it inspires, among other things aren't tangible, so it's easy to forget about it.
But as a pillar of Islam, the journey of a lifetime is something no Muslim should be distant from. These are some practical ways to make Hajj come alive in the next few weeks for children especially when Zil Hajj starts, from toddlers to teenagers, as pilgrims prepare for departure.
1. Map it
Once the days of Hajj begin, print out a map of the pilgrimage sites. Then, each day of Hajj, draw a line from yesterday's site to today's. Put a different colored thumbtack at each location. Also, do some quick research on each place, offering some historical information, along with its spiritual significance.
2. Read and discuss a Hajj diary
There are a number of beautifully written, inspiring diaries of the Hajj experience. In English, The Road to Mecca by Muhammad Asad, as well as Malcolm X's account of the journey in his autobiography, come to mind. Depending on the age of your child, have them read one of the accounts and write a report or prepare a presentation about it for the family. This is also a good activity for Islamic weekend school classes, study circles, and book clubs.
For younger kids, make a Hajj narration part of the bedtime story routine. You can read the story Lost at Hajj in Rukhsana Khan's book Muslim Child for a more kid-friendly account. But you can also summarize in your own words and using your own dramatic flair, other experiences, like those of Asad and Malcolm X.
3. Movie Night: Hajj
If family movie night is a weekly or monthly staple in your household, choose from one of the many films on various Muslims' Hajj experience, ranging from The Hajj: One American's Pilgrimage to Mecca to Adam's World: Take me to the Kaba.
Try to squeeze in a discussion after watching the film.
4. Watch the IMAX film the Journey to Mecca: In the Footsteps of Ibn Battuta
If it's playing in your city or town or not far from it, this is well worth the trip. A fascinating account, IMAX-style, of the Hajj journey of thirteenth-century Muslim traveler Ibn Battuta. To make it more fun for your teens, rent a van or a bus and get their siblings, cousins, and friends to all go together.
Note: the movie may not be suitable for younger children, as some scenes may frighten them.
5. Organize a "practice Hajj"
Set up your backyard, if weather permits, to run a practice Hajj for your kids, especially tweens and teens. Have them dress in Ihram (if it's warm enough!), pitch a few tents Mina-style, try to set up two hills like Safa and Marwa, and of course, place a replica of the Kaba in the center. Have the kids go over the steps of Hajj and as they perform the rituals, give them a brief explanation of why each one is done and its spiritual significance and/or history.
6. Build a replica of the Kaba
If your kids are into woodworking, go all out and build a large one out of wood, then paint it in black and gold. If you've got a budding tailor or seamstress, have him/her sew and decorate the Kiswa (the cloth over the Kaba). For the artist in your midst, delegate writing the calligraphy etched on the Kiswa to them.
7. Live, from Makkah, it's……
If possible, try to arrange a Skype call with a family member or friend going to Hajj this year. Set a time when you can talk face to face over the phone. This way, they can share the exhilaration and awe of the journey with your kids as they are experiencing it.
8. Text your Hajji
Text messaging is the more popular form of communication for teens in the United States today. Encourage a Hajji you know to send Hajj-related text messages to family and friends on their breaks during Hajj. These can include messages like "Just saw Kaba! Feeling XCLNT!" or "tryin' 2B patient with the pushin'", for example.
9. Pray for a Hajji daily
Have the kids make Dua for your Hajji every night before they go to bed. Have them pray for their health, safety, and the acceptance of their pilgrimage and prayers while they are there.
10. Have them plan for Hajj next year
For your teens, have them start planning next year's Hajj. Delegate the duty of finding out about next year's Hajj packages from different groups and selecting a few of the best ones; planning a budget; researching the requirements for the journey (e.g. what shots need to be taken beforehand). This will help them develop confidence in speaking, research, and planning. It will also give them an appreciation of all that is involved in Hajj preparation.
11. Practice living the life of a traveler: the Hajji
One thing Hajj teaches us is the need to let go of our material possessions and focus solely on Allah. That translates into wearing very simple clothes, eating simple food, and taking shelter in the most rudimentary of homes (a tent, at least in Mina). Try doing that as a family one Saturday or Sunday by going camping with the provisions of a Hajji: wear your most used clothes, eat meat-free meals, and seek shelter only in your tent.
At the end of the day, calculate how much you saved by living the Hajji lifestyle and donate that amount (or double, triple, or quadruple the amount), to charity.
12. Have your teen keep up on Hajj news
Make one of your tweens or teens in charge of keeping the family informed about Hajj news. Have him or her set up an email Google alert for "Hajj" and "Muslim pilgrimage". Then make them responsible for sharing with everyone during dinner the latest news about the millions making the journey of a lifetime this year.
13. Have your Hajji post photos on Facebook
If your Hajji this year can squeeze in some time to do this and has access to the internet, encourage them to post pictures of the pilgrimage on their Facebook account to share with you and your children.
14. Prepare to host a Hajj party
Get ready to welcome back your Hajji at the airport and a homecoming party. Have your children discuss menu, program, etc.
15. Play the Hajj fun game
This board game is a great family activity that can help bring Hajj alive for your kids.
---
Adam's World is the answer to Muslim parents who struggle to find quality healthy programs for Muslim children.