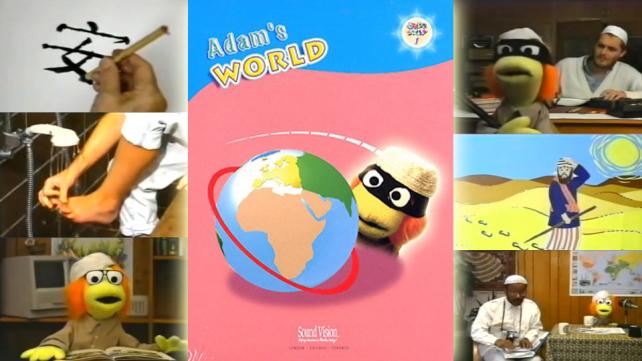 This is the first installment in the Adam's World series after Adam's debut in the video Let's Pray, and it's notable for a number of changes that came about after it.
One is the absence of Asad (played by Sound Vision's Jawad Jafry). Instead of Asad, Adam has a traveling companion named Abdullah, who accompanies the orange-haired, Kufi-wearing puppet and helps him with the transvisualizer. The second is the lack of fancy three-dimensional graphics (those come later on in the series).
Nonetheless, Adam's World One successfully entertains and educates with Adam's star appeal and his enthusiasm for Islam.
The video also sets the pace for the series, as it introduces some of the main features of virtually all of the subsequent Adam's World videos: songs, a story narration, the use of the transvisualizer to travel to a part of the Muslim world, for instance. Apart from Adam, Muslim children of all ethnic and racial backgrounds are feature prominently in each episode by singing songs, narrating stories or performing in short skits.
Children's audiences of this video will see other Muslim kids in action, doing Islamic things like praying, reading Quran, etc. In this manner, children see others like them involved in Halal activities and could be encouraged to imitate the behavior through example.
China is the destination of choice for Adam and Abdullah with the help of the transvisualizer in Adam's World 1. The country's Muslims are not only numerous (about 100 million when this video was produced), but have incorporated Islam fully into their lives. Glimpses of the country's architecture, for instance, show how Islamic and Chinese influences have been combined to give mosques in China a unique look.
But the introduction to Chinese Muslims doesn't end with this visit. A Muslim Chinese guest visits Adam and shows him how to write "Allah" in Chinese, thus showing kids another way of how Islam has been internalized into the way of life of Muslims the world over.
The importance of the brother/sisterhood and the equality of all Muslims is also emphasized in the video.
The aura of showbiz, however, starts to affect Adam towards the end of Adam's World One. In an attempt to change his image for television, he decides to wear a band around his head with holes for his eyes, making him look like a Ninja Turtle. But Abdullah explains that this is wrong. He's convinced Adam will do just as well as a star with his own series without the image buffing. The Adam's World series is now at its eleventh episode and is recognized the world over. Alhamdu lillah, Abdullah was right: Adam has done very well.
Customer's Appreciation:
"I just had to pen this e-mail after viewing the first three videos of the Adam's World series that I purchased recently. Mash Allah! The quality, production and content of the program is excellent. Within just a few hours my children were 'unhooked' from their Disney videos. This is probably the wisest investment I have made on my kids' behalf thus far. I intend to purchase the whole series without delay. Keep up the good work!" -Rayhan H., Texas