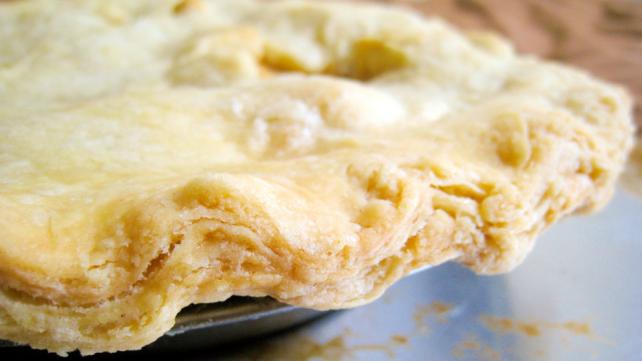 INGREDIENTS:
2 cups flour (usually all-purpose flour)
3/4 teaspoon salt
1 cup solid vegetable shortening (the "blue package" kind is what I prefer, to not name any names…)
2 tablespoons ICY water
1 egg
1 tablespoon white vinegar
METHOD:
Combine flour and salt
Add solid shortening, "cutting it in" with a pastry knife or 2 knives in a criss-cross manner.
Stir icy water, egg and vinegar together in a separate glass/bowl, then mix into the flour mixture until all is moistened (it will happen, just keep stirring).
Make 2 balls with the mixture, to be rolled out one at a time.

Rolling the dough (the less you handle the dough, the flakier it will be, insha Allah!):
Place 1 large square piece of wax paper on counter. Dust it lightly with flour.
Place 1 ball of dough in center, and another square of wax paper on top.
Flatten the ball by pressing down on the top sheet of paper with your hand.
Roll out the dough (with a rolling pin or - if you don't have a pin yet – a bottle) into a circle, so that it will fit your pie plate and still drag over its edges.
Carefully remove the top sheet of wax paper and invert the circle into the pie plate.
Carefully adjust its position.
Carefully remove the bottom (now on top) sheet of wax paper.

If all these "carefully"s were not sufficient, patch up any tears.
Follow your pie recipe from here.

YIELD: 1 double pie crust (1 bottom + 1 lid or 2 bottoms)

NOTE:
When using the second ball as a lid, cut some short slits into the lid, to allow steam to escape.
Photo Attribution: http://commons.wikimedia.org/wiki/File:Flaky_Vegan_Pie_Crust_(4277580052).jpg