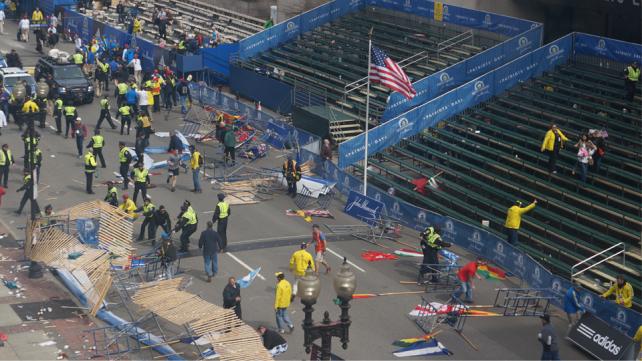 Use your Islamic organization's official letterhead and adjust the information to suit your city's needs. Here is a sample you can use:----------------------------
FOR IMMEDIATE RELEASE
Contact:
Ayesha Smith
Islamic Center of Abcd
987 Townsend Court
Abcd, IL 60607
Phone: 312-555-5555
http://www.abcdmasjid.org
http://facebook.com/...
info@ abcdmasjid.org
Islamic Center of Abcd condemns murder and terrorism in Boston Marathon Case
Abcd, IL – April 19, 2013 – Members of the Islamic Center of ABCD are extremely saddened at the ongoing tragedy of the Boston Marathon. Our hearts, thoughts and prayers are with the victims and the city of Boston. We condemn the suspected terrorists in the strongest terms and stand in solidarity with our fellow Americans.
The 500-member mosque's president, Bilal Saleem, called the murders and violence an "affront to Islam."
"These actions are an affront to Islam and to Muslims in America and abroad. They are in no way a reflection of Islamic teachings, which advise Muslims to preserve and protect life. We absolutely condemn them and call for those responsible to be punished to the fullest extent of the law.
"We also request media not to speculate on the possible faith of the suspects, as they did not in the cases of the recent ricin poison suspect or the Sandy Hook killer."
Saleem added that he and his congregation offer their sincerest condolences and prayers to victims and their families at this time of great sorrow and distress in our nation.
For information:
Contact: info@ abcdmasjid.org
Phone:
312-555-5555
Ayesha Smith 312-555-7896
President Bilal Saleem 312-555-9999
Imam Ali Davis 312-555-1999
-END-