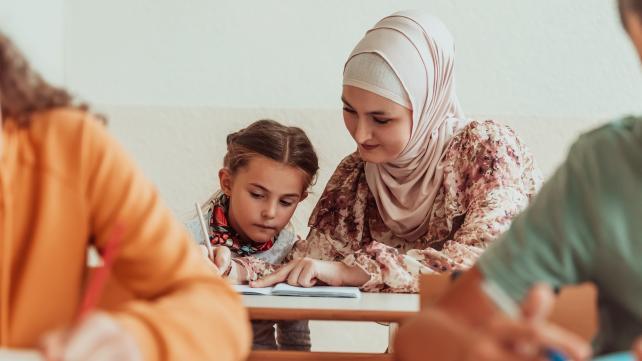 Bullying, Islamophobia, violence, drugs, sex, and haram relationships – these are just some of the dangers Muslim parents fear when sending their children to public school. They worry about whether their prayers and a solid religious foundation at home will be enough to keep their children grounded or if they lose them to the ever-expanding abyss of secular education. For a select few there are other options like private school or homeschooling. Statistically speaking though, most Muslim children in the Western world are educated in the government-funded public school system.
To ease some of the most common concerns parents have about how their children will fare, we spoke with two Muslim public-school educators to get an insider's perspective of what Muslim families can do to navigate the system effectively.
Fatima Abdus Salaam is an African American/Afro Panamanian Muslim educator currently working as a public-school Spanish teacher in the state of Georgia. She is originally from New
York and was born and raised in a Muslim family. She grew up in Upstate New York in a predominantly white neighborhood where she attended public school. Being in that environment presented many challenges, but she remained connected to her faith. She had family in New York City and would often visit Masjid Muhsi Khalifah in Brooklyn for Islamic events. Abdus Salaam was involved in the masjid's Muslim youth group – something she believes kept her connected to her faith. Her experience both as a Muslim student and now, as a teacher, provides an optimistic view of what families can expect as they traverse the hidden world of the public-school classroom.
Maryam Abdelhamid was born to Guyanese and Egyptian parents in Queens, New York, and raised in New Jersey. She attended a private Islamic school during elementary school, and entered the public school system in 5th grade, remaining there until her graduation. After completing undergrad studies in political science at Rutgers University, she moved to Philadelphia, Pennsylvania, where she completed a Master of Education in Urban Education from the University of Pennsylvania. She began her career in teaching and became the Assistant Principal of Instruction at Mastery Charter Schools of Philadelphia. Abdelhamid is now a Professorial Lecturer at American University's School of Education.
Both women are making positive contributions in their profession and exemplifying what it means to be a strong, visibly Muslim woman. They were asked a series of questions and their answers are provided intact below. They deliver an important perspective about what experienced educators say about how Muslim parents can make the most out of public school.
Q: What was your experience growing up as a Muslim in public school? Did you encounter any negative situations and how did you navigate them?
Abdus Salaam: It was around 5th grade when I started to observe the Ramadhan fast and daily prayers. 5th grade was also when I began to explore wearing the khimar, also known as hijab, to school. For the most part, people were receptive and no one made fun of me. That is until 6th grade. I recall one boy everyday saying "nice towel" as he walked by me. One day I eventually decided to confront him by telling him that was not nice, and he hurt my feelings. He replied by saying "sorry." I recall feeling much better after that and remember from then on wearing the khimar off and on until 9th grade. It was then when I decided to embrace observing the khimar consistently.
During high school, I became interested in the teachings of Muslim American scholar, Imam Warith Deen Mohammad. The first time I heard him speak in person was at the Muslim youth conference I attended in Charlotte, North Carolina. At the time, the youth conferences were annual. These conferences were such a wonderful experience for me in that I got the opportunity to meet Muslims from all around the country who were my age and who were Muslim just like me. This was especially important because when I would return home, I was one of the only Muslims in my school.
Q: What are some of the challenges Muslim kids face in public school and how can they overcome those challenges?
Abdus Salaam: As a Muslim living in a Muslim minority country, attending public school can present some challenges. Some of the challenges facing Muslim kids in public school is peer pressure from students who live different lifestyles whether it be experimenting with drugs or having relationships with the opposite sex (boyfriend/girlfriend). In this day and age, some Muslim students may grapple with their stance on homosexuality with regards to practicing the lifestyle and/or being an advocate for the lifestyle. Another challenge may be loneliness and isolation – feeling like there is not much in common with classmates or teachers. It can be difficult and, although it may feel lonely, it is important to know that there is a sense of self-esteem built in having your own identity as a Muslim and understanding that you are unique and striving to please your Lord.
Professor Abdelhamid: In 2022, I think the biggest challenge is learning how to navigate being unapologetically Muslim and the current social realities of what is being normalized in our society.
Q: What has been your experience working as a public-school teacher as a practicing Muslim woman?
Abdus Salaam: In my experience as a Muslim student as well as a Muslim teacher in the public schools, colleagues and administrators have been receptive to allowing days off for Eid. I have time in my schedule to offer salah and I can fast with no problem.
Professor Abdelhamid: Philadelphia is so unique that my experience was one that you would only encounter in Philly! Islam is prevalent and visible, so the challenges that many Muslim women face in other professional and educational settings were not ones I ever encountered.
Women who wear hijab in Philly immediately earn legitimacy from students due to shared identity and a high reverence for Muslim women and Islam.
Q: What can parents do to advocate for their child in the public school system?
Abdus Salaam: Absolutely. Parents can advocate for their children to observe these practices by meeting or writing to their child's principal or teacher to explain that they may need time for prayer during the day or asking if they could stay in the classroom or library with a teacher during lunchtime during the month of Ramadhan.
Professor Abdelhamid: I truly believe that advocacy begins with the culture at home. Advocacy for social justice and anti-racism, as modeled by Prophet Muhammad, peace and blessings be upon him, must be a part of the fabric of the family's values and priorities if we as Muslim families want to earn visibility and rights for our children to unapologetically practice our faith.
Often, we are silent and are removed from the fights for social justice until it applies to us as Muslims. But we must also be visible during racial justice vigils, Black Lives Matter protests, and other fights to advance equity. Of course, we must also be mindful to maintain this advocacy within the parameters of Islam, as some causes are not aligned with our faith.
Q: Can public schools make accommodations for Muslim students' dietary restrictions, prayer, fasting, and Eid holidays?
Professor Abdelhamid: Schools absolutely can and should! There have been many strides in many public-school districts recently that are truly reflective of the communities that they serve. That is the purpose of education! A fierce team of Muslim leaders in Philly won the battle
to have both Eid Al-Adha and Eid Al-Fitr designated as district holidays, and other districts have made accommodations for halal food options in cafeterias, Ramadan accommodations, etc. At my recent district, all teachers were aware that Ramadan occurred during state testing and were provided with resources to support students who were fasting. These efforts could not have been possible without the advocacy of community leaders and active Muslim families.
Q: What if a parent does not feel comfortable with a certain class like music or lessons about sex education? What options do they have?
Abdus Salaam: With regards to classes, parents should speak with the teacher as well as administration to express concerns and see about other options for classes such as art, music, and sex education. It may be beneficial to connect with other Muslim parents to have them join the discussion or meeting. Identifying and developing a rapport with Muslim teachers and/or staff, if there are any in the school, may serve as a benefit for your child when it comes to anything else needed.
Q: In your experience, is the school administration usually responsive and/orflexible with students' individual needs?
Professor Abdelhamid: It really varies based on the vision and mission of the district and the school site leadership. These are things parents can explore by reading up on school policies and meeting with administrators. Additionally, I would be sure to cultivate strong relationships with teachers, school leaders, and board members to advocate for your children's rights.
Q: What other advice would you offer parents who are concerned about their children's wellbeing?
Abdus Salaam: I know that there are many parents who worried about their kids going astray due to negative influences in the public school. My suggestion is to ensure that you are establishing a Muslim environment at home which consists of daily prayer and instilling Islamic values. It is also good to stay connected to a masjid and make sure that your children are involved in the activities offered, whether its Islamic studies classes, sports teams, or Islamic game night. It is especially important for youth to interact with one another. Hence, lastly, I think that attending national Islamic conferences are very rewarding and may help children establish relationships with other Muslim youth and build a greater sense of identity.
Learn more about Fatima Abdus Salaam on her Spanish-learning website:
www.maestrasalaam.com or follow her on social media @maestrasalaam
For more about Maryam Abdelhamid, visit:
www.american.edu/soe/faculty/mabdelhamid.cfm
Wendy Díaz is a Puerto Rican Muslim writer, award-winning poet, translator, and mother of six (ages ranging from infant to teen). She is the co-founder of Hablamos Islam, a non-profit organization that produces educational resources about Islam in Spanish (hablamosislam.org). She has written, illustrated, and published over a dozen children's books and currently lives with her family in Maryland. Follow Wendy Díaz on social media @authorwendydiaz and @hablamosislam.