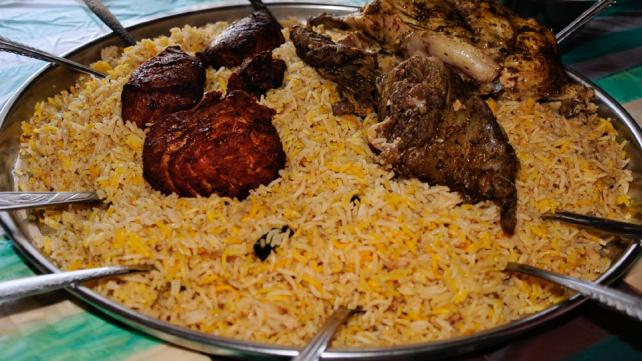 Ingredients
2-1/2 lbs. lean lamb meat, cubed
2 onions, chopped
oil for frying
2 cups rice
1/2 teaspoon salt
1/2 teaspoon pepper
1/2 teaspoon cinnamon
1/2 teaspoon cardamom
1/4 cup almonds, toasted
1/4 cup pine nuts, toasted
Method
Brown lamb and onions over medium heat in vegetable oil, in a large skillet. Season with salt, pepper, cinnamon and cardamom. Adjust seasoning to taste. Add enough hot water to cover the lamb. Cover pan and simmer until lamb is tender.
Drain the lamb, reserving the liquid in a measuring cup. Add enough water to the liquid to measure three cups. Pour liquid into saucepan and bring to a boil. Add the rice. Cover pan and reduce heat to low. Let rice simmer for 30 minutes, while lamb and onions are kept warm in the oven.
Mound rice on a serving platter. Top with lamb and onions,and garnish with toasted almonds and pine nuts.
Photo Attribution: http://commons.wikimedia.org/wiki/File:Traditional_Omani_Food.jpg