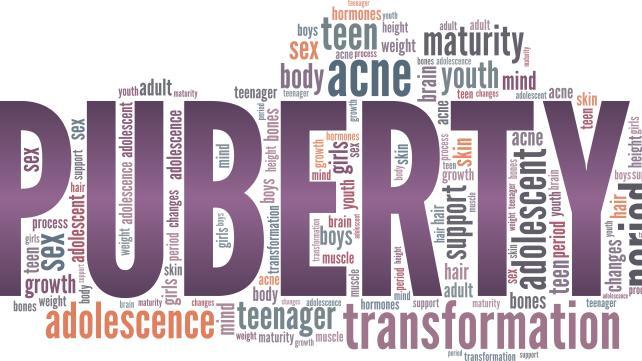 Parenting is all about taking charge of and flexing with an ever-changing playing field. The inherent challenges are amplified as your child heads into adolescence. There is much to learn and make preparations for - the talk about menstruation, tips about increased attention to hygiene, patiently meeting the emotional trauma that results from raging hormones, etc. It is prudent for parents to take a deep breath and meet the tests of puberty with your best food forward.
Here are some tips to create an environment in your head and in your home that welcomes dialogue and sound advice, a place without judgment or room for shaming.
Start with a paradigm change: rather than fearing the worst, concentrate on puberty as an exciting time that means adulthood is approaching.
Show compassion for the changes - physical and emotional - and reassure your child that these changes are normal.
Be a great role model, particularly in the area of accepting body shape and size. Children at this age are used to comparing themselves to others, particularly the beautiful male and female bodies that are paraded on screens big and small.
Listen without judgment, showing that you are interested in their perspectives and experiences. This does not mean tacit agreement, just an opportunity for sharing and opening to conversation.
Recognize and respect their increased interest in privacy.
Find opportunities to praise your teens' efforts, achievements, and positive behavior.
Build empathy (and much needed patience!) by putting yourself in their shoes. As a teen moves to an increased state of independence and responsibility, there are struggles along the way.
Take to higher ground when it comes to outbursts by helping to calm rather than inflame the situation. Wait for the temperature to cool before convening to discuss the matter and remember that listening can be more effective than lecturing.
Keep inspiring reading materials handy. There are good books available on improving communication with teens, establishing boundaries, and supporting their healthy growth and development.
As puberty sets in, expect changes in self-expression and personal hygiene. This can take the form of extreme haircuts, new clothing choices, and long periods of time spent on personal care. Be supportive as long as there is no compromise of Islamic values of modesty.
Be sure to make time to purchase feminine hygiene products for your daughter in a manner that is sensitive to your child's self esteem. Let them help with choosing items and remember, there is no need to announce the purchase to the family or to the rest of the customers in the store.
Get support from parents of teens but avoid comparing too many notes. It is important to protect your child's right to privacy and also to not bring further stress by expecting your child to act the same as another.
Pay attention to little things. Teens may struggle with physical changes that they are shy to bring up themselves. This could be as simple as persistent acne or as challenging as extreme menstrual cramps. In some instances, you may need to consult a medical specialist.
Imperative to each of the items above this the need for parents to stay present. Be interested and involved in your child's life. Let them know you are always available to listen and advise. When this is the norm in a household, transitions and changes - be they big or small - are easier to manage and overcome.
And last but certainly not least, make duaa for yourself and for your children. Puberty is the gateway to adulthood. The role of every Muslim parent is to support and lead our children on the journey of becoming men and women who are knowledgable about themselves and the world they live in, and are obedient servants of Allah.
May Allah fortify us for the work ahead, increase patience and wisdom during challenging times, bring us resources that support healthy growth and development, strengthen the bonds within our families, and keep us all firmly on the straight path. Ameen.