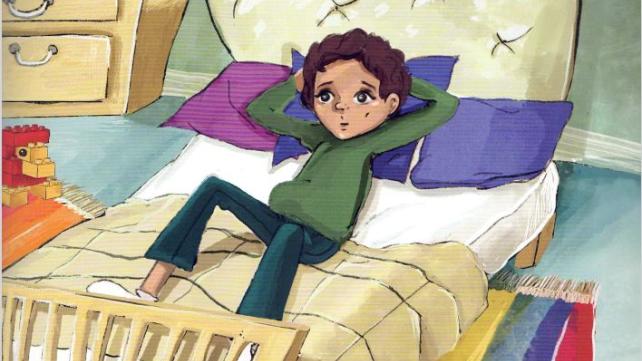 The dynamics in a family where the adults practice different faiths can be quite challenging. Made from the Same Dough offers a first-hand look at how those differences can also cause anxiety, even for our children.
It's Ramadan and the family has been invited to a potluck iftar to break their fast. That part is not so unusual. Just so happens that Papa, who is Rayan's grandfather on his mother's side, is also visiting. Papa seems up for the occasion and even offers to bake his favorite Christmas cookies for dessert. Granddaughter Aliya jumps at the chance to help and everyone is excited. Everyone that is but 8-year-old Rayan, who is worried about how Papa will be received, what he will do when it is time to pray, and what his own friends will think. Because Papa is not a Muslim.
Author Laura El Alam is a convert to Islam and has chosen a topic dear to her heart as the focus of her first published work. The book uncovers the fears of its young main character who allows concern about the judgment of those around him to override the opportunity to support his loving grandfather in a new adventure. The story sheds light on the nuances of how "people of different faiths can still share great bonds of love and respect each other's beliefs and traditions." These words of wisdom come from lessons learned in El Alam's own family. Alhamdulillah, all thanks to Allah and a nudge from his sister, Rayan is in for an important lesson of his own.
Made from the Same Dough is a great read and conversation starter about the silent fears (oftentimes the unsubstantiated ones) that live inside our children's heads. It would be especially helpful in initiating dialogue in those families with relatives of different faiths and is a wonderful reminder about how a warm reception around holiday celebrations can shed light on the beauty of Islam. It can also provide some insight into the challenges that converts face within their own families and provide Muslim children who rarely interact with individuals from other faith traditions the opportunity to see a loving non-Muslim character in action.
The book is beautifully illustrated by Passant Ablal and the vibrant colors will likely captivate readers of all ages. It would make a great addition to your family bookshelf or the local library, and a nice gift for any occasion. You can also support a Muslim-owned business with a purchase from Ruqaya's Bookshelf.
Zahirah Lynn Eppard is the managing editor of the Muslim Home parenting newsletter. As Sound Vision's Director of Religious Education, she has spearheaded the production of more than 500 online classes serving children ages 3-12 in the Adam's World and Colors of Islam Clubs. Eppard has also worked in the field of education as a teacher, homeschooler, and Islamic school principal, as a marriage and crisis intervention counselor, and as a lobbyist and social justice activist. She lives with her husband, children, and grandchildren in Maryland.