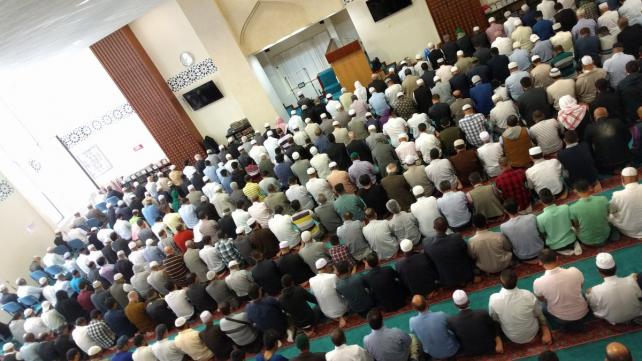 Please read Imam's letter below and do the following:
Email it to your friends and post it on your website.
Read the Imams' statement at Juma prayer tomorrow.
---
Assalamu Alaikum.
We, the Imams of the community, would like to request something very critical for our community and our country.
Vote!
And vote early!
We would like to see each and every one of you vote this election.
Islamophobia is rising in America. But we are not alone. Latinos, Blacks, women, and other minorities are bearing the brunt of rising hate, fear, and anger as well. At the same time, however, our neighbors of good conscience are standing with us.
Being a good neighbor and a good citizen is in essence being a good Muslim.
God sent all Prophets, from Adam to Muhammad, peace and blessings be upon them all, primarily to help people establish justice (Quran 57:25). Justice, therefore, is a prime value in Islam. That includes fairness, equity, social and economic justice. It is the commandment of God for all believers to establish justice. (Quran 4:135).
In our society, standing up for what is right entails speaking out about issues, working with other citizens, voting, and making sure that politicians stick to their promises. Anyone refusing to participate in this process is essentially denying a most important path to establishing justice in our nation.
We must strive for peace and justice at home and abroad.
When we take part in the electoral process, we make our voices heard. When we volunteer and work with others during elections, we have an opportunity to connect with our neighbors. Often, a smiling friendly face goes a long way in developing human bonds between neighbors.
So brothers and sisters, vote, organize, and connect.
We stand with you.
Salam
Agreed upon by the following Imams & Khateebs (written in the alphabetical order of last names).
Imam Qutaibah Abbasi
Imam A. Abdul Baqi
Imam Johari Abdul-Malik
Imam Osman Abdul Qadir
Imam Dr. Abdul-Samra
Imam Aslam Abdullah
Chaplain Sami Abul Aziz
Imam Daayiee Abdullah
Imam Nuhu Abdulai
Imam Al-Hajj Talib Abdur-Rashid
Imam Abdur Rafa
Nazeeya Abudulai
Imam Abdelsalam Abounar
Haj Dawoud S Adeyola
Imam Hamood Afef
Imam Mohamed Afify
Imam Senad Agic
Imam Muhammad Nour Ahmad
Mufti Azeemuddin Ahmed
Mahtabuddin Ahmed
Imam Minhajuddin Ahmed
Imam Khalil Akbar
Imam Ameen Al-Ali
Imam Rizwan Ali
Imam Sajid Ali
Imam Ali Suleiman Ali
Imam Hassan Aly
Imam Dr. Muhammad Ruhul Amin
Imam Fateen Saifullah Ansari
Imam Zafar Anjum
Imam Azhar Azeez
Imam Osama Bahlool
Aslam Baig
Imam Ahmed Barry
Imam A. Rahman Bashir
ShemsAdeen Ben-Masaud
Imam Mohamed Benkhaled
Abdul Aziz Bhuiyan
AbduRahman Mohammad Al-Biladi
Imam Saffet Abid Catovic
Imam Sabahudin Ceman
Imam Atif Chaudhry
Imam Dr. Talal Eid
Dr Helal Ekramuddin
Imam Mohammad Elahi
Imam Shuaib Din
Imam Dr. Saad Hassanin
Shaikh Hatem Gawaly
Dr. Abidullah al-Ansari Ghazi
Imam Dr. Abdelhamid S. Al Gizawi
Sheikha Tamara Gray
Imam Jemal Gumus
Imam Inamul Haq
Mufti Ikram UL Haq
Imam Muhammad Haq
Imam Askia Faruq Hameed
Imam Mohamed Hassan
Imam Taha Hassane
Imam M. S. Hashmi
Chaplain Kamruzzaman Hosein
Imam Noman Hussain
Imam Haj S. T. Ibrahim
Imam M Musa Azam-Ibrahimi
Karim Irfan
Ehsan Islam
Imam Muhammad A. Jabbar
Imam Mohamad Joban
Mohammed Jama
Imam Abdul Raouf Kabbar
Imam Djilali Kacem
Dr. Mohammed Kaiseruddin
Mufti Hussain Kamani
Imam Ibrahim Kazerooni
Imam Hasan Khalil
Imam Mohamed Jawad Khaki
Imam 'Abdul 'Azeem Khan
Imam Alli Khan
Imam Faizul Khan
Syed Shahnawaz Khan
Mohamed Riad Khawam
Dr. Majed Al-Kusayer
Mufty Jawwad Ur Rehman Ludhianvi
Imam Taalib Mahdee
Imam Mustafa Major
Abdul Majid
Muhammad Farooq-i-Azam Malik
Imam Moataz Moftah
Shk. Rafeek Mohamed
Mufti Riyaz Mohammed
Imam El-Hajj A. Muhammad
Fitrah Muhammad
Imam Abdul Malik Mujahid
Maulana AbulFatah Muniruzzaman
Imam Hafidh Muriz Mesic
Dr Ahmed Murad
Shaikh Kifah Mustapha
Afzal Nabi
Imam Fauzaan An-Nadawi
Imam Aamir Nazir
Imam Dr. Zafar Iqbal Noori
Imam Yahye Yusuf Omar
Nuhur Osman
Imam Matthew Ramadan
Emil Ranakusuma
Tariq Rasheed
Imam Osama Al Refai
Imam Misbahu Rufai
Imam Mustafa Richard
Shaikh Jamal Said
Imam Dr. Yousef Said
Khalid A. Salahuddin
Imam Ahmad Saleh
Sheikh Dr. Shaheed Satardien
Muhammad Sattaur
Imam Shaker El Sayed
Imam Anas M Shaikh
Dr. Ibrahim Shakoor
Imam Talib Shareef
Imam Dr. Mohamad A. El Sheikh
Imam Mohammad Asghar Shareef
Dr. Mohammed A. Siddiqui
Dr. Muzammil H. Siddiqi
Imam Ayman Soliman
Imam Azhar Subedar
Haroon Sulaiman
Imam Ahmed Sultan
Imam Eldin Susa
Imam Abdurrahman Yunus Sykes
Ashfaq Taufique
Imam Mustapha El-Turk
Imam Azfar Uddin
Mufti Asif Umar
Imam Shakil Vawda
Shaykh Ibad Wali
Imam Ali Yurtsever
Imam Raouf Zaman
Shiekh Dr. Shadi Zaza
P.S. Voting early is the best way of voting.
P.P.S. Of course Nov 6th is the election day. If you need a ride call your masjid for help