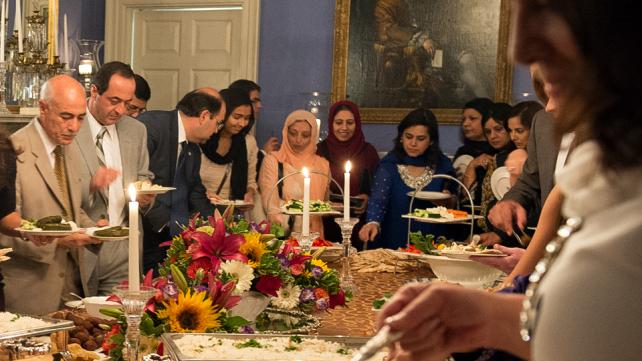 The most wonderful time of the year is almost here: Ramadan is set to begin at the end of September. Between fasting, Tarawih prayers, Iftar parties and preparing for Eid, time just whizzes past. That's why it's important to decide how we're going to make the most of the blessed month before we're in the thick of it. Here are a couple of things you can do not only on an individual and family level but for the community as well:
1. You & Your family
Connect to God everyday individually and with your family. Make an effort to really get up for Suhoor if you usually sleep through it to gain the blessings of this pre-dawn meal; strive to pray with greater concentration; aim to finish reading a part of the Quran you've always wanted to but haven't made time for before; give up one bad habit; pick up one habit you feel will keep you spiritually ahead of the game of life even after Ramadan.
In terms of your family, try your best to eat Iftar with them at least three times a week: both weekend days and at least once in the weekdays. If you're not living with your family, keep in touch by phone. Call them at Iftar time if you're living alone this year or have them call you to get up for Suhoor; discuss a part of the Quran over the phone or by email a few times a week; pick a day of the week to volunteer at a soup kitchen or to make bag lunches for the homeless near your home or school.
The point is to recharge your and everyone else's spiritual batteries and to enjoy Ramadan before it's over.
2. Register to vote
The time for voter registration this year will fall in Ramadan. Voting is one of the strongest ways to express your dissatisfaction or satisfaction with a government. Contact your state's secretary of state office to find out the deadline to register to vote and do it as soon as possible. Every state has its own date, so make sure to find out what yours is. Have your family go before Ramadan or even in Ramadan, post-Iftar.
3. Encourage Muslims at your mosque to vote
Take your civic duty a step further and encourage Muslims who frequent your local mosque to vote as well. Gather all of the information necessary about this year's election and material about why Muslims should participate in the political process and meet with your Imam. Ask him to take advantage of the fact that more Muslims attend the mosque in Ramadan to encourage Muslims to vote.
4. Meet with your Imam to discuss Khutba topics
As mentioned above, more Muslims attend the mosque in Ramadan. This is an ideal time to reach members of the community at a broader level. That's why Imams need to plan their Khutba topics carefully with this in mind. Some difficult but necessary topics to discuss include the growing problem of Islamophobia and concrete ways Muslims can handle it, as well as domestic violence. Domestic violence increases in Ramadan as well as during Christmas time, according to social workers.
5. Share Ramadan with your neighbors
Since 9/11, more Muslims have become involved in interfaith work. However, while sharing Islam at this level is important, many of us have forgotten to do this with those closest to us: our neighbors. Inviting neighbors to break bread with you at Iftar time is ideal, but even sharing a one-sheet explanation with them or making candy bags for the neighborhood kids with an explanation of what Ramadan is will go a long way to countering some Islamophobia.