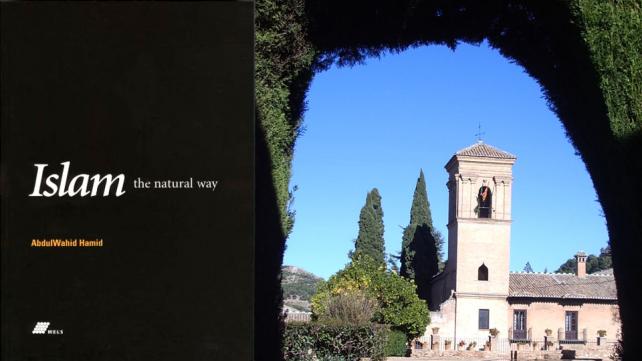 Islam the Natural Way by Abdul Wahid Hamid provides an understanding of the main concerns of Islam and the foundations on which it is built. It seeks to show that Islam is the natural way for all creation. To discover Islam is to return to one's natural disposition. To understand Islam properly is to understand something of the true meaning and purpose of life. To live by Islam is to live by natural universal value and to fulfill one's needs and obligations, naturally.
It is intended for anyone, Muslim or non-Muslim, who desires to have an understanding of the main concerns of Islam and of the foundations on which it is built.
Essentially it is a personal book. It requires you to think of reality as a whole and to ask, as no doubt you have asked, such questions as: Like countless millions before you you must have asked yourself questions such as: Who am I? Where do I come from? How did the universe come into being? What am I doing here? Where do I go from here? Where do we all go from here? It requires you to think in ever expanding circles of your own condition, your livelihood and your leisure, your family relationships, your neighborhood, community, the environment, people with differing worldviews, matters of global concern and beyond.
A beautiful book written in a style and language that is simple with a layout that has been designed to make the book easy to use and follow.
Other Short Reviews
"At last, a splendid introduction to Islam. Clear, forthright and confident. Succeeds in synthesizing the best of Muslim thought of the last three decades. Islam the Natural Way is an authentic presentation of Islam and its worldview."
M. A. Sherif, The Muslim News, London.
"The long-awaited book for Muslim parents and teenagers living in the West. Shows how Islam provides the values for creating a better world."
Maryam Davies, Crescent International, London.
"I found Islam the Natural Way to be the very best I have read in content, and in presentation, in bringing the truth of Islam to western readers."
E. Graham Barrie, Manchester, UK
"It has really made a difference between understanding Islam and merely accepting it as my parents' religion."
Sajid Musa, Essex.
"A most beautiful and enlightening presentation of Islam."
Abd alBari, Indiana State Reformatory, USA.
"All Muslim should try to acquire this book."
Talib ud-Din, Islamic Council of Jamaica. West Indies.
"We are impressed"
Dora Wong, Editor, Australia Muslim News, Adelaide.
"A wonderful work. So effective that people keep requesting it."
B. Aisha Lemu, Islamic Educational Trust.