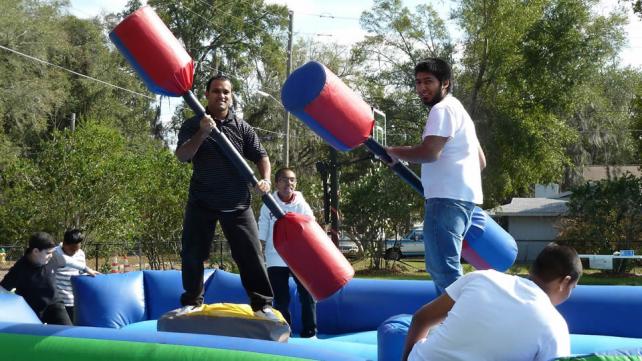 Even with a job and summer school, the summer weeks can and should be marked by fun and frolic, balanced with a growing sense of responsibility as young adults. Here are a couple of ideas for tweens and teens:
Tahajjud texting program: put those cellphones to good use by setting up a texting tree with their friends to wake each other up for Tahajjud or Fajr. Have friends meet up at the local Masjid or one person's house and follow prayers up with a sweet snack before everyone crashes into bed again.

Develop a relationship with an elderly neighbor. Check up on them especially on dangerously hot days, mow their lawn, run errands. Try to do it for free.

Summer Muslim Comedy Club: Every Friday night, gather friends in a basement and take turns trying out standup comedy. How will you ever know if you're the next Allah Made Me Funny team unless you try? The challenge: keeping the humor swear-free and family friendly.

After-Juma Lasertag: or mini-golf, or whatever fun, affordable, somewhat physical activity interests you and your crew. If Fridays are free, meet up for Juma prayers first then hit your fun spot.

Throw an American Muslim Fourth of July Party: besides the Zabiha BBQ lamb and red, white, and blue Hijab or Kufi, and prayer in between, throw in some serious talk about the blessings of living in America today.

Hold a tournament: it can be Wii, video game, board game, backyard basketball or any sport of your choice. Break for water, collective prayer, and snacks.

Write a poem, rap or song in praise of the Prophet.

Make a video about some aspect of Islam and load it up to YouTube.com. Interesting topics include calligraphy, Islamic art, an Islamic "celebrity" who's a good role model for all faiths.

Take a Babysitter's Training Course at the local Red Cross or park district.

Take a CPR class.

Host an all-women fashion show in the basement.

If you've got a big backyard, try to pull off a Movie Under the Stars with your friends. Choose inspiring or Islamically oriented films, ranging from The Message to cartoons like The Boy and the King.

Write and produce a Muslim version of a favorite television show and load it up to YouTube.com

Take up a fitness challenge together. Participate in a walk, marathon or for the really ambitious, a triathlon together. Training sessions should be fun and include breaks for prayer and snacks.

Extreme Makeover your car or your room.

Go on a shopping spree with friends...for charity. Find out what kind of things a local organization needs and spend an afternoon together buying the stuff and dropping it off.

Make a scrapbook about a visit to a local mosque or your last trip to a Muslim country.

"Clean it up, clean it up the dirty Masjid" is not just the title of a rap produced by the Muslim Youth of North America in the early 1990s. Spend an afternoon or two doing this with your pals.

Arrange to shadow a person who has the career you want for a day, and don't just ask about the job but how they balance their time with prayer, family responsibilities, arrange to get time off for Eid, etc.

Volunteer for a political candidate/party of your choice.

Visit the campus of colleges you're considering. Check out the Muslim Students' Association and prayer area as well.

Videorecord an interview with your grandparents about their lives as teenagers. Some questions to ask include: What did they do for fun? What subject did they study? Did they pull any interesting pranks? What was their most embarrassing moment?

Research one male and one female Companion of the Prophet

Learn the art of beautiful Quran recitation (Tajweed) by regularly listening to a reciter whose recitation you love or taking a course.

Brainstorm 52 Khutba topics (1 for every Friday of the year) you'd like the local Imam or Khateeb to cover in the next year and send it to him with a nice letter.

Islamic book club/summer reading program: make a deal with friends and pick four books, two books per month (more if you have the time). Then meet and discuss them over pizza, ice cream or coffee. Some suggested titles:

Companions of the Prophet (Books 1 and 2) by Abdul Wahid Hamid

A Young Muslim's Guide to the Modern World by Seyyed Hossein Nasr

Gender Equity in Islam by Jamal Badawi

The Autobiography of Malcolm X As Told to Alex Haley

Everyday Struggles: The Story of Muslim Teens by Sumaiya Beshir

First Things First: First: For Inquiring Minds and Yearning Hearts by Khalid Baig

Take over storytelling for your younger siblings from your parents and recount in five fascinating minutes an interesting story from the life of the Prophet, Companions or Islamic history.

Take a language course, preferably Arabic or your mother tongue if it's not English.

Design your own model mosque with different sized boxes, paper towel rolls (for minarets), carve out windows, etc.

Fast with friends some days in July to prepare for the upcoming August Ramadan. Have Iftar together if possible.

Hold a Back to Ramadan party, sharing with friends at least three Ramadan resolutions and making your friends your watchdogs to help you keep up with those habits during the blessed month.

Hold an Iftar party at your place, if possible with all the summer trimmings: BBQ, corn, watermelon, etc.

Plan an extraordinary Eid bash for the end of August with family and friends.

Arrange to get a table for your mosque at the next community summer festival. Make sure it includes free snacks, drinks, etc. along with pamphlets and other info about Islam.

Sadaqah a day keeps the ego at bay...plan what charity you'll give every night for the next week. Remember, this includes smiling, pouring water into someone's glass and more.

A few days before the school year begins, hold a Back To School party to enjoy the last moments of summer fun. You provide the food and everyone else brings five resolutions they want to work on during the school year to share with everyone. The resolutions should be both serious and humorous.

Organize an amazing Eid program or show for your favorite non-profit for fun and fundraising purposes. Include a talent show, dinner, etc.

Start or restart the Sunnah of eating together as a family if this has fallen to the wayside during the school year. Make dinner one or two nights a week so you can start and maintain the tradition, while easing the burden of the family cook.

Offer your parents date night by agreeing to watch younger siblings so they can enjoy some much-needed alone time.

Choose a major household project that's been left aside and complete it. This can be trimming hedges, cleaning out the garage, dropping off unused items to a thrift store, etc. Easing another person's burden is a good deed, and doing it for your parents gives you even more brownie points.