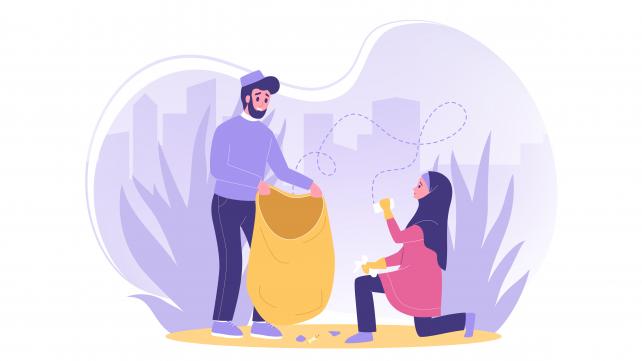 For those in the United States who were able to work remotely once lockdowns due to the COVID-19 pandemic began in early 2020, the shift to working from home collectively saved 60 million hours of commuting time. Most of that was redirected to work, childcare, and household chores.
With Ramadan on the horizon, many Musims feel time-pressed even without commute time, trying to balance all of their responsibilities, along with fasting and taking advantage of all of the opportunities for extra worship the blessed month brings.
To ensure a "zero time waste Ramadan", we need to look at what exactly is filling up our hours. A glass that is full will overflow. We need to empty it enough to be able to refill it with what we really need to benefit us in Ramadan and beyond. Here are some ideas:
Establish habits. Prophet Muhammad, God's peace and blessings be upon him, said, "Do good deeds properly, sincerely and moderately, and remember that you shall enter Paradise only through Allah's Mercy, and also remember that the most beloved deed to Allah is that which is regular and constant even if it is little" (Bukhari).

Habits help you save time and energy. For example, you can donate generously any time, but make it a habit to donate every Friday before Maghrib prayer. Once you set a day and a time, it is more likely that you will get the job done.

In the United States, people spend two hours and three minutes on social media each day. In that time in Ramadan, we can:

-read a Juz of Quran (maybe two)
-memorize a Surah
-do a lot of these good deeds that take five minutes or less

Make an online/screen time schedule for yourself and your family (outside of required work/school time if learning/working remotely). Limit games, browsing and scrolling to the minimum of what you consider necessary. Try to shorten it to as little as possible in Ramadan.

If Friday or Saturday evenings are "movie night" in your house, consider replacing it with one of the many online Islamic programs that will be available during Ramadan. If possible, avoid movies, music, and entertainment completely during the blessed month.

Delegate any and every task you do not have to do. Whether it is cleaning up (which the entire family should be helping out with anyway) or doing groceries. If you can afford it, hire it out. Websites like Taskrabbit can help you find someone nearby for all kinds of work, ranging from pickup and delivery, to cleaning and assembling furniture.

Before Ramadan begins, complete as much grocery, as well as Eid gift and clothing shopping as you can.

Return all library books to free up time for reading more Quran.

Deep clean the entire house the weekend or the week before Ramadan so you don't have to rush to do so in the last 10 days of the blessed month to prepare for Eid.

Spend one weekend cooking batches of food for Ramadan. Make the meals as complete as possible so that little prep work is needed to put them together come Iftar time. This should also include traditional Iftar food and sweets (e.g. qatayef, samosas, rolls, etc.).

Batch your errands by location. For example, if you have to go grocery shopping in Ramadan, think about what other stores or services are nearby that can help you take care of a task, whether it's getting tires checked at an auto shop, or mailing off Eid packages at the post office.

Evaluate your Ramadan day every night: If possible, write this out: What was good, what was bad, what could be improved. This helps us be mindful about how to use our Ramadan hours more wisely.