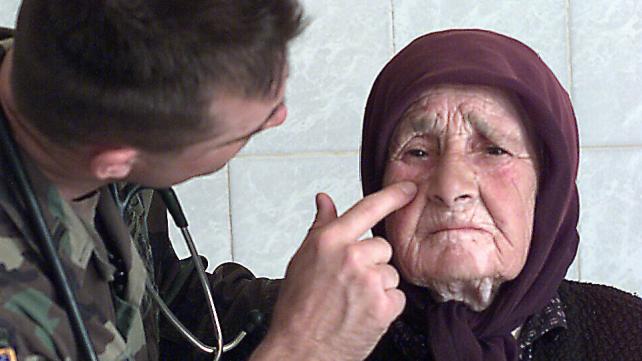 There are three basic categories of elder abuse: domestic, institutional, and self-neglect.
Domestic elder abuse refers to maltreatment of an older person residing in his/her own home or the home of a caregiver. Institutional abuse refers to the maltreatment of an older person residing in a residential facility for older persons, e.g., a nursing home, board and care home, foster home, or group home. Self-neglect refers to the conduct of an older person living alone which threatens his/her own health or safety.
The four common kinds of elder abuse are:
physical abuse, the infliction of physical pain or injury, e.g., slapping, bruising, sexually molesting, restraining;
psychological abuse, the infliction of mental anguish, e.g., humiliating, intimidating, threatening;
financial abuse, the improper or illegal use of the resources of an older person, without his/her consent, for someone else's benefit; and
neglect, failure to fulfill a care taking obligation to provide goods or services, e.g., abandonment, denial of food or health-related services
The Current State of Affairs
The National Center on Elder Abuse (NCEA) reports an increase of 150 percent in state-reported elder abuse nationwide over a 10-year period, from 1986 to 1996.
However, because abuse and neglect is still largely hidden under the shroud of family and personal secrecy, it is grossly underreported.
To gain a fuller understanding of this national problem, the AoA and the Administration for Children and Families jointly funded NCEA, together with its subcontractor Westat, Inc., to conduct the nation's first elder abuse incidence study.
On October 5, 1998, the Assistant Secretaries for Aging and Children and Families, Jeanette C. Takamura and Olivia Golden, announced release of the National Elder Abuse Incidence Study prepared for the Administration on Aging and the Administration for Children and Families.
This study, requested by Congress, was conducted by the National Center for Elder Abuse at the American Public Human Services Association (formerly the American Public Welfare Association) in collaboration with Westat, Inc., a Maryland-based social science and survey research firm.
This study estimates that at least one-half million older persons in domestic settings were abused and/or neglected, or experienced self neglect during 1996, and that for every reported incident of elder abuse, neglect or self neglect, approximately five go unreported. The report may be viewed on the internet:
Copies may be obtained through the National Aging Information Center (330 Independence Ave., SW, Washington DC 20201 – Tel. 202-619-7501 - FAX 202-401-7620
Where To Go for Help
If, as a concerned citizen or a practicing professional serving the elderly, you suspect that abuse has occurred or is occurring to an older person whom you know, report your suspicions to the local APS (Adult Protective Services) agency.
In most states, certain professionals are mandated to report abuse. If the suspected incident involves an older person living in an institutional setting, call the office of the local long-term care (LTC) ombudsman.
You can find the telephone number for the APS office by calling directory assistance and requesting the number for the department of social services or aging services.
To reach a LTC ombudsman, call the Area Agency on Aging (AAA), which is listed in the government section of your telephone directory, usually under "aging" or "elderly services."
It is essential to call the office with jurisdiction over the geographical area where the elder lives. If you cannot find the number for either of these offices or you are unsure of the office that has jurisdiction over the geographical area in which the older person lives, you can obtain the correct telephone number by calling the Eldercare Locator at 1-800-677-1116, sponsored by the Administration on Aging (AoA). It is helpful to provide the address and zip code number of the older person's residence.
U.S. Government Administration on Aging's (AoA) Involvement in Elder Abuse Prevention
The AoA administers the Older Americans Act (OAA). The AoA's key priority areas are building systems of home and community-based long-term care; promoting consumer empowerment and protection; and serving as a focal point for aging information and education.
The OAA supports a nation-wide "aging network," consisting of the AoA, including its Regional Offices; the 57 State Units on Aging (SUA's); 655 AAA's; 221 Tribal Organizations, representing over 300 Tribes; and more than 27,000 community service providers.
The OAA provides formula grant funds to SUA's to support state elder abuse prevention activities, authorized by Title VII, Vulnerable Elder Rights Protection Activities. The OAA also funds discretionary project grants, authorized by the Title IV, Training, Research, and Discretionary Projects and Programs.
State Elder Abuse Prevention Activities
The State Elder Abuse Prevention Program, created by the 1987 Amendments to the OAA, was consolidated into the new Vulnerable Elder Rights Protection Activities, Title VII, when the OAA last was reauthorized in 1992. Title VII provides the states discretion in setting priories for spending these moneys. For the most part, states have focused their elder abuse prevention activities in four areas:
* professional training, e.g., skill-building workshops for adult protective services personnel; workshops designed to introduce specific professional groups, e.g., law enforcement, to aging and elder abuse issues; statewide conferences open to all service providers with an interest in elder abuse; and development of training manuals, videos, and other materials;
* coordination among state service systems and among service providers, e.g., creation of elder abuse hotlines for reporting; formation of statewide coalitions and task forces; and creation of local multidisciplinary teams, coalitions, and task forces;
* technical assistance, e.g., development of policy manuals and protocols that outline the proper or preferred procedures; and
* public education, e.g., development of elder abuse prevention curriculum for elementary and secondary students; and development and delivery of elder abuse prevention public education campaigns, including radio and television public service announcements, posters, flyers, and videos with training materials suitable for use with community groups.
Resources
National Center on Elder Abuse
1225 I Street, NW Suite 725
Washington, DC 20005
Tel. (202) 898-2586
Email: NCEA@NASUA.org

For information about state elder abuse contacts, call NCEA. The NCEA web site also includes a State-By-State Listing of Statewide Toll-Free Telephone Numbers for Reporting/Receiving Domestic and Institutional Elder Abuse

Additional information is available from:
Administration on Aging
U.S. Department of Health and Human Services
330 Independence Avenue, SW
Washington, DC 20201
Telephone: (202) 619-0724
TDD: (202) 401-7575
Fax: (202) 260-1012
E-Mail: aoainfo@aoa.gov

National Aging Information Center (330 Independence Ave., SW, Washington DC 20201 – Tel. 202-619-7501 - FAX 202-401-7620